BWW Review: SMALL MOUTH SOUNDS at Round House Theatre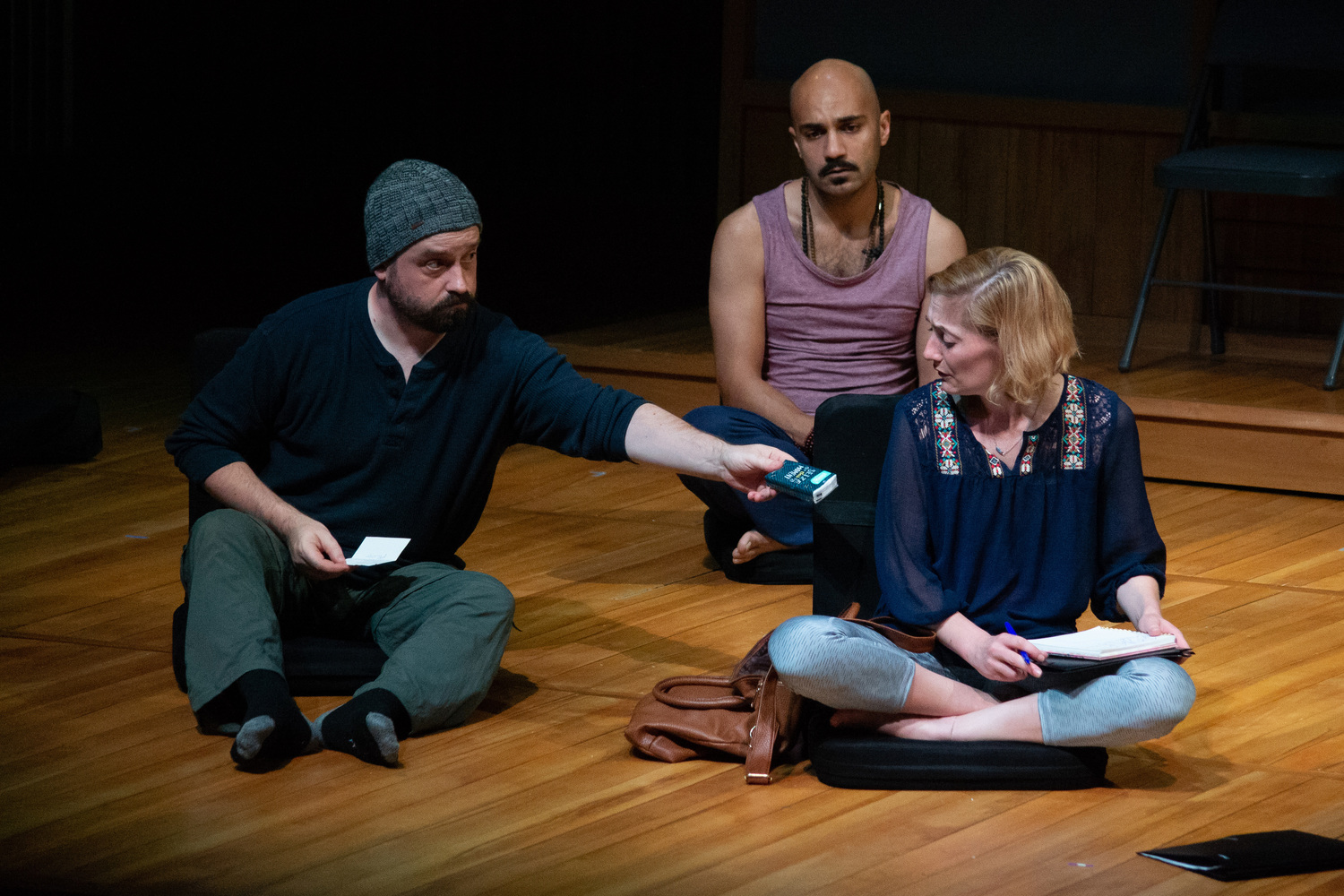 Every day, in every way, I fail to practice mindfulness. Thankfully, for Round House Theatre's audience, the seven men and women in playwright Bess Wohl's Small Mouth Sounds have a slightly better grip on the practice.
Small Mouth Sounds is notable for being a largely silent and actor-driven play. The plot relies entirely on what the audience can glean from nonverbal communications, an innovative theatrical approach that was originally work-shopped through improvisation.
In Small Mouth Sounds, Rodney (Maboud Ebrahimzadeh), Jan (James Whalen), Alicia (Katie DeBuys), Joan (Beth Hylton), Ned (Miachal Gleen), and Judy (Andrea Harris Smith) embark on a silent, "mindfulness" retreat without any introductions. They don't have the pleasure of meeting one another and neither does the audience.
Throughout the course of the play, each actor succeeds in non-verbally introducing themselves to the audience. In the silence, the lack of context and background details direct the audience's focus squarely to the "big picture" moments and emotions. Everyone in Small Mouth Sounds is on the retreat because they are in pain and desperately searching for a way to be at peace. Each actor's interpretation of this pain and their reactions to provocation spotlight the full spectrum of human emotion.
The silence of Small Mouth Sounds intensifies the emotional impact of every dramatic or comedic moment on stage. Initially, it may be harder to know where the action is onstage but no matter where you look on stage, Small Mouth Sounds delivers engaging theatre.
The important exception to the silence is the retreat's unseen teacher (Timothy Douglas), a distracted, profit-driven Wizard of Oz character. At the emotional apex of the silent retreat, the retreat-goers can only helplessly stare into space while their teacher ignores their crises in favor of his own existential crises.
In Small Mouth Sounds, Wohl's intention is to straddle the thin line between humor and tragedy without venturing into parody, an approach that facilitates a series of really wonderful and genuine moments on stage. The teacher is the one character who crosses the line. His many hypocrisies are predictable and his mindfulness is pre-packaged but, and perhaps for precisely this reason, he manages to resonate with a world-weary DC audience who enjoy seeing their daily horrors mirrored on the faces of the retreat-goers. He exists to provoke emotional reactions from the retreat-goers and make the audience laugh, and in this function, he is successful.
Scenic Designer Debra Booth's austere set is reminiscent, I presume, of actual mindfulness centers. A hardwood and paper screen wall is the backdrop for Lighting Designer York Kennedy's revolving night and day nature scenes. Although the set and lighting design are functional, they fall short of provoking an emotional response, good or bad.
A bright spot is the Sound Design by Roc Lee. Birds exchange chirps in the silence created by the lack of human sound: a subtle commentary on noise pollution.
Timing out at 100 minutes, with no intermission, Small Mouth Sounds does feel long. A contributing factor is the lack of formulaic plot structure, which, for better or worse, audiences rely on to chart the course of a play.
Running Time: 100 minutes, no intermission
Advisory: One scene contains full-frontal male nudity that may not appeal to all audiences.
SMALL MOUTH SOUNDS plays through September 23 at Round House Theatre located at 4545 East-West Highway, Bethesda, MD 20814. For tickets call (240) 644-1100 or click here.
Photo: Michael Glenn (Ned), Maboud Ebrahimzadeh (Rodney), and Katie DeBuys (Alicia) in Round House Theatre's current production of Small Mouth Sounds. Photo by Kaley Etzkorn.