BWW Review: Rorschach Theatre's Revival of NEVERWHERE A Triumph of Fantasy Onstage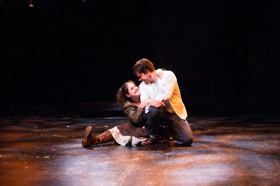 When you wear several hats, as I do - a theatre artist, historian and critic-one sure gauge of a hot show is the urgent voice inside you that says "Man, I should be onstage!" Rorschach Theatre's revival of their 2013 production of Neverwhere, Neil Gaiman's fantasy novel, features a fine roster of new and returning players, and is a perfect night out for adventurous families-especially those with restless older kids. And it makes you want to audition for the next show, even if it's just to haul buckets of slop around backstage; it's that good.
Neverwhere, as adapted for the stage by Chicago native Robert Kauzlaric, is the culmination of a series of artistic endeavors, beginning with the BBC TV series co-written by Gaiman and British comedian Lenny Henry (he of "Chef!!" fame). Its incarnations, like the worlds the story itself evokes, have been many, with film, audio, comic and print versions preceding Rorschach's original show. Now reimagined as a completely immersive experience with stunning graphics designed by Pixelumen Labs, director Jenny McConnell Frederick has brought a fantasy world experience that keeps you fully engaged for every minute of its (rather lengthy) running time.
There is something of an Alice-in-Wonderland feel to the world of Neverwhere, with abandoned London Tube stations standing in place of the old rabbit hole. London's sprawl underground is famous, with scores of now-closed subway stations sitting quietly underneath the city. Gaiman's underground is, of course, teeming with life and from this underground emerges a heroine, Door-played with calm resolve by Sarah Taurchini-whom we first discover bloodied and weak on a London street. She is discovered there by Richard Mayhew (the utterly charming Daniel Corey), a newly-arrived member of the financial industry out on a date with his pushy, status-conscious fiancée (the amusingly prim Thais Menendez).
Mayhew brings Door back to his apartment to recover from her wounds, and this simple act of kindness-of course-triggers a series of encounters that drag Mayhew from the comfort of his upper-crust flat to the grime and confusion of the world below, beginning with some rough treatment from Messrs. Croup and Vandermar.
Robert Bowen Smith (Croup) and Lee Liebeskind (Vandermar) play off each other brilliantly as bumbling toughs from, well, the underworld, and their physicality is hilarious to watch; Liebeskind's taste in snacks is as gross as it is amusing and Smith's passion for Tang Dynasty figurines completely redefines the concept of the consumer of fine art.
The cast is strong at every turn, and it's always great to see Cam Magee in a role that suits her talents-as the Angel Islington especially. Grady Weatherford's turn as the Marquis de Carabas, Door's faithful ally, is as flamboyant as it is charming, and Megan Reichelt returns triumphantly as Hunter, the professional bodyguard who guards her secrets as carefully as anything else.
The setting was created by Pixelumen Labs' team of David Ghatan, Robbie Hayes and G. Ryan Smith, complete with ramps and platforms throughout the Atlas Theatre space. Given the fetish we theatre folk have for black boxes, it's perfect to conceive of the theatre as Gaiman's underworld, with crumbled monuments and tile wall fragments along the fringes. Debra Kim Sivigny's costumes-I swear, costume designers have all the fun-run the gamut from London professional dress to a charming pastiche of street-urchin wear topped off by a selection of tri-corner hats, bandannas and bowlers. Tara Lyman-Dobson pleases the eye with a number of finely-crafted properties evocative of Gaiman's alternative reality, and Cory Ryan Frank's lighting design is as dizzying as it is spot-on for the pace of the action here.
One of the many highlights of the production is the fight choreography, which occurs with a frequency that I (as a trained actor-combatant) found especially thrilling. Casey Kaleba has established himself as a fixture on the local stage combat scene, and his fight choreography for Nevermore makes the maximum use of his actors' talents.
Whew - what a night out! Fantasy fans, families, people who love a good stage fight - all of you, it's time to get away from your laptop and down to the Atlas - a short trolley ride from Union Station, no excuse not to show up.
Production photo: Sarah Taurchini as Door and Daniel Corey as Richard Mayhew. Photo courtesy of C. Stanley Photography.
Running Time: 3 hours, including one 15-minute intermission.
Neverwhere runs until October 1 at the Atlas Performing Arts center, 1333 H Street NE, Washington, D.C. For tickets, call the Atlas box office at 202-399-7993 or online at: https://atlasarts.secure.force.com/ticket/#details_a0S0H00000KUAv9UAH .