Click Here for More Articles on REGIONAL - WASHINGTON, DC
BWW Review: PRAMKICKER at Taffety Punk Theatre Company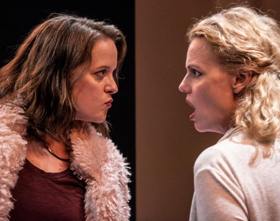 Few and far between are the times that we reviewers have a perfect night in the theater. Generally, we can find something to complain about in any given production. It could be we love the performances, but not the script or vice versa.
Taffety Punk Theatre Company prides itself on making awesome theater that is affordable for everyone without sacrificing quality. With the U.S. premiere of Pramkicker, the company's season opener, Taffety Punk has put together a show that has everything you'd want. It features a strong script by Sadie Hasler that is both funny and moving, expert direction by Linda Lombardi, two knockout performances by company members Tonya Beckman and Esther Williamson, and excellent production elements. Did I mention you get all of this for a whopping fifteen dollars a seat? Yes, a perfect night of theater has been found!
With the way things are now in the world, I imagine all of us have some kind of anger management issue. Some are more extreme than others. Jude's (Esther Williamson) anger problem is definitely of the more extreme variety. Just because some mother's pram (baby carriage) was blocking her way in front of a coffee kiosk, Jude thought it was perfectly fine to kick the pram down a flight of stairs (no baby inside, thank God) and put said mother in a headlock. Her actions have landed her in Janet's (voiced by Assistant Director Claire Schoonover) an anger management class. Jude's sister Susie (Tonya Beckman) has offered to accompany Jude to class - not only for moral support, but to protect everyone else from Jude.
Throughout the course of Hasler's tightly written seventy-minute script you get to see how Jude became the woman she is now. Susie hasn't had it easy in the relationship department either. Ultimately this is a story of two sisters whose love grows stronger in the rough times. Each has a distinct view about children - and the place of them in their lives - and the genesis of this thinking may not be what you think it is, initially.
Director Linda Lombardi has done a yeoman's job in staging the show. She really understands how to use the performance space, including the aisle.
It helps, of course, that her two performers are pretty terrific too.
As Jude, Esther Williamson's performance captures a tortured soul that's been through hell and back. Williamson's work on this show is heart wrenching to be sure.
Those of us around here know that Tonya Beckman is one of the finest the area has to offer and her performance as Susie just proves that again. Her Susie acts as a support factor for Jude even though she has her own stuff to deal with too. Ms. Beckman, the fans are in awe again.
Taffety Punk performs in a black box at Capitol Hill Arts Workshop. The space is open to all kinds of possibilities for design. Set designer Kate Fleming has taken full advantage of her surroundings by splashing the floor, stage entrance doors, and walls with bright color paints. It's a good contrast to the dark storyline. Kudos go out to scenic artists Kristen Orr and Mike Salmi for bringing Fleming's vision to full fruition.
As an added bonus there is a fun Dirty Dancing recreation moment with choreography by Kelly King and sound designer Kenny Neal providing us with "I've Had the Time of My Life" from the film's soundtrack.
The stars are aligning on Capitol Hill with Taffety Punk Theatre Company's latest work. Pramkicker scores big on all levels without breaking your wallet...as it should be.
Running Time: 70 minutes with no intermission.
Pramkicker runs through September 29, 2018 at Capitol Hill Arts Workshop, which is located at 545 7th Street, SE in Washington, DC.
For tickets, click here.