Click Here for More Articles on REGIONAL - Virginia - Northern VA
BWW Review: MOTOWN THE MUSICAL is a Loving Dedication to a Great Legacy at Wolf Trap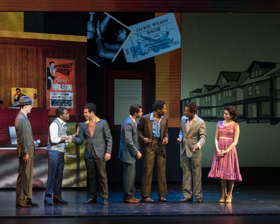 Motown fans are a dedicated group which in mostly consists of those grew up listening to Motown records. If you wouldn't consider yourself a fan of Motown, you might want to think twice. Motown the Musical isn't only for those who grew up with its music and legacy, but it is also for those who aren't as familiar with Motown's expanse of music, celebrities, and Berry Gordy, Motown's founding father. This musical focuses mainly on Berry Gordy's successes and struggles with his company, Motown Records. However, it isn't just about Berry's own journey. The musical also offers glimpses into significant historical events of the 1960's and 1970's, such as the Civil Rights Movement, the assassination of JFK, and the Vietnam War, interwoven into Motown's story. Motown the Musical, directed by Charles Randolph-Wright, is a high energy musical featuring a talented cast, high production quality, and wonderful music.
The whole cast of Motown is remarkably talented in acting and singing. The main core of the cast is held up well by Kenneth Mosley as Berry Gordy, Trenyce as Diana Ross, and Justin Reynolds as Smokey Robinson. Mosley plays Berry as both charming and ambitious. He becomes Berry with such ease that one almost has to do a double take. Trenyce is so much fun as Diana. She like Mosley becomes her character without missing a beat. During the song, "Reach Out and Touch (Somebody's Hand)," Trenyce stays in character as Diana even as she is interacting and singing with the crowd. Trenyce also shines in scenes with Mosley. They are a great match onstage. Their chemistry is especially apparent during scenes which take place in Paris, France. Reynolds brings out a side of Smokey Robinson that one might not have expected. His Smokey Robinson is laugh-out-loud funny especially during one scene in which he becomes locked out of an important meeting. When they are both on stage, Reynolds and Mosley play well off each other especially during a scene in which they place bets with each other to see if Smokey's song would succeed.
Motown the Musical wouldn't be complete without featuring the iconic groups which are the faces of the music. In Motown, there are many recognizable music groups. The crowd favorites are definitely The Temptations, The Supremes, and The Jackson 5. There are 66 songs packed into this production. Every number is performed with phenomenal musicality and stamina. The songs, which are definite crowd pleasers, include "My Girl", "Dancing in the Street", "War", "Ain't No Mountain High Enough", "My Guy", "Reach Out and Touch (Somebody's Hand)" and "ABC."
The production's creative details capture the spirit of Motown music. The costumes, designed by Emilio Sosa, are beautifully designed. The bright colors and glitz of each costume do not go unnoticed especially the dresses of the Supremes. The scenic design by David Korns and the projections by Daniel Brodie mesh brilliantly. The projections never overwhelm the set or vice versa.
If you are a dedicated Motown fan, then Motown the Musical is definitely great nostalgia for you. If you are a parent trying to introduce your child to Motown music, then you should take him or her to see it. If you are a Motown newbie, then this musical is also for you. After all, as Berry Gordy once said, "Motown was about music for all people - white and black, blue and green, cops and the robbers. I was reluctant to have our music alienate anyone."
MOTOWN THE MUSICAL plays at Wolf Trap - located at 1551 Trap Rd, Vienna, Virginia - until June 28, 2018. Tickets can be purchased online, at the box office, or call 877-965-3872.