BWW Review: Fun and Irreverent URINETOWN at Constellation Theatre Company
Who knew ecological adversity and failed policy could be so much fun? It's a grim world in Urinetown where a dire water shortage has made it a privilege to pee anywhere but the corporate amenities. Yet the zany humor and high energy of Constellation Theatre Company's URINETOWN (The Musical!) offers a hilarious lampoon of corporate greed, corrupt politics, and earnest populism complete with zingy songs and jazz hands.
A twenty-year drought and the ensuing "stink years" have led to a ban on private toilets. All
citizens must now pay to use the UGC (Urine Good Company) facilities. Harsh enforcement and fee hikes stir rebellion. Much of this information is imparted to the audience at the outset by Officer Lockstock (Matt Dewberry) and Little Sally (Jenna Berk) with a wink and a nod to the constructs of musical theatre. "Nothing can kill a show like too much exposition," Lockstock states. "How about bad subject matter?" queries Little Sally.
Director Allison Arkell Stockman brings together a universally strong cast of 15, live music by a five-member band, and magnificent choreography to ensure that regardless of Little Sally's cautions concerning the subject matter, Constellation Theatre's URINETOWN is a thoroughly fun and memorable production.
URINETOWN is a true ensemble work with many cast members playing multiple roles. Of note, Jenna Berk as Little Sally successfully balances childlike wide-eyed wonder with dry, worldly observations. Christine Nolan Essig commands the stage as Penelope Pennywise; we sit up and take notice as she sings why "It's A Privilege to Pee." Nicklas Aliff as UGC's iron-fisted CEO Caldwell B. Cladwell delivers sage advice in one of the evening's most enjoyable songs, "Don't Be the Bunny." Matt Dewberry as Officer Lockstock has a knowing swagger that drives the production; he enjoys great musical moments with "Too Much Exposition" and "Cop Song." However, the text seems to dictate that Lockstock and Barrel (fellow cop played by Christian Montgomery) should have a harder edge and take more cruel glee in their power to enforce Urinetown's rules.
What's a musical without idealistic and conflicted young lovers? A buoyant Katie Keyser is Hope Cladwell, the boss's beautiful daughter who returns from university to become UGC's fax/copy girl. Bobby Strong (portrayed by Vaughn Ryan Midder who earned a Helen Hayes Award for last year's AVENUE Q at Constellation Theatre) is troubled by all he has witnessed working at Public Amenity #9, including the arrest of his own father who could not afford the fee. The young couple is compelled to work for a new world. Bobby's "Run, Freedom, Run!" is a rousing Act II highlight. Keyser gives us a Hope who grows wiser, ably propelling the action.
Patrick Murphy Doneghy, David Landstrom, Emily Madden, Matthew Aldwin McGee, Amy McWilliams, Valerie Adams Rigsbee, Harrison Smith, and Rick Westerkamp complete the ensemble.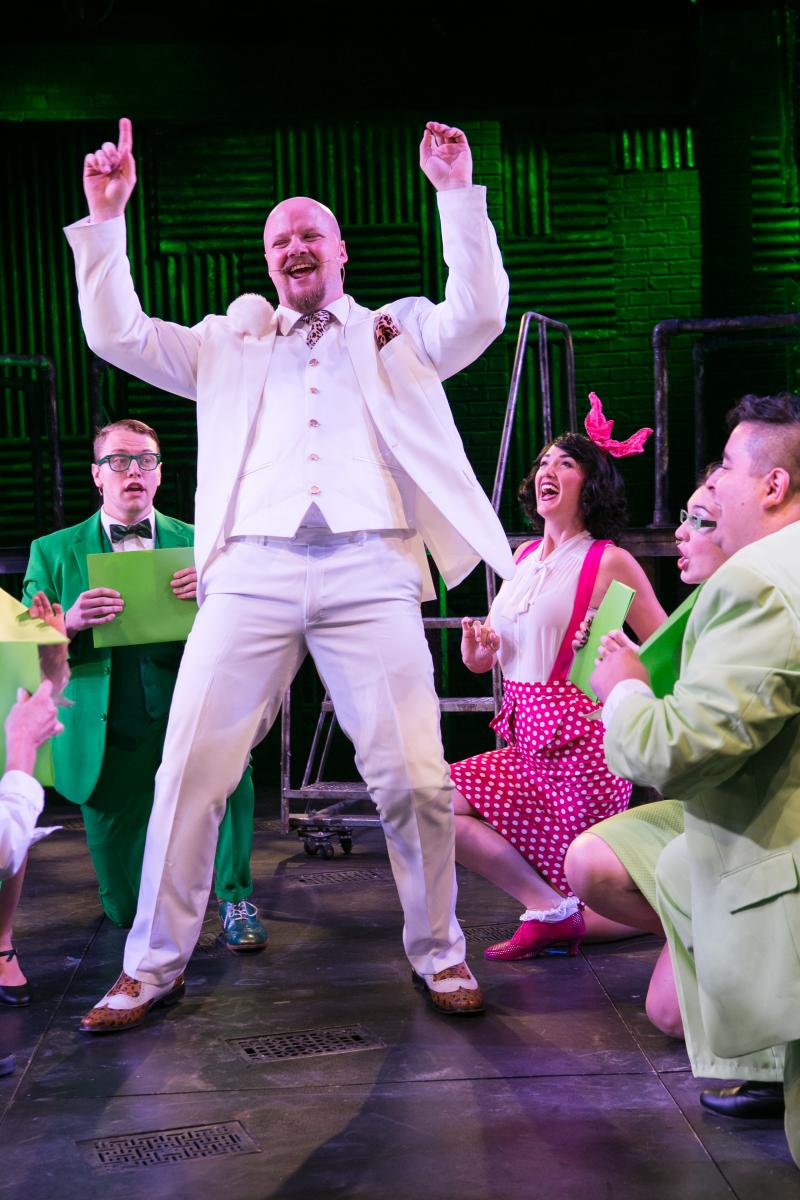 Helen Hayes Award-winner Jake Null is the musical director of Constellation's production, leading band of five onstage musicians tucked into the nooks and crannies of the set. URINETOWN, which earned Mark Hollmann and Greg Kotis Tony Awards for Best Original Score and Best Book of a Musical during its 2002 Broadway run, delivers witty dialogue and clever music.
The design elements continue the fun. Small moments elicit a laugh, like the ping of a light cue to herald the song "Run, Freedom, Run!" Placards among the crowd read "Pee Shall Overcome" or "United We Stand (Ladies May Sit)." A Busby Berkeley-style production number in the corporate headquarters of UGC uses Kelly Green office supplies to great effect. Even the pristine lacy frill of Hope Cladwell's anklet sock peeking over a fuchsia oxford is a wonderful detail. A.J. Guban's scenic design and lights, Robert Croghan's costumes, and Palmer Hefferan's sound work well together and make the intimate performance space pop.
Choreographer Ilona Kessell, in particular, uses every inch of the stage for high impact dance numbers. In a very intimate space, Kessell fills the stage with great energy and fun.
Musical theater aficionados will be delighted to find wry Easter eggs scattered throughout the production's choreography and staging - there are amusing nods to West Side Story, Fiddler on the Roof, Oliver!, upraised Evita arms and a call to the barricades in the spirit of Les Mis.
In this election season, Constellation Theatre's irreverent URINETOWN is a welcome opportunity to laugh and roll our eyes at populism and politics gone horribly - and hilariously - awry.
Runtime: 2:20 plus one intermission; no late seating.
URINETOWN The Musical by Mark Hollmann (music and lyrics) and Greg Kotis (book and lyrics) runs through October 9 with shows on Thursdays, Fridays and Saturdays at 8:00 pm, Sundays, Mondays and Wednesdays at 7:30 pm, Saturdays and Sundays at 2:00 pm. The production is at Source Theatre, 1835 14th St. NW. For tickets or for more information, please visit Constellation Theatre's website here.
Photos by Daniel Schwartz. Top: Vaughn Ryan Midder and Katie Keyser; Next: Jenna Berk and Matt Dewberry; Center photo from l to r: Emily Madden, Jenna Berk, Amy McWilliams, Vaughn Ryan Midder, Christine Nolan Essig; Next l to r: Harrison Smith, Nicklas Aliff (center), Katie Keyser, Emily Madden, Rick Westerkamp; Bottom l to r: Emily Madden, Carl Williams, Vaughn Ryan Midder (center), Rick Westerkamp, Jenna Berk, Patrick Murphy Doneghy.