Review: CABARET at Shenandoah Conservatory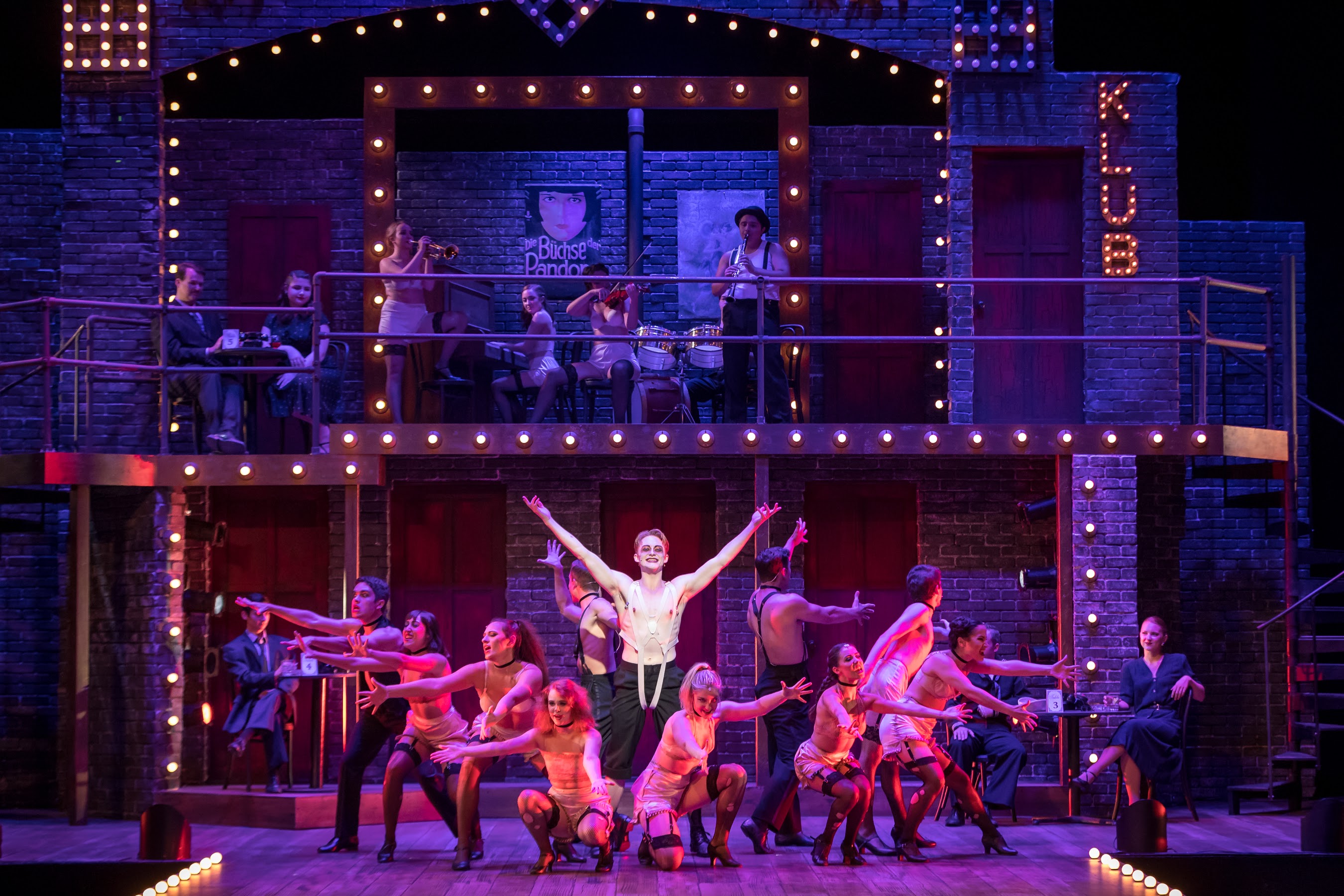 Produced by Shenandoah Conservatory in Winchester, Virginia, this legs-wide-open rendition of CABARET is a timely and relevant journey which reminds the audience just how quickly political discord and divisiveness can ultimately lead to moral degradation of a society. After experiencing the expedition that this production took audiences on, there is no surprise as to why Shenandoah Conservatory was listed as, "Top 10 BFA Musical Theatre Programs in the Country for 2016-17."
On its surface, CABARET is the story of a young American, Clifford Bradshaw (Stephen Dransfield
)
, who comes to Berlin to get a taste of "real" life and write about it as a novelist. Befriended by a German with a lot of connections, Clifford quickly settles into a rooming house run by a middle-aged spinster named Frauline Schneider (
Ashley Knaack
). Just as quickly, he finds himself at home in the Kit Kat Club, a seedy nightspot where a devilish Master of Ceremonies (Drew Becker) lords over the patrons and where a British waif named Sally Bowles takes the stage nightly belting out bawdy songs.
Beneath the surface, of course, CABARET is another story, a tale of a country spiraling downward - defeated by war and economic depression - while fascism, in the form of the Nazis, is on the rise.
The cast is helmed by Kali Haines (Sally Bowles), Ashley Knaack (Fraulein Schneider), Alexandra Fleshman (Fraulein Kost), Nikkie Culbreth (Fritzie), Emily Rafala (Frenchie), Alexis Yard (LuLu), Emma Coniglio (Helga), Annanoa Kaufmann (Rosie), Gwyneth Yockey (Texas), Drew Becker (Master Of Ceremonies), Christopher Goodwin (Herr Schultz), Stephen Dransfield (Clifford Bradshaw), Daniel Bush (Ernst Ludwig), Kade Wright (Victor), Zachary Bigelow (Bobby), Diego Cortes (Herman),
Michael Kennedy
(Hans),
Danny Martin
(Customs Official/ Sailor), Christopher Godshall (Max), Josh Cody (Sailor), Samuel Cadieux (Sailor), Griffin Bunch (Nazi Youth),
Jack Murphy
(Nazi Youth), Logan Smith (Nazi Youth), Elena Doyno (Ensemble), Emily Foley (Ensemble), Shelbea Owen (Ensemble), and Shaila Murdock (Ensemble).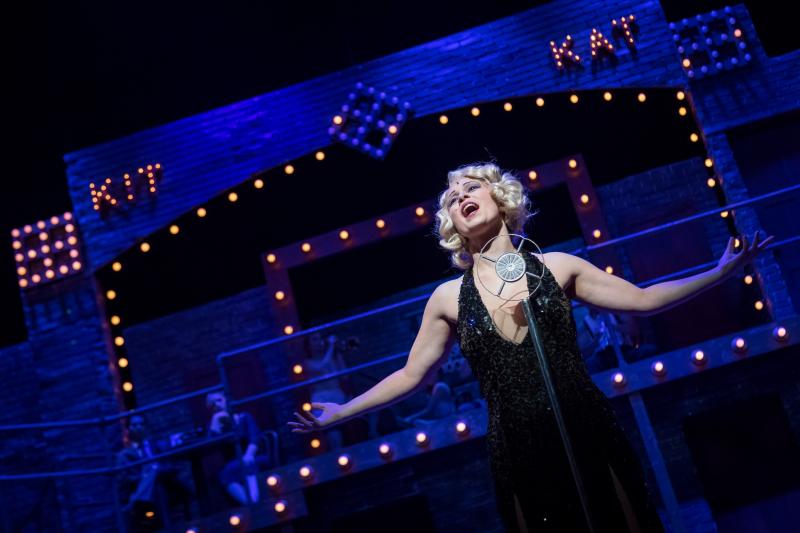 As the Emcee of the Cabaret, Drew Becker provides a roguish, volatile and enchanting performance of the opening number, "Willkomen" - a sardonic incitement of the flamboyant world that Becker revels in. Through his strong acting choices and impeccable vocals, Becker successfully captures all of the sensual experimentation, heavy depravity and debauchery, and overall sense of despondency that saturates the backstory of living in Berlin, Germany.
Kali Haines as the iconic Sally Bowles brings a strong sense of energy to the character.
She captured Bowles' sexual aura onstage with fierce dancing and emotionally connected vocals.
Stephen Dransfield portrayed Clifford Bradshaw, the bisexual writer who falls in love with Sally with poise and class. It is obvious that, even if it were only for a few measures, Dransfield has a gorgeous voice.
The Kit Kat Girls and Boys, and their sometimes less-than-ladylike poses, were everything that I wanted, and more. Their choreography was delightfully dirty with a dash of debauchery, for flavor.
In the songs "Two Ladies" and "Money" the Kit Kat crew delivers their uproariously distinctive bent on sexuality and the rigorous reality of postwar Berlin, respectively.
Most notably, the Kit Kat duo Victor (
Kade Wright) and Bobby (Zachary Bigelow) were enough to make any middle-aged novelist from America want to jump out of the closet. This can be more outwardly seen during "Money" when Bigelow takes center stage and begins caressing and hiding his newly acquired money down his pants; huge shout out for making strong choices.
Ernst Ludwig (Daniel Bush) and down on her luck Fräulein Kost (Alexandra Fleshman) receive very high praise for a job well done. Fleshman handles the vocal needs of her character just as well as she does with the needs of the many sailors that come to-and-from her home; that is, without hesitation, doubt, and with a masterful sense of technique.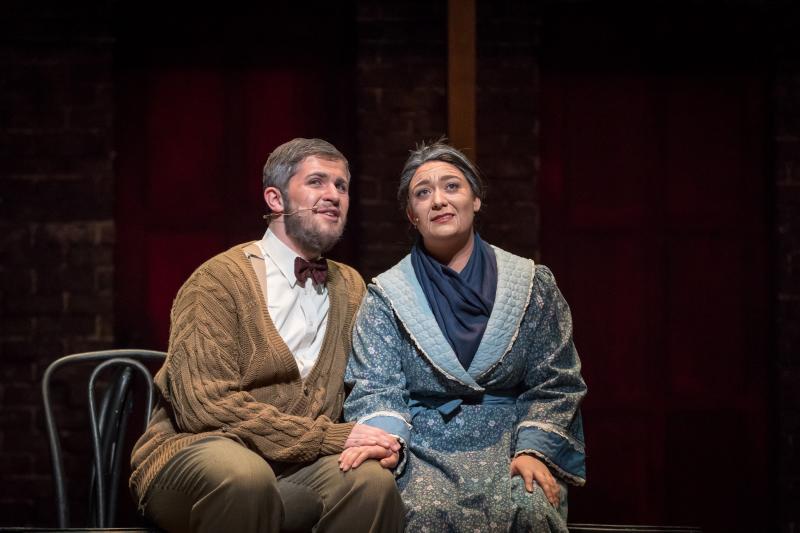 The other splendidly opposing subplot is the romance of melancholic landlord Fräulein Schneider (Ashley Knaack ) and gentle fruit vendor Herr Schultz (Christopher Goodwin). Knack commanded the stage with an ease and expertise that is far beyond her years. During her emotionally charged performance of, "What Would You Do," Knack brought the entire house down! The choices Knack decided on for Fräulein Schneider were all very authentic and well executed - she definitely has something very special, there's no doubt about that. The ridiculously cute relationship that forms between Herr Schultz and Fräulein Schneider could not have occurred without the strategic ability of Christopher Goodwin to methodically win over the hearts of every person sitting in the theatre.
William Pierson
's dynamic set blends masterfully with
Andrew Carson
's beautiful and hypnotic lighting design - the two really were symbiotic in nature, with the effect onstage being absolutely breathtaking. The overall aesthetic of the production value never overwhelmed or saturated the audience. Rather, it worked to enhance and augment the overall theatrical experience.
At this point, I only have one massive and critical complaint: Shenandoah Conservatory's approach to sound design is antiquated, underwhelming, and a complete hot mess - to say the least. Throughout the evening, the mics were going in and out, and the system seemed to not be able to handle the level of fierce and slaying vocals that were entering it. For being one of the best BFA programs in the nation, they need to put their sound design where their reputation is. However, this review of lackluster sound is not aimed at the incredible students who work and design the show, as they are without direction from a full-time staff member dedicated to sound design. T
he sound quality might be improved by having someone on university staff as the sound engineer, or assistant to the student engineer.
The production was led by two Broadway veterans, and now Shenandoah educators: Rick Edinger (Music Direction) and Kevin Covert (Direction and Choreography). When watching Shenandoah Conservatory's production of CABARET, it is unmistakable that it was nurtured and crafted by professionals with an unwavering aptitude for creating and teaching performing arts that are rooted in a groundwork of distinction and class. For being Covert's second show as the new Director of Musical Theatre at Shenandoah Conservatory, he and the rest of his artistic team continue to raise the bar higher. One can safely assume based on this production that Musical Theater at Shenandoah Conservatory is continuing to lead the way for the next generation of seasoned performing artists.