BWW Interview: Robert Richmond of NELL GWYNN at Folger Shakespeare Library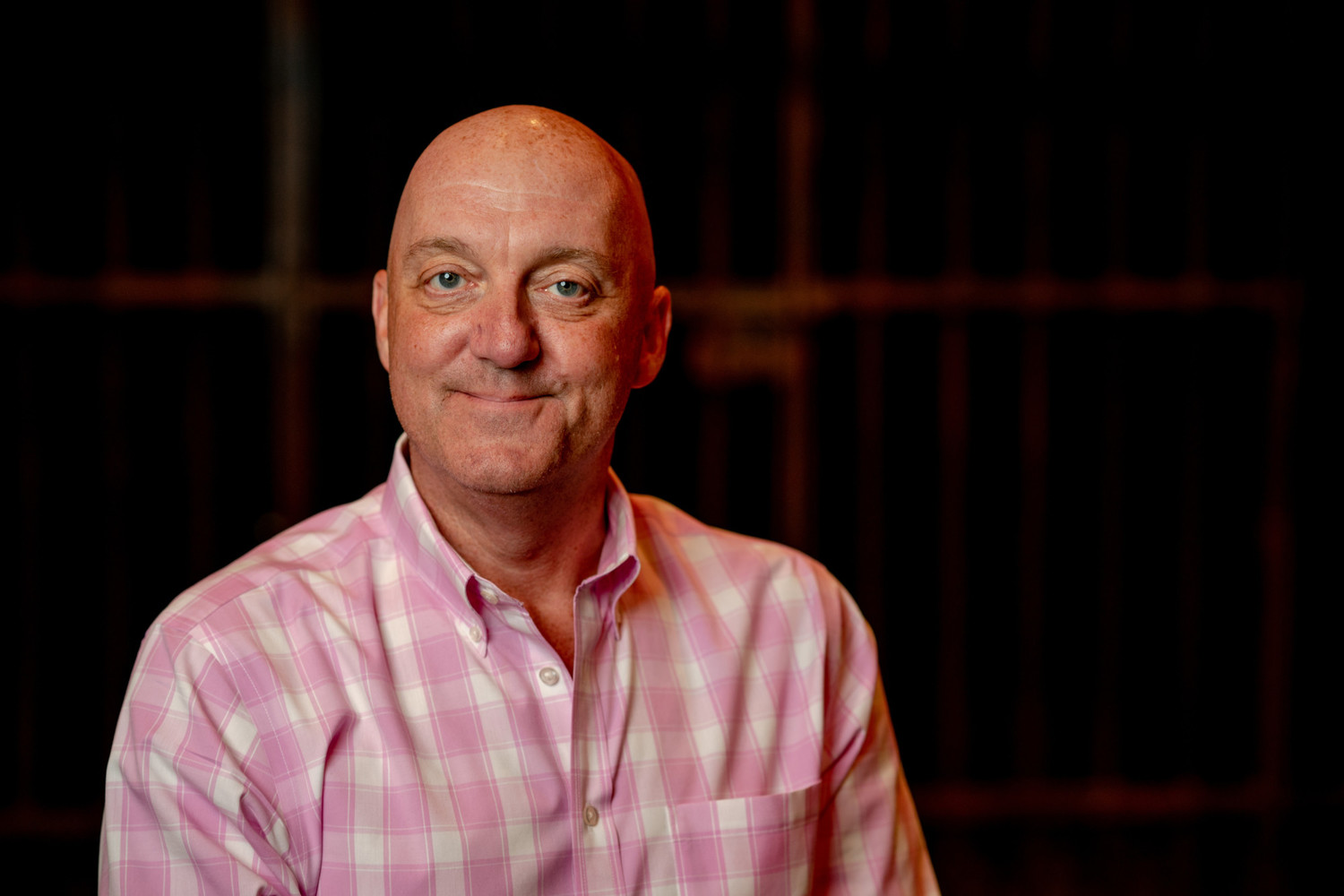 Robert Richmond is the director of Folger Theatre's upcoming production of Nell Gwynn. Richmond has directed a number of productions for Folger Theatre in DC and served as the Associate Artistic Director of the Aquilla Company in New York City. He currently is the Department Chair and Artistic Director of the University of South Carolina Department of Theatre and Dance.
To start, can you tell us a little about Nell Gwynn?
It's an original play by Jessica Swale, and started at the Globe in London - it was actually commissioned by the Globe and premiered there in 2015, then played the West End, then Chicago Shakespeare was its first performance in the United States. Folger's production is the East Coast premiere.
So, as an original piece, it's a little different from Folger's usual performances.
It's still in vogue with the work they've been doing recently. They had a few restoration pieces this season; I directed a restoration version of Macbeth. There's a resurgence of restoration pieces, which is interesting, I think. I have my own theory on that as to why. We're feeling right now, as a country, that a restoration may be helpful. Looking to the past helps us to look at mistakes and look forward to the future - politically, morally, and culturally. Plus, it's about a woman - it joins the conversation about women that change the world. She was one of the first actresses to perform on stage. It fits perfectly in the Folger Theatre, with that wonderful warm and wooden room. I think it fits her spirit, rather than just writing a biopic of her.
Who was Nell Gwynn, exactly?
It's the rags to riches, fairy tale story. She was brought up in a brothel, and became an orange seller in the theatre, where she was found to have a wit and repertoire. She charmed Charles II, and became his lover and mistress for eighteen years. Through the new laws he passed, she was able to perform; until then, all the female roles were written for and played by men.
She was known for her quick wit, her bawdy humor, her dancing, and her mimicry. She was a consummate performer, and a tremendous hit. And, coming after the Puritan period for many years (following Cromwell's reign), it must have felt something like the early 60's in the US and UK - the austerity being left behind, and a new wave of energy and freedom and sex and all of those great things coming to the fore.
It's interesting - she's interesting - and it's not a story we tell enough.
The play is a valentine to the theatre. It helps us understand how the inclusion of everybody in the theatre enhances the shared experience of the theatre. It's also a valentine to the healing power of theatre. The great advantage is you're in one of the most beautiful theatres in the country, in the same kind of room as the story.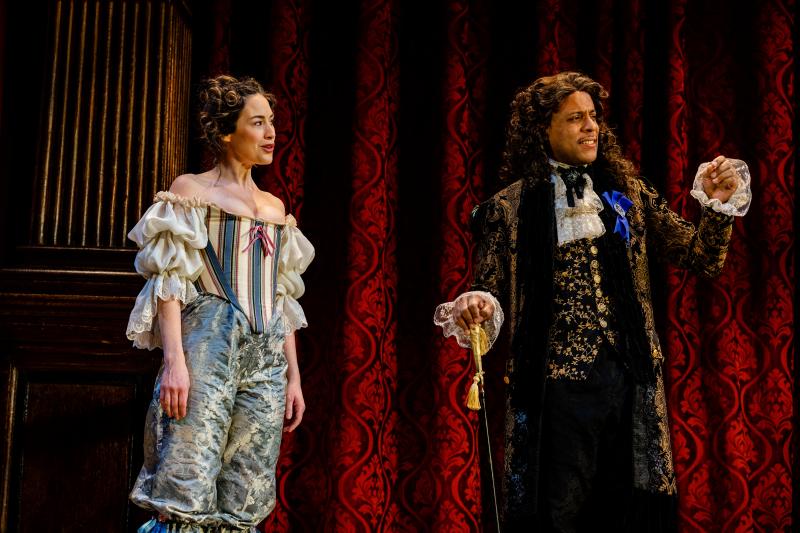 Folger's a great theatre. What's your background with them, besides directing Macbeth earlier this year?
This is my tenth production with them in ten years. I'm very lucky they asked me back, and give me these opportunities. I've worked with pretty much the same design team each time - we have a great shorthand understanding and rapport with each other. Even though this is a departure from Shakespeare, it's still a great costumed period-style piece. It's beautiful to look at. The costumes, the lights, the sets are sumptuous.
You're a director, but that's not your day job - can you tell me about your "real" job?
I direct at the Folger, but I'm a professor at University of South Carolina, where I'm chair of the Theatre and Dance Department.
That's fantastic, but how does that work with directing a show in DC?
I fly back Sunday nights, work, then fly back on Tuesdays. It's only for six weeks, and it's a pleasure. It's great because the jobs inform each other. My students get to see all the angst and pleasure from the week before, and the university gets the energy from up here.
That's wonderful, and it's great that both parts of your career can inform each other.
What time period does the show take place?
1660 - about 50 years after Shakespeare. She was quite young when she died, but had a heavily packed life. She had one surviving son, who was given a title. The family still exists, and the great, great etc grandson just published a book, so that was used for research. Like all great historical dramas, it takes great historical moments and political intrigue.
It's an interesting period, because I'm the daughter of a history teacher and know quite a bit about the Plantagenets and the Tudors, but my history gets a little shaky after Elizabeth I.
As a Brit, we don't really teach that much on this period either. I don't think we want to pass on this whole civil war idea. We don't celebrate our civil war the way others do, but Charles II restored a lot of the country.
I should say, it's not Cinderella, it's not Beauty and the Beast - it's not rags to riches in that romantic sense. It's more Joan of Arc or Erin Brockovich - standing up for women and saying, "enough."
It's nice to have her framed as a revolutionary rather than a damsel.
She really was trailblazing, pushing forward on the force of her personality and tenacity.
Did you approach Folger about this production, or did they bring it to you?
They approached me, but I'd made it known I was interested. It's a fascinating story, and had an interesting connection to my previous work on Macbeth. There were two rival theatres at the time, King and Duke - Nell belonged to King's Company, and the Davenant, which was run by the Duke's company, produced Macbeth. It's interesting that we're sort of telling two different stories in the same theatre about these rival theatres.
Working on this has led to my researching others as well. Aphra Behn, for example, is the first female playwright, and from around the same time period. Her story is incredible - spying prostitution, playwriting, novel-writing. Not much is known about her, but she revolutionized the field.
It reminds me of something discussed in one of the other shows I covered earlier this year - the fact that women are often left out of history.
That's because men write it. We follow through the male imagination.
I have a map of New York City with all the names of the streets and parks changed to women's names. It's a quiet, subversive way to show how ingrained men are. We're trying to break that and lead by example.
What drew you to this story, specifically?
I like the story very much. It's about someone that history has somewhat passed over. I also love the period, I love the clothes. I think that people are really beginning to love period drama again - look at the movies that have come out recently, like Mary, Queen of Scots and The Favourite. We're enjoying looking back at the past, and it helps us reflect on the future. As Isaac Newton said, we're standing on the shoulders of giants.
This play is more opulent than some of Folger's more recent productions - do you find that more restraining or freeing?
I think it's freeing. You have to get certain things right. You have to have empathy for these characters, and remember that even though they're immaculately dressed, they still have a heartbeat and shared experience.
I always think people come to the theatre to see things they can't elsewhere. We need to enjoy that and reward them for their patronage.
I agree - it should provide a suspension from reality, even when it's relevant to real life.
Good theatre is transformative. We are about change. As far as the stars of this play is concerned, we've tried to reflect the world that is on the streets. It's a diverse cast for this play.
That fits with the theme -
Exactly. Breaking down preconceptions, provoking conversations.
Is there anything you think audiences should know or keep in mind?
This is a very funny, and yet very poignant story. It has something for everybody. It will be a fantastic date.
I'm excited - even from the posters, I was interested, but it really sounds like a fascinating show and a great production.
I think this going to be a show to remember.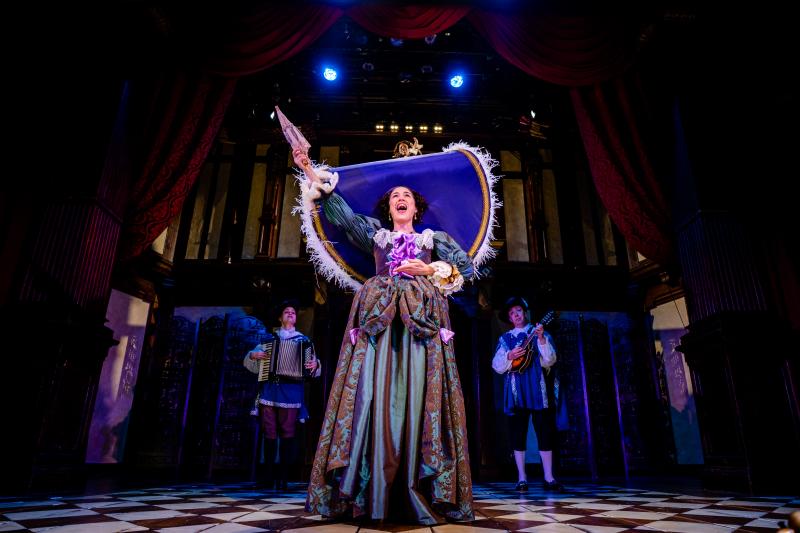 Nell Gwynn runs at Folger Theatre January 29th through March 10th. The show runs two hours and thirty minutes, with one fifteen minute intermission. Information on special performances (including a talkback with Robert Richmond) can be found on the Folger Website. BroadwayWorld will review the February 7th performance.
Photo Credit for Robert Richmond's headshot: Brittany Diliberto.