Latest News on Christopher Dinolfo
Christopher Dinolfo News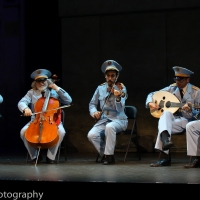 THE BAND'S VISIT, JITNEY, And More Nominated for 2020 Helen Hayes Awards
by A.A. Cristi - Feb 3, 2020
Tonight, at a celebration honoring theatre excellence on stages across the Washington area, theatre artists, administrators, patrons, and special guests gathered in the National Theatre's Helen Hayes Gallery for theatreWashington's announcement of nominees for the 36th Annual Helen Hayes Awards, which will be presented on Monday, May 18 at an event at the Anthem.
BWW Review: FAIRVIEW at Woolly Mammoth Theatre Company
by Sam Abney - Sep 19, 2019
Jackie Sibblies Drury's play, Fairview, currently playing at Woolly Mammoth Theatre Company, is a show that desperately calls for conversation. It's no wonder, then, that each performance is immediately followed by community discussions led by Build With, a DC-based anti-racist training, facilitation, and consulting practice focused on people, power, and partnership. While I wasn't able to stay for this event following Saturday night's performance, it is an important step in ensuring this work's complicated themes are digested in a clear way. Fairview is one of the most conceptual shows in recent memory. Not every idea can be fully explored in this production, which has a tight 100-minute run time that director Stevie Walker-Webb keeps clipping at a good pace. Nevertheless, Fairview is a necessary piece for anyone looking to dive deeper into discussions of race and identity in America.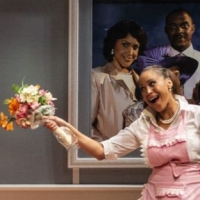 Review Roundup: What Did Critics Think of FAIRVIEW at Woolly Mammoth Theatre Company?
by Paul Smith - Sep 17, 2019
The Pulitzer Prize winning play, Fairview, recently opened at Woolly Mammoth Theatre Company. Find out what critics had to say!

BWW Review: NELL GWYNN at Folger Theatre - Be Prepared to Laugh and Learn about One of England's First Actresses on The Stage
by Charles Shubow - Feb 15, 2019
Go back in time to 1665 and learn about the theatre world in London.
BWW Review: Folger Theatre's NELL GWYNN Features Starpower Galore
by Andrew White - Feb 9, 2019
The performance of Alison Luff in the title role is nothing short of miraculous; her transformation from a trash-talking orange-monger to a star of the stage is unforgettable, and for theatre-goers to neglect this rare gem would border on criminal negligence.

BWW Interview: Robert Richmond of NELL GWYNN at Folger Shakespeare Library
by Rachael Goldberg - Jan 29, 2019
Robert Richmond is the director of Folger Theatre's upcoming production of Nell Gwynn. Richmond has directed a number of productions for Folger Theatre in DC and served as the Associate Artistic Director of the Aquilla Company in New York City. He currently is the Department Chair and Artistic Director of the University of South Carolina Department of Theatre and Dance.
Photo Flash: Folger Theatre Presents East Coast Premiere of NELL GWYNN
by A.A. Cristi - Jan 29, 2019
Behold the year of the woman: 1665. Folger Theatrecontinues its 2018/19 season of characters who 'shake the world' with Nell Gwynn, the Olivier Award-winning 2016 comedy from London about one of the first women to perform on the English stage. Written by British playwright Jessica Swale (Blue Stockings), Nell Gwynn was commissioned by Shakespeare's Globe where it premiered, followed by a celebrated 2016 run on the West End that earned an Olivier Award for Best New Comedy. Robert Richmond (Macbeth, Timon of Athens, Henry V at the Folger) will direct the East Coast premiere of the play at Folger Theatre in Washington, D.C.
Folger Theatre Announces East Coast Premiere of NELL GWYNN Starring Alison Luff
by Julie Musbach - Jan 2, 2019
Behold the year of the woman: 1665. Folger Theatre continues its 2018/19 season of characters who "shake the world" with Nell Gwynn, the Olivier Award-winning 2016 comedy from London about one of the first women to perform on the English stage.
BWW Review: ROBIN HOOD at Imagination Stage
by Elliot Lanes - Apr 23, 2018
The tale of Robin Hood has provided source material for several famous screen adaptations over the years, including the classic Hollywood film with Errol Flynn and the Disney animated feature that portrayed all the characters as animals. With the exception of Young Robin Hood at Round House Theatre a few years back, there really hasn't been a good stage treatment for the guy who steals from the rich to give to the poor...until now.

BWW Review: Ford's Theatre's JEFFERSON'S GARDEN Offers a Cursory Glance at an American Conundrum
by Benjamin Tomchik - Jan 26, 2018
As a nation, we owe it to ourselves to ponder how men who advocated for liberty could also advocate for slavery. It is a question for serious discussion, not just the cursory glances provided by Jefferson's Garden.
Christopher Dinolfo Videos
STAGE TUBE: THE NORMAL HEART at Arena Stage- Highlights!
by Stage Tube - Jul 27, 2012
THE NORMAL HEART closes this Sunday, July 29 at Arena Stage in Washington, D.C. The production stars Broadway cast members Patrick Breen and Luke MacFarlane as well as Tom Berklund (Broadway's The Addams Family) as Craig Donner/Grady, Michael Berresse (Broadway's A Chorus Line) as Mickey Marcus, Christopher Dinolfo (Round House Theatre's Next Fall) as David, Christopher J. Hanke (Broadway's How to Succeed in Business Without Really Trying) as Tommy Boatwright, Jon Levenson (understudy for Broadway's The Normal Heart) as Hiram Keebler/Examining Doctor, Nick Mennell (Broadway's A Free Man of Color) as Bruce Niles and John Procaccino (Lincoln Center Theater's Blood and Gifts) as Ben Weeks. BroadwayWorld brings you highlights from the production below!