Arena Stage to Honor Eve Ensler with American Artist Award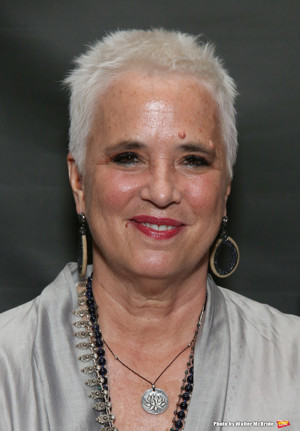 Arena Stage will present the American Artist Award to Tony Award-winning playwright, performer, activist and author Eve Ensler, one of Arena's Power Play commissioned artists. The award will be presented Wednesday, November 14, 2018 as part of the opening night celebration for the gold standard musical Anything Goes, directed by Molly Smith.
Beginning at 6:00 p.m., the evening will include a cocktail reception in the Bank of America Lower Lobby, seated dinner in the Molly Smith Study, 8:00 p.m. opening night performance of Anything Goes in the Fichandler Stage and post-show dessert reception in the Grand Lobby. The seated dinner will feature the presentation of the American Artist Award to Ensler.
"Eve Ensler has been at the forefront of the fight for women's rights for a long time, and it's wonderful to have this opportunity to highlight her work and activism both in the U.S. and abroad," explains Smith. "As a theater artist, her Vagina Monologues changed the way we view women's roles and, in fact, changed the way we view theater. She continues to trailblaze with her new plays about women and their bodies. She is a true hero of the American theater."
The American Artist Award recognizes artists of the highest caliber, honoring their work and significant contributions to American theater. Past awardees include Hal Linden, Moisés Kaufman, Sheldon Harnick, Kathleen Turner, Leslie Uggams, Edward Albee, James Earl Jones, Robert "Bob" Alexander, August Wilson and Arena Stage co-founder Zelda Fichandler.
Eve Ensler is the author of Obie Award-winning The Vagina Monologues, which has been translated into more than 48 languages, performed in more than 140 countries, and is currently celebrating its 20th anniversary. Her plays include Lemonade, Extraordinary Measures, Necessary Targets, O.P.C., The Good Body (Broadway and National Tour), Emotional Creature, most recently, Fruit Trilogy, which debuted Off-Broadway this past June. Her books include Insecure At Last: A Political Memoir and The New York Times bestseller I Am an Emotional Creature. She recently finished performing In the Body of the World (Manhattan Theatre Club, American Repertory Theater) as a one-woman show which she adapted for the stage from her critically-acclaimed memoir. Film credits include The Vagina Monologues (HBO), What I Want My Words to Do to You (Executive Producer, winner of the Sundance Film Festival Freedom of Expression Award, PBS), and Mad Max: Fury Road (Consultant).
Ensler's experience performing The Vagina Monologues inspired her to create V-Day, the 20-year-old global activist movement which has raised more than 100 million dollars to end violence against all women and girls (cisgender, transgender and gender non-conforming). She is the founder of One Billion Rising, the largest global mass action to end gender-based violence in more than 200 countries. She is a co-founder, along with Christine Schuler Deschyrver and Dr. Denis Mukwege, of the City of Joy, a revolutionary center for women survivors of violence in the DRC, and appeared with them in the award-winning documentary film City of Joy released globally on September 7 as a Netflix Original in 190 countries. Ensler's writings regularly appear in The Guardian and TIME Magazine. She was named one of Newsweek's "150 Women Who Changed the World" and The Guardian's "100 Most Influential Women." She was recognized earlier this year with the Lucille Lortel Lifetime Achievement Award and the Lily Award.
"I am so moved and humbled to be honored by Arena Stage which is one of our country's most vibrant, diverse and uplifting theaters," shares Ensler. "I am hard at work on a new play that is part of the Power Play series and I am challenged and inspired by Arena's history to make theater that speaks in and to these times of terrible oppression, upheaval and transformation."
Photo Credit: Walter McBride / WM Photos