Northern Stage Favorites Reunite In The Brilliant Comedy NOISES OFF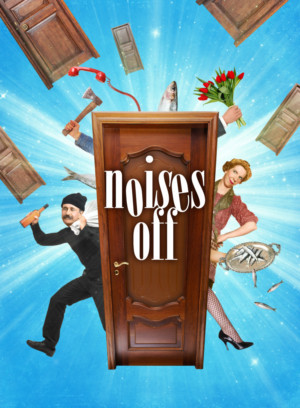 Michael Frayn's Noises Off runs live on stage at the Barrette Center for the Arts in White River Junction, VT, April 11 - May 13. For tickets and information, call (802) 296-7000 or visit www.northernstage.org. Tickets start at $15 for students and $34 for adults.
In Noises Off, an ambitious director and his troupe of mediocre actors rehearse a silly sex comedy titled Nothing On, where everything that can go wrong does. Jealousies erupt and scenery crumbles in what is often called the "best comedy ever written."
A cast of Northern Stage favorites from Broadway and beyond brings this meticulously crafted comedy to life. Northern Stage is thrilled to welcome back Susan Haefner (Northern Stage: Mamma Mia!, A Christmas Carol, and Mary Poppins; Broadway: State Fair, Thoroughly Modern Millie, and 42nd Street), Jamie Horton (Northern Stage: Orwell in America, Our Town, and Twelve Angry Men; Off-Broadway: Orwell in America at 59E59 Theaters), and Bill Kux (Northern Stage: A Christmas Carol, The Hound of the Baskervilles, and Romeo and Juliet; Broadway: Gore Vidal's The Best Man, The Trip to Bountiful, and Ain't Broadway Grand). Audiences may also recognize Emily Kron, who played the title role in Mary Poppins. After two years in the Northern Stage box office, Michael Hornig (Bud Frump in How to Succeed... at the New London Barn Playhouse) makes his man stage debut. Jenni Putney, David Mason, and Mark Light-Orr reunite after starring in The Norman Conquests, a trilogy of plays including Living Together, Table Manners, and Round and Round the Garden, co-produced in an historic collaboration by Northern Stage, Dorset Theater Festival, and Weston Playhouse in the spring and summer of 2016. Putney and Mason also appeared together in last season's Last of the Red Hot Lovers and Trick or Treat (transferring Off-Broadway in January 2019). The cast is completed with Patti Perkins (Northern Stage: New Works Now 5.0's Jane Burgoyne; Broadway: Billy Elliot, The Full Monty, Shakespeare's Cabaret, and All Over Town). Producing Artistic Director Carol Dunne says, "I saw Noises Off on Broadway when I was an acting student in my first year of college. The play made me want to be a part of the theater always, and its incredible timing and physicality blew me away. To produce this play in the Barrette Center for the Arts, with actors of this caliber and with a connection to our community, is a dream come true."
Peter Hackett directs (Northern Stage: A Christmas Carol, The Hound of the Baskervilles, and Living Together), and the creative team includes Jordan Janota (Set Designer), Laurie Churba (Costume Designer), Cory Pattak (Lighting Designer), Ben Montmagny (Sound Designer), Kyle Brand (Assistant Director), Kelleen Moriarty (Second Assistant Director), Paul West (Fight Director), and Brian R. Sekinger (Production Stage Manager).
Chippers, Mascoma Savings Bank, Upper Valley Aquatic Center, and White Mountains Insurance sponsor performances. A complimentary post-show reception with the cast follows the opening night performance on Saturday, April 14. An optional post-show conversation with the company follows evening performances on April 20, 21, and 22. $15 Anytime Student Tickets and $5 Access for All tickets (for EBT card holders) are available for any performance. Adult ticket prices range from $34-$59.
Northern Stage (northernstage.org) is a regional non-profit LORT-D professional theater company with a mission to change lives, one story at a time. Located in White River Junction, VT, Northern Stage actively involves its audiences with ambitious productions and expansive educational programs in its new home, the Barrette Center for the Arts. Founded in 1997, the company has offered more than 120 high-quality professional productions of new works, classics, and musicals. the company is now in its 21st season and annual attendance is over 35,000. Five years ago, the company launched a new play festival that has cultivated four world premiere productions and two Off-Broadway transfers. A robust education program focuses on professional training in a nurturing and supportive environment for students ages 9 and up. Yearlong acting ensembles, by-audition summer musical theater productions, a regional theater in the schools program, and a Dartmouth College Experiential Learning Term (accredited by Actor's Equity) are hallmarks of the education offerings.
More Hot Stories For You