BWW Review: ANNE OF GREEN GABLES at Weston Playhouse Theatre Company
Weston's 81st season is off to a stellar start with Anne of Green Gables on the Second Stage at Walker Farm. The adaptation of this beloved classic was conceived of by Gretchen Cryer and Nancy Ford in 2007--commissioned by New York City-based TheaterWorks USA, know for presenting adaptations of literature for young audiences that clock in at just over an hour without an intermission.
Playwright Anton Chekhov once said that "brevity is the sister of talent," and writers from Shakespeare to Stephen King have extolled the virtues of economy. Having seen countless touring shows from TheaterWorks, I was prepared for a show that moved along at a swift clip but was pleasantly surprised by the exemplary quality of the overall production and the talent of the eight ensemble members--all part of this season's young company.
Entering the theater, the aisles were transformed into the red dirt country roads for which Prince Edward Island is famous. Set designer, Charlie Corcoran incorporates simple, spare elements to suggest a variety of locations with minimal set changes and Michael Giannitti's lighting is likewise smart, spare and sophisticated. Another notable element is the sound design by Rider Q. Stanton--bird song plays as you enter the theater and there are a variety of sound making instruments in view that later become part of the soundscape of a large storm.
All of the ensemble minus Anne milled about before the show and chatted with the audience. Rachel Lynde (played by Liv Murni) showed us the sandpaper blocks the ensemble use to make the sound of the train, and fielded questions from curious theatergoers. Given the intimate feel of the small theater, it was a great way to make the show experience feel accessible to younger audience members and help them appreciate the production with more attunement.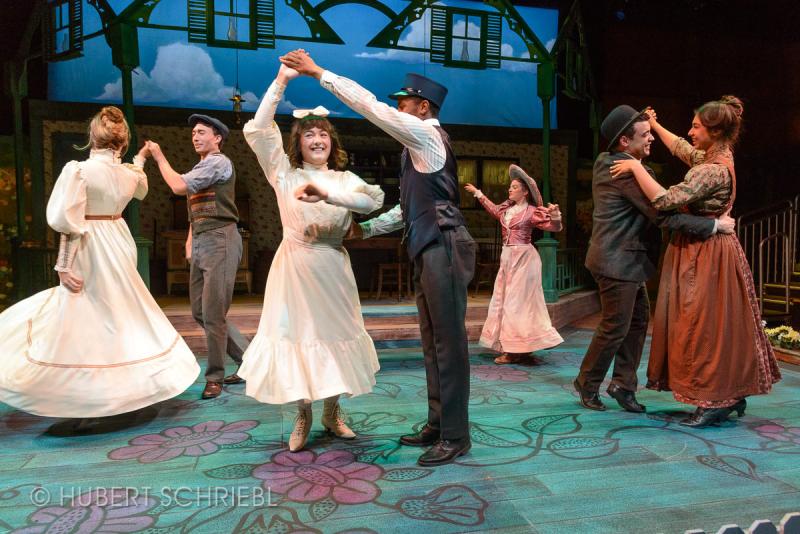 The ensemble, comprised of up-and-coming musical theater talent from BFA programs in Boston, New York, Michigan, and Ohio, was delightful. The character of Anne, played by Grace Martini, was a showstopper. Her embodiment of the iconic orphan was spirited and charismatic and her vocal performance was clear and strong. Marissa Hecker and David Alea, who played siblings Marilla and Matthew Cuthbert, did admirably portraying characters very much their senior, although the pragmatic, no-nonsense Marilla of L.M. Montgomery's novel seemed more annoyed and impatient in Hecker's performance and Alea's Matthew rather more intimidated by his sister than steadily abiding her strong preferences stoically. Still, the two made their dynamic work and Alea played a warm, paternal Matthew to Martini's Anne, which is arguably critical to the show's overall success.
Weston's production remains faithful to the book, spanning from Anne's arrival to Avonlea all the way through high school graduation and into young adulthood. The creative team of Cryer and Ford repeatedly found ways to weave elements of Montgomery's novel with narrative precision, wasting no opportunity to speed the plot forward. From having Anne overhear Marilla and Matthew discussing whether they'd keep her in "A Pretty Kettle of Fish" and jumping right into "I Can Stay" upstairs in her bedroom, or using the single schoolroom scene ("The Use of a Colon") to establish and evolve Anne's relationship with Gilbert Blythe, the play satisfied Green Gables enthusiasts while, no doubt, winning over new fans of the red-haired orphan of Avonlea.
Weston Playhouse Theatre Company's Anne of Green Gables plays through June 30 on the Second Stage at Walker Farm, 703 Main St. Weston, VT 05161 $10-$20. 802-824-5288, https://www.westonplayhouse.org