The Cultch to Present EAST VAN PANTO: SNOW WHITE & THE SEVEN DWARVES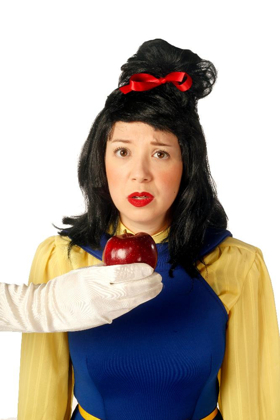 The Cultch will present Theatre Replacement's East Van Panto: Snow White & the Seven Dwarves at the York Theatre from Wednesday, November 29, 2017 to Saturday, January 6, 2018.
Celebrating its fifth year, the East Van Panto is back with an outrageous take on Snow White. In this East Van tale, our hero flees the Queen of North Vancouver across the Ironworkers Memorial Bridge and lands straight into the madness of the PNE, where she dances with SuperDogs, hops a ride on the Wooden Roller Coaster, and befriends washed-up '80s rock stars "The Seven Dwarves". Pure Panto hilarity ensues as they do everything they can to escape the Queen's wicked clutches.
"It is really hard to believe that we are doing the East Van Panto for a fifth year!", says The Cultch's Executive Director, Heather Redfern. "So many people tell me that it's a holiday tradition for their family and friends, and that just warms my heart because the Panto is all about celebrating local artists, local places, and local families. This year, we are presenting Snow White & the Seven Dwarves - who just happen to have landed at the PNE! I mean what could be more fun to sing and dance about than that?! The East Van Panto is for everybody and it's made here especially for us."
Theatre Replacement is thrilled that the Panto has developed into a beloved holiday tradition for hundreds of local families. The company is celebrating that spirit of inclusion by continuing to expand the circle of artists who work on the show each year, including an all-star cast featuring Ming Hudson, Chirag Naik, Amy Rutherford and the return of Panto favourite, Allan Zinyk. The cast is joined by three Studio 58 students and fifteen amazing kids from the local community. Theatre Replacement is also excited to welcome the return of writer Mark Chavez and director Anita Rochon to the Panto family.
"The East Van Panto continues to evolve, and that is paramount," says James Long, Co-Artistic Director at Theatre Replacement. "We are delighted to be working with Anita Rochon and Mark Chavez again this year, and to welcome both Allan Zinyk and Chirag Naik back to the cast. We are equally ecstatic about the new faces and fresh energy joining the company this year, including designer Yvan Morissette and our Snow White, Ming Hudson. It is striking that balance between tradition and experimentation that keeps this project exciting for us and, hopefully, for our audience as well."
IF YOU GO:
The Cultch presents:
EAST VAN PANTO: SNOW WHITE & THE SEVEN DWARVES
Theatre Replacement (Vancouver)
Written by Mark Chavez
Music & Lyrics by: Veda Hille
Directed by: Anita Rochon
Musical Director/Additional Music & Lyrics by: Ben Elliott
Starring: Allan Zinyk, Ming Hudson, Chirag Naik, & Amy Rutherford
Orchestra: Ben Elliott & Todd Biffard
Stage Management by: Joanne P.B. Smith
Costume Design by: Marina Szijarto
Costume Design Assistance by: Leah Weinstein
Set & Properties Design by: Yvan Morissette
Props Mastery by: Christie Watson
Lighting Design by: Adrian Muir
Choreography by: Kimberly Stevenson
Scenic Illustrations by: Laura Zerebeski
Assistant Stage Management by: Jennifer Stewart
Technical Direction by: Jeremy Baxter
November 29, 2017 - January 6, 2018
Opening Night: December 1st at 7pm
Previews: November 29-30 at 7pm
Performance Times: December 2, 5-9, 10, 12-17, 19-23, 29-30, 7pm | January 3-6, 7pm
Matinees: December 2-3, 9-10, 16-17, 23-24, 26-31, 2pm | January 4-6, 2pm
At the York Theatre, 639 Commercial Drive in Vancouver, BC
Tickets from $22; On sale now at The Cultch's Box Office, by phone at 604.251.1363, or online at www.thecultch.com.
*Child tickets just $22 for any seat in the house *(must be 18 and under)
**Family Packs from $135 **(Family Pack includes 2 adult + 2 child tickets)
ADDED VALUE: Enjoy a post-show Q&A on December 3, 10, 12, & 19
Theatre Replacement is an ongoing collaboration between James Long and Maiko Yamamoto. Whether working together or apart, we use extended processes to create performances from intentionally simple beginnings. Our work is about a genuine attempt to coexist. Conversations, interviews, and arguments collide with Yamamoto and Long's aesthetics resulting in theatrical experiences that are authentic, immediate, and hopeful. Visit www.theatrereplacement.org for more.
Now in its 44th season, The Cultch has been one of Vancouver's most diverse and innovative arts and cultural institutions, offering dynamic programming in contemporary theatre, dance, and music by local, national, and International Artists. Today, The Cultch continues to enrich the social and cultural life of Vancouver by bringing world-class cultural presentations to the public, supporting the growth of emerging artists and companies, and facilitating dialogue between groups in the Lower Mainland, especially within our local community of East Vancouver. The Cultch is so much more than just a theatre in the physical sense - our organization is looked upon as one of the foremost performing arts presenters in the country. Widely recognized as an innovator and leader, we have played an integral role in the development of British Columbia's artistic landscape. Go to www.thcultch.com.
Photo Credit: Tim Matheson
Related Articles View More Vancouver

Stories

Shows
More Hot Stories For You