The Sky Is Full Of Light To Celebrate Christmas And 10 Years Of The Voice Project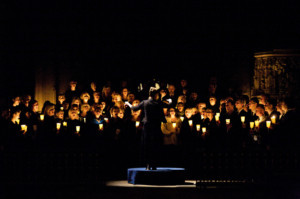 In celebration of their 10 years of song, Norwich's Voice Project Choir are presenting a very special Christmas concert on Saturday 22 December at the city's St Andrews Hall. Titled 'The Sky is Full of Light' after the song written for the choir by famed jazz musician Barbara Thompson (one of the first to be specially written for them), the concert will feature some of The Voice Project's favourite pieces from the past decade alongside new seasonal songs especially written for the event.
They will also be joined by some of the guest singers and musicians who have taken part over the years including regular collaborators Human Music - and saxophonist Andy Sheppard leading the instrumental line up.
With innovative visuals by artist Sal Pittman and atmospheric lighting, the event will be a visual as well as aural delight.
Created by experienced singers and educators Sian Croose and Jonathan Baker, The Voice Project Choir is genuinely open to all. It's a true community choir that absolutely anyone can join whether they have any experience of singing and music or not - there are no auditions and everything is taught by ear with no need to read music. Despite this their performances are produced to exacting professional standards. They perform music that is specially written for them by internationally renowned composers and present it in innovative ways using lighting and projections to create spectacular events that live long in the memory.
'We don't have a permanent choir' said Sian Croose 'some people sign up for every project and some join for one and return at a later date. I think that flexibility helps keep everything fresh - over the years we have had hundreds of different members'.
'We'll also have members of the choirs we formed in Brighton and elsewhere joining us' said Jonathan, 'We hope to make it a true celebration of the past 10 years and a launch pad for the next 10'.
The Voice Project Choir perform annual commissions at Norfolk & Norwich Festival appearing with significant guests from the jazz and contemporary music fields. They took their groundbreaking show The Arms of Sleep (which involves a sleepover for the audience) to this year's Brighton International Festival and have appeared at The London Jazz Festival and at Coutances Festival in France. Guest musicians and composers have included Andy Sheppard, Orlando Gough, pianist Gwilym Simcock, Switzerland's Nik Bärtsch, Norway's Arve Henriksen and American trumpeter Jon Hassell who has collaborated with David Bowie and David Sylvian amongst others. They have featured on TV on BBC 1 and ITV, on prime time French television and broadcast on BBC Radio 3 and Radio 4.
As well as the choir The Voice Project is an education charity that runs regular courses in singing for people of all abilities and the Vocal Invention music conventions. For full details of all the Voice Project's activities visit www.voiceproject.co.uk