Photo Flash: Meet the Cast of Gender-Blind ROMEO/JULIET at Edinburgh Fringe Festival; Anthony Rapp to Consult
This summer, Royal Family Productions will bring its gender-bending "Romeo/Juliet," a one-hour adaptation incorporating evocative movement, original music, and a fresh view on age-old stereotypes, to Scotland to participate in the Edinburgh Fringe Festival.
The show began as a college project, premiering as "R&J" during the Spectrum Players' Night of Experimental Works at Hofstra University in April 2012. The show not only inverted but dissolved the gender walls usually binding the production.
Anthony Rapp is serving as a production consultant. "It's a refreshingly heartfelt and committed expression of the timeless story, using an inspired mixture of movement and text." Rapp said after a recent workshop in New York.
"We wanted to show that the story of the star-crossed lovers is universal. To be truly universal, you have to strip away the inherent bias and baggage that comes with sexual associations," said director Stefanie Harris.
"Romeo/Juliet" will play a limited run at the Chain Theatre in Long Island City, New York, as part of their Unchained Theatre Festival prior to performing in Edinburgh. "We are excited to get to work with so many new and talented artists," said the Chain's executive director, Rich Ferraioli. "Part of our mission is to provide an opporutnitiy for original works to be showcased and performed. This festival is exactly that outlet!"
For more information, visit http://www.romeojulietfringe13.wix.com/idefyyoustars
More information about the Chain Theatre may be found at www.chain-theatre.org. The Edinburgh Festival Fringe may be found at www.edfringe.com.
Photo ©Carrie Leonard Photography.

Stefanie Harris, Director and Adapter

Eliza Hill as Paris

Michael Quadrino as Tybalt

Ryan Molloy as Friar Laurence

Matt Engle as Lord Capulet

Rita McCann as Mercutio

Cody Dericks as Juliet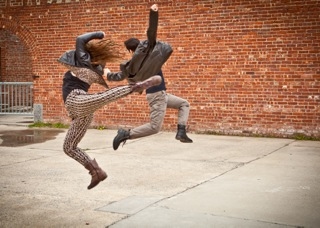 Mercutio and Tybalt battle.

Tensions at the Capulet Ball.

Kelly Dietrich as Romeo