Parr Hall Paves The Way For Hip Hop Pioneer Joseph Saddler, 'Grandmaster Flash'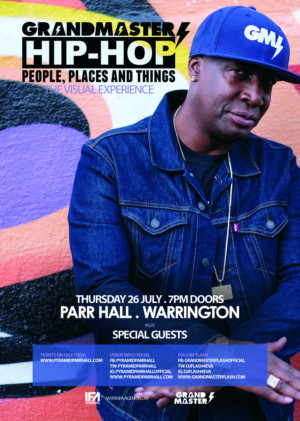 We all know the stories about the birth of jazz and the beginning of rock 'n' roll, but hip hop has its founding fathers too, and one pioneering artist is heading to town to tell us more about how he changed music forever.
Rewind to 1970s Bronx, where electrical engineering student Joseph Saddler stumbled across an idea that would completely revolutionise the way music was played.
As a lifelong lover of music, Saddler had been experimenting with his father's vinyl since he was a toddler, but a new idea saw him develop an innovative way of using the turntable that would very quickly outgrow neighbourhood block parties to become a global phenomenon.
Join us at Parr Hall for the groundbreaking story of the birth of hip hop: Hip Hop, People, Places & Things, told by the father of the genre himself, Joseph Saddler - the one and only Grandmaster Flash.
Flash was the first DJ to physically lay his hands on the vinyl and manipulate it in a backward, forward, or anti-clockwise motion, at a time when most DJs simply handled the record by the edges, put down the tone arm, and let it play.
He invented the Quick Mix Theory, The Clock Theory and scratching, laying the groundwork for everything a DJ can do with a record today, before developing this further to add rap/emcees over his beats, and starting his own group, Grandmaster Flash and the Furious Five.
Boasting an unrivalled reputation, the multi-award winning Grandmaster Flash has played for audiences as large as the Super Bowl and as elite as Queen Elizabeth II, and also made history in 2007 when Grandmaster Flash and the Furious Five became the first hip hop group to ever be inducted into the Rock & Roll Hall of Fame.
Now you can relive this pioneering age in modern music live at Parr Hall on Thursday 26 July with the first ever interactive, visual history of hip hop block party, told by the innovator, the pioneer, one of the creators of hip hop music, the one and only Grandmaster Flash!
Demonstrating the breaks from the original 70s records live on screen, Grandmaster Flash will show you the amazing history of Hip Hop, the People, the Places, & Things that started it all while cuttin' and scratchin' your favourite tunes on the turntables for one huge, live, interactive, visual Hip Hop block party.
Tickets are on sale now at www.pyramidparrhall.com or by calling Box Office on 01925 442345.