Lovehistory's TRIAL BY JURY Returns This Month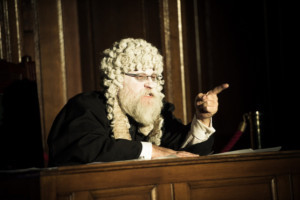 It is now just two weeks until the return of the hugely popular Trial By Jury event which comes to the Court Rooms of St George's Hall for 3 days this month.
Following the sell-out success of the March dates, Lovehistory are back with a gripping brand new case to solve from Wednesday 15 - Friday 17 August 2018.
This compelling immersive theatre production in original historic courts will put the audience in the driving seat and give them the power to decide the fate of those on trial. Guilty or not guilty? You decide!
The show was first introduced in April last year, and following its success, returned in August and again in March with new cases, to great success.
The exciting courtroom drama is brought to life by history specialist theatre company Lovehistory - the creative minds behind The Catacombs of Liverpool's Darkest History Tours and Murder at St George's Hall Series.
Set in the original courts of St George's Hall, where many infamous Liverpool cases were once tried, this is a perfect evening for any amateur sleuth. Put those detective skills to the test as details of a real-life historical court case are revealed.
The evening commences with audiences being witness to a grisly historical murder. The full details of the crime will then be revealed through compelling performances, re-enactments and narrated by a very own Sherlock Holmes style detective who will piece together the full story and gather the evidence for the trial.
After all the harrowing details of the crime have been laid out, the prosecution and defense then present their arguments - it is then in the hands of the audience, who become the jury for the case; given the task of balancing all the evidence from both sides and deciding a verdict. The fate of the accused will be in their hands as they await nervously in the dock for the outcome.
Will it be the Gallows? A lifetime of hard labour? Or will it be mercy? Only the audience will have the power to make that decision, with punishments and sentencing relative to the historical period of the crime.
The crime and court-case planned for the upcoming event will be kept top secret until the evening of the first performance.
Judy McLean Creative Director of Lovehistory said: "We are so excited to be returning with Trial By Jury. It seems that Liverpool audiences love playing detective, and the public have got their work cut out for them with the new case we have picked - it is a real cracker!
"The event is proving incredibly popular and I would urge people to get their tickets fast before they are gone. It would be a crime to miss it."
Purchase in person at TicketQuarter, Echo Arena Liverpool, Kings Dock, Liverpool, online at www.ticketquarter.co.uk or on 0844 800 0410.