H2DANCE to Take STRANGERS & OTHERS on UK Tour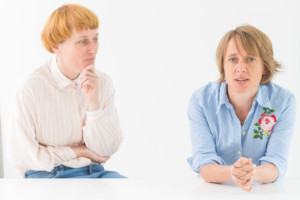 Strangers & Others is a new immersive piece from award-winning, maverick performers and choreographers H2DANCE that undertakes a short UK tour in October and December.
This is a performance without performers. Instead the audience are the protagonists in a show that asks how we can come together to co-exist and create understanding and empathy between social groups and cultures? At a time when global events seem to lead to increasingly fractured and isolationist society's, community and integration seem more important than ever.
The audience are invited to put on headphones to receive live instructions from H2DANCE's Hanna Gillgren and Heidi Rustgaard. The pair lead them through a series of choreographed meetings - with permission to look, touch, assume and judge. The trademark humour inherent in most of the company's work is never far away.
Each performance will be different as, alone in their own headphone-controlled world yet moving within a group of strangers, each individual is free to choose how to respond. Witnessed only by the choreographers, appearance, physicality and behaviour will be their sole guides as they cooperate in silence. As the audience moves around they will create a constantly changing physical landscape of shapes and patterns as they come together or shift apart.
Immersed in light and sound, this is an experience of being alone and together at the same time, where the space of the theatre frames the questions; Who takes responsibility and when do actions have consequences? 'We wanted to explore socialisation, tolerance, autonomy and exposure and freedom of choice' said Heidi. 'To see how a group of strangers follow the social codes and play their part' added Hanna.
Strangers & Others is itself the result of internationAl Cooperation and collaboration. With the creation process spread across Finland, Norway, Sweden, Iceland and London this is a truly pan European piece.
H2DANCE were founded in 1999 by choreographer/performer duo Hanna Gillgren (Sweden) and Heidi Rustgaard (Norway). Together they produce provocative performance work that addresses political issues with humour and emotion. The company works in collaboration with interdisciplinary teams and local communities to create evocative performances that challenge and respond to the audience. Hanna and Heidi have co-created eleven touring shows, of which several were successful high quality participatory dance projects, and two dance films in the UK over the last 16 years.
Strangers & Others is funded by Arts Council England, Arts Council Norway, Nordic Culture Fund, Region Värmland Sweden, Dance4 Nottingham and supported via South East Dance and Jerwood Charitable Foundation Dramaturg in Residence programme. It is co-produced by Dance4, Metal and Laban Theatre UK, Nordic House Iceland, Region Värmland and Dansens Hus Sweden, Bergen Dansesenter and Liikelaituri Finland.
Strangers & Others is a 75-minute participative performance installation suitable for everyone aged 14+. It involves movement & physical contact.
Strangers & Others features choreography and direction by Hanna Gillgren and Heidi Rustgaard, dramaturgy by Martin Hargreaves, music composition by Sylvia Hallett, and lighting design by Andy Hammond. Producer is Natalie Richardson for Konzept Arts & Ideas.
TOUR DATES:
Strangers & Others
New immersive & participatory piece from H2DANCE looking at how we respond to, react to and judge strangers
Tuesday 10h October 4pm, 6pm, 8pm
Woking, HG Wells Events & Conference Centre, Church Street East, Woking, GU21 6HJ
Tickets £10.00, concessions £5.00 01483 673271 www.dancewoking.com
Wednesday 18 October 6pm, 8pm
Colchester Arts Centre, Church St Colchester CO1 1NF
Tickets £ Pay What You Can 01206 500900 www.colchesterartscentre.com
Tuesday 24 October 3pm, 5pm & 7:30pm
Norwich Arts Centre, 51 St Benedicts Street, Norwich NR2 4PG
Tickets £ Pay What You Can 01603 660352 www.norwichartscentre.com
Thursday 26 October 3pm, 5pm & 7:45pm
Peterborough Key Theatre, Embankment Rd, Peterborough, PE1 1EF
Tickets £11, £6 Concession 01733 207239 www.vivacity-peterborough.com
Saturday 2 December 4pm, 6pm, 7.45pm
Nottingham Dance 4 Space 2, 2 Dakeyne St, Nottingham, NG3 2AR
Tickets £7, Concessions £5 0115 924 2016 www.dance4.co.uk