Full Dates Announced For Dan Snow's AN EVENING WITH THE HISTORY GUY Tour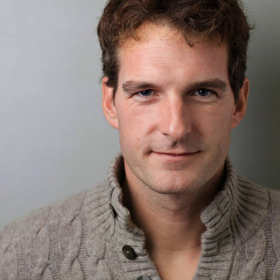 Dan Snow the 'History Guy' believes that history is the most exciting thing that has ever happened to anyone on this planet and on his best-selling tour An Evening With the 'History Guy' On The History Hit UK Tour, the historian and broadcaster will be telling audiences why!
With 42 confirmed dates, his first stop will be in Tewkesbury at the Roses Theatre on 22 January 2019 and will finish up at the Redditch Palace Theatre on 30 March. Dan's book On This Day In History has just been published by John Murray Publishers on 15th November 2018 that sees bring to life a key event in history for each day of the year.
who runs his own online TV Channel History Hit TV (https://tv.historyhit.com/) and has a regular 'history' slot on The One Show, will share memorable anecdotes from his career as a historian and broadcaster. Audiences are in for an additional treat as every show will have its own exclusive 'local' element that will see present historical facts about each town and area on the tour. There will also be a chance at the end of the show to engage with Dan during a 20 minute Q&A. Dan's tales will be enhanced with compelling digital imagery.
son of legendary broadcaster Peter Snow and the nephew of Channel 4 newsreader Jon Snow, Dan is the great great grandson of British Prime Minister David Lloyd George. Attributing his love of history to his childhood when he recalls spending weekends being taken to castles, battlefields, country houses and churches, Dan went onto study history at Oxford University. During his stint at Oxford he also rowed in the Boat Race three times!
Dan left Oxford he started presenting history programmes with his father and their series Battlefield Britain went on to win a BAFTA. Over the years Dan has made programmes on a number of historical topics and has presented shows such as Armada,Grand Canyon and Vikings. Dan also hosts his own podcast History Hit and is part of the BBC Events team presenting anniversary programmes commemorating the 75th anniversary of the Battle of Britain and the landings at Gallipoli in 2015. He has written or contributed to several books including Death or Victory, the story of the siege of Quebec in 1759, The World's Greatest Twentieth Century Battlefields and most recently The Battle of Waterloo Experience.
Tickets for the show Dan Snow - An Evening with the History Guy on the History Hit UK Tour 2019 will appeal to all age groups and are on sale now and can be purchased direct from theatres or from
ticketline.co.uk/dan-snow - 0844 888 991
2019 DATES
DATE
VENUE
BOX OFFICE
TIME
Tuesday 22 January
Tewkesbury, Roses Theatre
01684 295074
http://www.rosestheatre.org/events
7.30 pm
Wednesday 23 January
Exeter Corn Exchange
01392 665938
www.exetercornexchange.co.uk
7.30 pm
Thursday 24 January
Wimborne, Tivoli
01202 885566
www.tivoliwimborne.co.uk
7.30 pm
Friday 25 January
Weymouth, Pavilion
01305 783225
www.weymouthpavilion.com
7.30 pm
Sunday 27 January
Aylesbury, Waterside
: 0844 871 7607
www.atgtickets.com
7.30 pm
Tuesday 29 January
Rhyl Pavilion
01745 330 000
www.rhylpavilion.co.uk
7.30 pm
Wednesday 30 January
Belfast, Ulster Hall
0289 033 4455
etickets.waterfront.co.uk
7.30 pm
Thursday 31 January
Liverpool, Epstein
0844 888 4411
www.epsteinliverpool.co.uk
7.30 pm
Friday 1 February
Lincoln Theatre Royal
01522 519999
www.newtheatreroyallincoln.co.uk
7.30 pm
Saturday 2 February
Hereford, Courtyard
01432 340555
www.herefordcourtyard.org.uk
7.30 pm
Sunday 3 February
Northampton, Derngate
01604 624811
www.royalandderngate.co.uk
7.30 pm
Tuesday 5 February
Eastleigh, Concorde Club
023 8061 3989
www.theconcordeclub.com
8.30 pm
Wednesday 6 February
Aldershot, The Princes Hall
01252 329155
www.theprinceshall.com
7.45 pm
Thursday 7 February
Cannock, Prince of Wales
01543 578762
https://boxoffice.wlct.org
7.30 pm
Saturday 9 February
Swansea, Grand Theatre
01792 475715
https://www.swansea.gov.uk/grandtheatrewhatson
7.30 pm
Tuesday 26 February
Birmingham Town Hall
0121 780 3333
www.thsh.co.uk
7.30 pm
Wednesday 27 February
York, Grand Opera
0844 871 7615
www.atgtickets.co.uk
7.30 pm
Thursday 28 February
Gateshead, Sage Hall 2
0191 433 4661
www.sagegateshead.com
8.00 pm
Friday 1 March
Stirling Albert Halls
01786 473 544
Culturestirling.org
7.30 pm
Saturday 2 March
Dunfermline, Alhambra
01383 740384
www.alhambradunfermline.com
7.30 pm
Sunday 3 March
Inverness, Empire
01463 234 234 www.eden-court.co.uk
7.30 pm
Monday 4 March
Aberdeen Music Hall
01224 641122
www.aberdeenperformingarts.com
7.30 pm
Wednesday 6 March
Alnwick Castle
01665 511 100 option 6
www.alnwickcastle.com
7.30 pm
Friday 8 March
Workington, Carnegie Hall
01900 602122
www.carnegietheatre.ticketsolve.com
7.30 pm
Sunday 10 March
Loughborough Town Hall
01509 239914
www.loughboroughtownhall.co.uk
7.30 pm
Monday 11 March
Ilkley, Kings Hall
01274 432000
www.ticketline.co.uk
7.30 pm
Tuesday 12 March
Stockport, Plaza
0161 477 7779
www.stockportplaza.co.uk
7.30 pm
Wednesday 13 March
Barrow, Forum 28
01229 820000
www.theforumbarrow.co.uk
7.30 pm
Thursday 14 March
Burnley, Mechanics
01282 664400
www.burnleymechanics.ticketsolve.com
7.30 pm
Friday 15 March
Lancaster, Grand
01524 64695
www.ticketline.co.uk
7.30 pm
Sunday 17 March
Crawley, Hawth
01293 553 696
www.parkwoodtheatres.co.uk
7.30 pm
Monday 18 March
Kettering, Lighthouse
01536 414141
www.lighthousetheatre.co.uk
7.30 pm
Tuesday 19 March
Salisbury City Hall
01722 434434
www.ticketline.co.uk
7.30 pm
Wednesday 20 March
Torquay Princess Theatre
0844 871 7627
www.atgtickets.co.uk
7.30 pm
Thursday 21 March
Worthing, Connaught Theatre
01903 206 206
www.worthingtheatres.co.uk
7.30 pm
Friday 22 March
Dunstable, Grove Theatre
01582 602080
www.grovetheatre.co.uk
7.30 pm
Monday 25 March
Eastbourne, Devonshire Park
01323 412000
www.eastbournetheatres.co.uk
7.30 pm
Tuesday 26 March
Cardiff, St Davids Hall
029 2087 8444
www.stdavidshallcardiff.co.uk
7.30 pm
Wednesday 27 March
Solihull, The Core Theatre
0121 704 6962
www.thecoretheatresolihull.co.uk
7.30 pm
Thursday 28 March
Chelmsford, Civic
01245 606505
www.chelmsford.gov.uk
7.30 pm
Friday 29 March
Radlett Centre
01923 859291
www.radlettcentre.co.uk
7.30 pm
Saturday 30 March
Redditch, Palace Theatre
01527 65203
www.redditchpalacetheatre.co.uk
7.30 pm

Related Articles View More UK Regional

Stories

Shows
More Hot Stories For You