FRIENDSICAL Comes to Worthing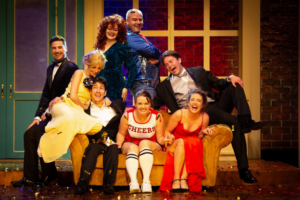 COULD YOU BE any more excited? Hilarious Musical Parody Friendsical arrives in Worthing this October!
As part of a UK tour the hilarious parody musical Friendsical will be at Worthing's Pavilion Theatre from Tuesday 1 October to Saturday 5 October. Can't get enough of the amazing hit sitcom, well get ready for the musical! High energy and witty, with toe tapping original musical numbers, the show is not to be missed. So grab your disposable camera, put on your dungarees and get down to the Pavilion Theatre with your friends this October! When Ross' wife leaves him for another woman, he fears he will never find love again. But then Rachel runs back into his life... will he end up with his one true love? Featuring original songs such as '(He's her) Lobster!', 'Richard's Moustache' and 'You're Over Me? When Were You Under Me?', the gang take on naked Thursdays, a power cut, and a dinosaur convention. What could possibly go wrong? Playing everyone's favourite friends are
Jordan Fox
(Joey),
Sarah Goggin
(Monica), Jamie Lee-Morgan (Ross), Thomas Mitchells (Chandler), Ally Retberg (Phoebe) and Charlotte Elisabeth York (Rachel). They will be joined by Duncan Burt (Ensemble) and Rebecca Withers (Ensemble).
Miranda Larson
is a highly experienced writer-director for TV and theatre. A huge fan of the TV Show, Friends, Miranda was inspired to write her own friends-based comedy, The Box Upstairs and it was her first commissioned play in 2004. Her most recent credits include the adaptation of
Tom Fletcher
's Christmasaurus for the Hammersmith Apollo, and the writing and directing of
Peter Harris
and
Deborah Allwright
's The Night Pirates, which opened at the Rose Theatre Kingston and toured the UK. In addition are Cartoon Network Live and Trolls Live currently touring overseas. Other live show credits include the comedies SpongeBob Live & The Amazing World Of Gumball. TV credits include Life Bites and Bienvenue Bienvenida Welcome for the Disney Channel. Hubble, Bubble & Squeak for Nickelodeon, Chip and Potato for Darrall Mcqueen & Netflix. Miranda is currently developing Sleepy Hollow for the stage. Friendsical is produced by Birdbrooke Entertainment ltd. This is a loving parody not to be confused with the Warner Bros Entertainment Inc. series Friends. Tickets for Friendsical are available from £21 and are available to purchase from the Worthing Theatres box office on 01903 206 206 and online at
worthingtheatres.co.uk
.