Clive Rowe To Star In UK Tour Of Hip Hop Musical IN THE WILLOWS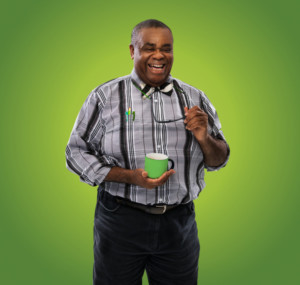 Olivier award-winning actor, 'the nation's favourite pantomime dame', and star of BBC's The Story of Tracey Beaker, Clive Rowe will star as 'Mr Badger' in the UK tour of IN THE WILLOWS, a brand new musical from the award-winning Metta Theatre, opening at the Exeter Northcott on 22 February 2019, and touring the UK until June.
IN THE WILLOWS transforms Kenneth Grahame's well-loved tale into a thrilling new hip hop musical, written and directed by Poppy Burton-Morgan (Jungle Book, UK & International Tour),with music from award-winning composer Pippa Cleary (The Secret Diary of Adrian Mole, Chocolate Factory; Prodigy, St James Theatre) and groundbreaking hip-hop Composer Keiran Merrick, set and lighting design by William Reynolds, costume design by Ryan Dawson Laight (Blak Whyte Gray, Barbican), and with choreography from Rhimes Lecointe (Associate choreographer for Zoo Nation, and Artistic Director Boudicca).
Mole's first day in 'The Willows'. The kids look a bit rough. Surely Mr Badger will look out for her, while hip-hop cool girl Rattie, rich kid rapper Toad and street-dancing Otter teach her the ways of the Riverbank. But when Toad gets locked up for joyriding, the Weasel Clan break in and squat his pad, the Pool Hall. Now it's only a matter of time before Chief Weasel reveals Mole's dark secret...
With epic show tunes and killer beats, this classic story is brought popping and locking into the twenty first century in an extraordinary new hip-hop musical.
Clive Rowe said, 'From the moment I was first introduced to In The Willows I knew it was something I had to be a part of - a classic piece of British theatre given the voice and unquenchable energy of the modern generation. Crafted with unabashed love and respect by Poppy, Pippa and Keiran it literally takes my breath away.'
After their smash hit street-dance JUNGLE BOOK and circus-musical LITTLE MERMAID, the award-winning Metta Theatre bring you a bold new take on this much loved classic. Metta Theatre is at the forefront of cross-art-form theatre practice, known for combining emotionally powerful performances with imaginative theatricality and striking visual style. Metta Theatre is one of the UK's leading mid-scale touring companies - making exceptional theatre and opera that represents and celebrates the diversity of our world.
As Metta's Artistic Director Poppy Burton-Morgan explains, "Representation is at the heart of our storytelling, so we're thrilled to develop that further in Willows - integrating BSL into the Choreography and providing a platform for the extraordinary Chris Fonseca, a deaf street dancer, who plays Otter. The show is also full of trans-positive and body positive role models and we hope that in seeing themselves reflected on stage we're empowering our audiences as we entertain them".
Exeter Northcott Theatre's Artistic & Executive Director Daniel Buckroyd said, 'After three years working with Metta as an Associate Company here at the Northcott, we're thrilled to be co-producing their extraordinary new musical - when I heard an early sing-through I knew this was going to be something special - a quintessentially English family tale brought bang up-to-date with a brilliant Hip Hop score - as if someone had spliced Matilda with Hamilton!'
Olivier-award winner Clive Rowe MBE has had an illustrious career on stage and screen; best-known to family audiences for his role as 'Norman "Duke" Ellington in BBC Children's drama The Story of Tracy Beaker, Clive's extensive stage credits include Me and My Girl (Chichester), Guys and Dolls (NT and West End), Chicago (Adelphi), The Light Princess (NT), Kiss Me Kate (Chichester and Old Vic), and many appearances in panto, particularly at the Hackney Empire.
IN THE WILLOWS is produced by Metta Theatre and Exeter Northcott Theatre, supported by the Arts Council Strategic Touring Fund.
More Hot Stories For You