Casting Announced For A DICKENSIAN CHRISTMAS At The Old Library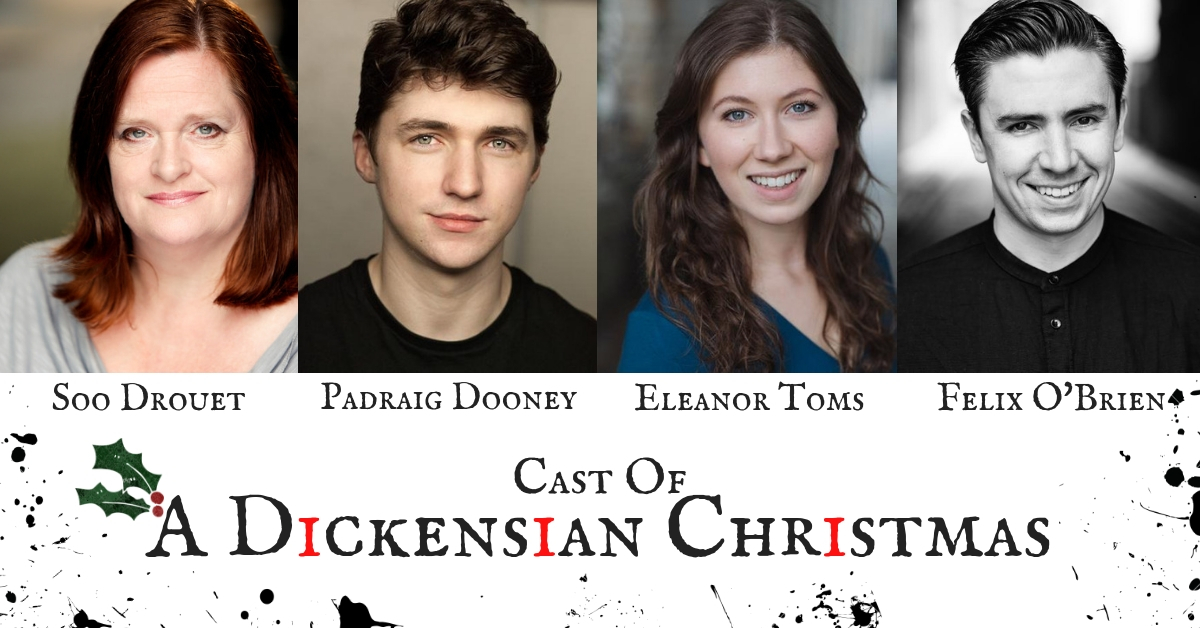 Ha-Hum-Ah Theatre in co-production with intoBodmin are pleased to announce the casting for their Christmas show "A DICKENSIAN CHRISTMAS" playing for a limited run at The Old Library in Bodmin, Cornwall from the 27th November to the 22nd December 2018. Press night is November 29th.
Soo Drouet will be playing 'Ethel Harrison', Felix O'Brien 'Clarence Koegh', Eleanor Toms 'Grace Lillywhite' and Padraig Dooney 'Sean O'Sullivan'.
Soo Drouet's theatre credits include "THE WINSLOW BOY" for Chichester Festival Theatre & UK Tour, "CALENDAR GIRLS at the Pheonix Theatre in the West End and "KEEPING UP APPEARANCES" for Classic Comedy Productions. Screen credits include "DELICIOUS", "GUERRILLA" and YOU, ME AND THE APOCALYPSE for Sky 1 and Sky Atlantic. "CALL THE MIDWIFE", "RIVER" and MAPP & LUCIA" for the BBC along with cult film "ROBIN HOOD PRINCE OF THIEVES".
Felix O'Brien's credits include "EARLY ONE MORNING" for LEMAD, "FIVE GUYS" at Theatre503, "WHAT THE THUNDER SAID" for Theatre Centre, "WOMAN IN THE DUNES" for Kagami Theatre/Theatre 503 and "THE PLANET AND STUFF" at the Polka Theatre.
Eleanor Tom's credits include "FIDDLER OF THE ROOF" and "A LITTLE NIGHT MUSIC" at the Frinton Repertory Theatre. "ASTLEY'S ASTOUNDING ADVENTURES" and "TREASURE ISLAND" at the New Vic Theatre and "PAPER HEARTS" Upstairs at the Gatehouse.
Padraig Dooney's theatre credits include "THE COMMITMENTS" at the Palace Theatre in the West End along with the UK & Ireland tour. "THE EXAM" at the Dutch European Theatre Festival, "A WHISTLE IN THE DARK" for Troppo Theatre and "DOES ANYBODY EVER" at the Absolut Fringe Festival. Screen credits include "SECRET CHILD: THE BRIDGE" and "32A".
"A DICKENSIAN CHRISTMAS" is a festive story-telling romp through some of English literature's most loved Christmas fables, poetry and music from Dickens to Hans Christen Anderson.
1869, Victorian London. The household staff of 48 Doughty Street gather on Christmas Eve for a tradition long carried out, but seldom spoke about. That is until the arrival of an unexpected visitor in the winter cold. All he wants is a room for the night, and in return, he'll entertain with his finest festive stories. But what's the catch?
Developed and devised through a method of creative discovery through improvisation, A Dickensian Christmas promises to be an evening of inventive and imaginative story telling. Over 40 wide and varying characters will be portrayed by a cast of 4, in this festive story telling roller-coaster through the ages.
Directed by Ha-Hum-Ah Theatre's Artistic Director Ben Kernow, who's directing credits include "GRIMM'S FAIRY TALES" for Ha-Hum-Ah theatre, "CARELESS TALK" at the Canal Cafe Theatre and "BORDER CONTROL" at the Old Red Lion. Musical Direction and Sound Design will be by Dan Bottomley whose credits include "GRIMM'S FAIRY TALES" for Ha-Hum-Ah Theatre, "TALK RADIO" (Offie nominated for Best Sound Design), and "FOX" at the Old Red Lion, "PETER AND THE WOLF" (Offie nominated for Best Show for Under 7's), "THE HOUSE OF USHER" - A New Gothic Musical and "RICHARD PARKER" at The Hope Theatre.
Puppet design will be by Maia Kirkman-Richards with set design and construction by Graham Cole.
This will be the first resident production at The Old Library intoBodmin, which is headed by Fin Irwin, will be transforming the old library building in Bodmin into a multi-purpose arts venue and cafe.
Tickets and more information is available below; www.intobodmin.co.uk
More Hot Stories For You