BWW Previews: NOIR at The Kings Arms, Salford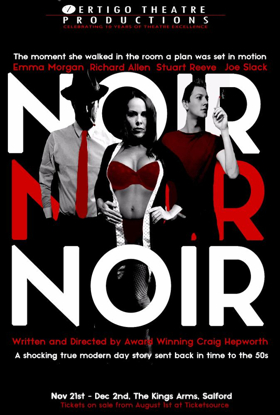 A single spotlight illuminates a detective stood under a streetlight, fog swirls around his feet as he lights his cigar, a saxophone player leans against a brick wall playing jazz that echoes around the streets. Welcome to the world of NOIR.
Multi award winning Vertigo Theatre Productions ( Porno Chic, Black Ice, Last Dance, Ascension, M, The Great American 80s Soap Opera etc) are back after their recent triumph with the play Watching Goldfish Suffocate (picking up 2 awards at The GMF awards), this time with their most ambitious and exciting play ever, Noir.
Loosely inspired by a shocking true modern-day story, Noir relocates it back to 1950s America.
Veronica Smart is a beautiful 36-year-old woman married to her husband Cliff for 16 years, always wanting to be a star she's now grown tired of the marriage and wants out. Meeting a group of teenagers at the school she works sets in motion a plan that will include seduction, passion, lies and manipulation, and by the end nobody will be left unscathed as she spins her web without consequence.
With an eye popping black and white multimedia visual production, fog machines, underscoring and an exciting set, Noir promises to be something you have never seen on the fringe scene before.
Written and directed by multi award winning Craig Hepworth, Noir will bring the world of the 1950s Noir movies and pulp detective novels to the stage.
Stepping in to the femme fatale lead role is award nominated Emma Morgan as Veronica Smart.
Critically acclaimed actor and star of Porno Chic Richard Allen plays 16 year old Jimmy Flynn
Vertigo regular Stu Reeve will play the role of Detective Sal Pelletier
Award nominated writer Danny Clifford plays the role of doomed husband Cliff Smart
Grange Hill and Black Ice star Joe Slack plays teen rebel Riff Randell
Anna Hickling plays the virginal but corruptible Vivian Pierce
Benjamin Gray plays high school dropout/criminal Barry Vance
More casting to be announced.
Noir opens Nov 22nd at The Kings Arms, Salford and plays until December 2nd. Tickets are £12 for the next 2 weeks then goes up to the regular price of £13. Tickets can be booked via the link below
The play is 2hrs and 15 mins long (2hrs 30 with an interval). Please note this production is not suited for under 14 year olds and does contain brief nudity. So book today for the show sure to heat up those cold winter nights. Book via here - Noir Tickets