Craig Hepworth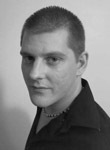 Craig Hepworth is a former musical theatre actor who now owns and is the artistic director of the popular Manchester Fringe Theatre company Vertigo Theatre Productions. The company have scored big hits with original plays written by him and his writing partner as well as producing, Directing and starring in the UK Premiere of Dog Sees God. Theatre is his number one love (as well as his partner of course) and if not working on a new play he's normally reviewing other peoples plays for a UK Theatre site.Aside from his love of theatre he can be found In bars, cinemas or gossiping on Facebook, or he will be found embracing his second love....campy TV shows.

MOST POPULAR ARTICLES
LAST 365 DAYS
BWW Previews: DIE, MOMMIE, DIE! at Upstairs At The Gatehouse
May 7, 2019
---
Dale Vicker & Alex Reid Announced for UK Premiere of DIE, MOMMIE, DIE! at The Kings Arms, Salford

January 10, 2019

Die, Mommie, Die! the UK premiere finds a killer cast.
---
BWW Previews: CLOSETS, A New British Musical Based On The Award-Winning Film

April 5, 2018

Casting announced for 'Closets' includes Natasha Hamilton, Sam Retford and Lloyd Daniels.
---
BWW Previews: FAKE NEWS at The Kings Arms, Salford

February 19, 2018

TRUE STORY - 'FAKE NEWS' to premiere in Salford, an Eighties-set Neon Nightmare Psychodrama.
---
BWW Previews: NOIR at The Kings Arms, Salford

August 15, 2017

A single spotlight illuminates a detective stood under a streetlight, fog swirls around his feet as he lights his cigar, a saxophone player leans against a brick wall playing jazz that echoes around the streets. Welcome to the world of NOIR.
---
Photo Coverage: PORNO CHIC Returns to The Kings Arms

July 16, 2016

One of Manchester's most successful fringe theatre companies have announced that they will be bringing back the smash hit show Porno Chic after a sell out 2nd run at The Kings Arms, Salford as part of the Greater Manchester Fringe.
---
BWW Preview: MURDER SHE WRITES at The Kings Arms

February 19, 2016

Vertigo Theatre Productions are back with a crazy new comedy
---
ASCENSION To Open At The Kings Arms, Nov 17

August 9, 2015

One of Manchester's most successful fringe theatre companies Vertigo Theatre Productions are back this November with the new drama/thriller Ascension opening Nov 17th - 24th at The Kings Arms.
---
LAST DANCE To Open At King's Arms, May 2015; Dates Announced For WATCHING GOLDFISH SUFFOCATE

March 17, 2015

Last Dance takes an intimate look back to a time that wiped out a generation and caused panic and fear as AIDS ripped its way through an unsuspecting world.
---
Tony Nominated Legend Charles Busch Comes To The UK For The First Time

October 10, 2014

Tony-nominated, Sundance Film Festival winner and Broadway and Off Broadway legend Charles Busch is finally heading to the UK for three performances only of his critically acclaimed cabaret act that has been playing to rave reviews and standing ovations around America including at the iconic 54 Below in New York.
---
Vertigo Announce PORNO CHIC And More Dates For WATCHING GOLDFISH SUFFOCATE

August 25, 2014

Vertigo Theatre Productions bring 'Porno Chic' to the stage and add on further venues for the critically acclaimed 'Watching Goldfish Suffocate'.
---
WATCHING GOLDFISH SUFFOCATE To Open In Manchester, Aug 2014

July 11, 2014

Award-winning Vertigo Theatre Productions ( Mysterious Skin, M, OUT, Die, Mommie,Die, Rage etc) bring to the stage Watching Goldfish Suffocate, an exciting original new play by first time writer David Degiorgio about his own experiences of mental illness told in a unique and enlightening way.
---
Photo Coverage: RAGE In Rehearsals

April 16, 2014

Opening April 15th for one week only at the Three Minute Theatre in Manchester, award winning Vertigo Theatre Productions (Mysterious Skin, M, OUT, Die, Mommie, Die, EXAM) bring the powerful drama RAGE back to the city in a newly rewritten version after the show's premiere in 2009.
---
Desperate Measures Opens in Manchester this October

September 8, 2013

For their debut production the Manchester Shakespeare Company present a full length adaptation of 'Measure For Measure'. Formed by the Company behind the successful 3MT Venue, TMSC is dedicated to producing modern, relevant adaptations of Shakespeare's works set in the cultural landscape of the North West of England, embracing the talents of local writers, actors and directors.
---
HOW TO SUCCEED Opens For Business This August At The Lowry

July 30, 2013

MEN Theatre Award-winning youth theatre 'The Company' returns to The Lowry with an iconic Broadway show!
---
BWW:UK Interviews: Playwright Prince Gomolvilas

March 27, 2013

Prince Gomolvilas is a Thai American playwright. He has written many plays which have been produced around the world and won several distinctive awards.
---
Award-Nominated Vertigo Theatre Productions Bring MYSTERIOUS SKIN To Manchester

March 3, 2013

Following up the critically acclaimed sold out extended run of their original play 'M' the award-nominated Vertigo Theatre Productions switch gear to present the controversial drama 'Mysterious Skin' written by Prince Gomolvilas based on the bestselling novel by Scott Heim.
---
Photo Coverage: M Opens in Manchester

January 22, 2013

Award-nominated Vertigo Theatre Productions are bringing their original 2009 play 'M' back to the stage in a brand new production with all new twists and turns in Manchester at the Three Minute Theatre from January 22.
---
Photo Coverage: In Rehearsals With 'M'

December 27, 2012

Having enjoyed another successful year with their world premiere stage adaptation of Exam and presenting the UK Premiere of Peter Michael Marino's 'Desperately Seeking the Exit' (which has opened to rave reviews around the globe) Vertigo Theatre Productions are starting off 2013 with a new production of their 2009 thriller 'M' opening at the Three Minute Theatre on January 22.
---
ASYLUM OF GRACE Opens in Manchester, Dec 13

November 8, 2012

Written by Neil Ely and directed by Lloyd Eyre-Morgan, and set in the early 1980s, the play focuses on free-spirited Amber, from Manchester living in Eastbourne, working as a waitress for the summer season. On a night out she stumbles back to local lad Sean's house; that night they sleep together and their lives change forever.
---