SECRET Comes to Zorlou PSM This Week
The performance is on 13 January.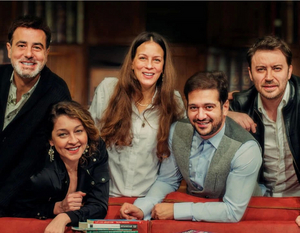 "Le Prenom" written by Cesar Award Winner Alexandre De La Patelliere & Matthieu Delaporte, which received great acclaim in France and many other countries; Hilal Arslangiray meets theater lovers with Kazanbal's sincere adaptation.
"SIR" staged by Gate Production, which has made a name for itself with different, brave and assertive productions; Tayanç Ayaydın, who has national and international awards, brought together Emel Çölgeçen, Anıl Çelik, Tolga Güleç and Şeyma Gökçe Cengiz on the stage.
one-act play directed by Ahmet Kazanbal; It intertwines drama and sitcom.
The unique songs of Pinhani, who are well-known by music lovers, also add a completely different atmosphere to the game.
Human values ​​such as the secrets that govern lives, prejudices, egoism, fascism, left-right conflict, pragmatism, the contradiction between truly loving and dislike, and the difference between looking and seeing; What would happen if it emerged over time with what people have accumulated inside them? Do you apologize? Or continue as if nothing happened?
To all these cases; A sincere, realistic, humorous and gripping story that touches on people who think they know each other very well... Extraordinary events that develop at an ordinary family dinner, untimely confessions... Absurdities experienced with rising tensions...
Blending drama and sitcom; A delightful dark comedy theater play about family, love and friendship...