BWW Review: WILDE TALES at Shaw Festival
CHARM ABOUNDS IN SHAW FESTIVAL'S "WILDE TALES"
A verbose frog, an egomaniacal Rocket, two charming birds, and a sympathetic Prince are not the usual cast of characters in an
Oscar Wilde
play. But in the ever evolving 2017 Shaw Festival season, his "WILDE TALES" proves to be an eye opening and joyous experience for young and old alike. This delightful lunch time play, adapted for the stage by
Kate Hennig
, comprises four tales from Wilde's 1888 book of children's stories including The Happy Prince, Remarkable Rocket, The Nightingale and the Rose, and The Selfish Giant. All playing out in the fictitious garden of
Oscar Wilde
's imagination, complete with page turning story book settings by
Jennifer Goodman
, these short fables give lessons in sharing, relationships, love, and death. Director
Christine Brubaker
has assembled local and visiting children to act as a mini Greek Chorus, which changes with each performance. This allows the wonderment of theatre to be enjoyed by the kids and at the same time immersing them in the action. They herald each new vignette, sing, wave flowers and help light the stage. Remembering that the author also penned such dramas as THE PICTURE OF DOR
IAN G
RAY and SALOME made the play all the more enthralling, giving a glimpse of a gentler and more innocent side of Wilde. The Happy Prince tells of a statue of a prince who speaks to a migrating bird, urging him to poke out his bejeweled eyes and remove his golden robes to help others who are in need. Remarkable Rocket allows a group of Roman Candles and other fireworks to gleefully prepare for a wedding, ending with each of them being set off by a creative simulation of lighting a match. Through handheld puppets, the actors become birds, matches, fireworks and trees. The few simple props on stage morph magically from a utilitarian trunk to a mini stage with small puppets acting out their own drama, or a street lamp that becomes a moon. Goodman's fantastic costumes help color the stage, especially with her whimsical designs for the fireworks.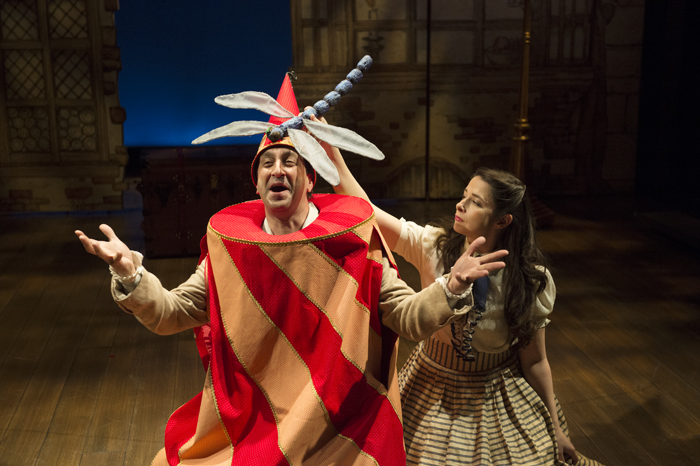 While all of the six actors play multiple parts, they each are given their time to shine, while also working beautifully as an ensemble. Jonathan Tan was perfection as the hopping and talkative frog who jumps on the stage, crouches, and happily emits his first "RIBBIT!" Sanjay Talwar reveled in his pomposity as the self absorbed Remarkable Rocket. Marion Day was charming as the Happy Prince who thinks more of others than of himself. Emily Lukasik sang a lovely song as the Nightingale who must die to produce a red rose. Kelly Wong was heartbreaking as the Selfish Giant who transforms from mean and blustery to a caring dying man. PJ Prudat evoked giggles as the buzzing, pestering Dragonfly.
After a brief 55 minutes, WILDE TALES transports the audience back to an age of innocence, where all it takes is an engaging story and a few magical puppets and props to feel fully satisfied. The adults in the audience seemed as content as those happy kids making up the chorus on the sidelines. There is no shame in enjoying a colorful fairy tale at any age, and viewing WILDE TALES brings the same sense of contentment that a child has with the ending of their favorite picture book. (Including, can we read it again please!) WILDE TALES plays at the Courthouse Theatre of the Shaw Festival in Niagara on the Lake through October 7, 2017. Contact shawfest.com for more information.
Related Articles View More Toronto

Stories

Shows