Cast Announced For FreeFall's THE MUSICAL OF MUSICALS THE MUSICAL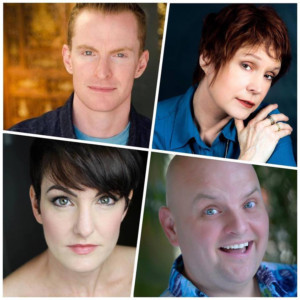 What happens when you put four musical theatre actors together and have them tell the same classic melodrama (I can't pay the rent!!) as scored by musical theatre heavyweights Jerry Herman, Andrew Lloyd Webber, Stephen Sondheim, Kander & Ebb and Rodgers & Hammerstein? You get the hilarious musical comedy spoof, THE MUSICAL OF MUSICALS THE MUSICAL!!
Join Jen Byrne (freeFall's CABARET), Matthew McGee (freeFall's MAME), Ann Morrison (freeFall's INTO THE WOODS) and Robert Teasdale (freeFall's THE LIGHT IN THE PIAZZA) for a summer of laughs and songs that will leave you dancing out of the theatre. This hilarious musical pays loving tribute to the traditions of musical theatre while mercilessly lampooning them to shreds. The irreverent finale to freeFall's 2017/2018 season was the longest-running show in the York Theatre's history prior to its extended off-Broadway run. THE MUSICAL OF MUSICALS THE MUSICAL opens June 23 and runs through July 15.
THE MUSICAL OF MUSICALS THE MUSICALS also stars Michael Raabe (freeFall's resident Musical Director) and is choreographed by Cheryl Lee (freeFall's CABARET) and directed by freeFall Artistic Director Eric Davis.
This summer, freeFall Theatre gives their regards to Broadway! Broadway ain't ready.
For more information or to request an interview, contact Outreach/Marketing Director Matthew McGee at 727-498-5205 X 7.
More Hot Stories For You