BWW REVIEW: Little Triangle Delivers Another Fabulous Expression of Sondheim with MERRILY WE ROLL ALONG
Saturday 10th March 2018, 8pm, The Depot Theatre Marrickville
The heartbreaking story of dreams not turning out as expected plays out in Little Triangle's beautiful presentation of Stephen Sondheim's MERRILY WE ROLL ALONG. Friendships, loyalties and relationships are tested in this regressive story that examines the choices we make and their impact on the future.
First performed on Broadway in 1981 for a surprisingly short season of only 16 performances after 52 previews, this work by Stephen Sondheim (Music and Lyrics) and George Furth (Book), based on George S Kaufman and Moss Hart's play of the same name isn't performed often, possibly because of the unusual sequence of the timeline. The story opens on the highly influential movie producer Franklin Shepard (Patrick Howard) celebrating his latest movie with his new starlet and room full of Californian 'friends' and business associates. In a world of sophistication and sycophants, his old friend, the somewhat frumpy writer Mary Flynn (Victoria Zerbst) is definitely out of place and horrified at what Franklin has become. As he loses her friendship he considers what he has become. Significant scenes from Frank's life proceed to play out in reverse order, showing the events, driven by his ambition and greed, that caused his personal life to derail, leaving him without his two best friends, Mary and Charles Kringas (Zach Selmes), his first wife Beth (Shannen Sarstedt) and his son Frank Jr. (Bowie Parsons).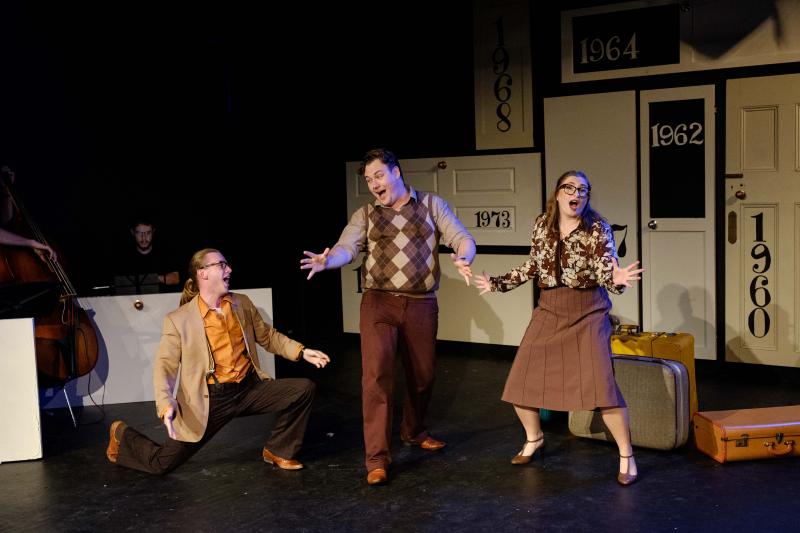 Director and Designer Alexander Andrews has provided a simple backdrop of doors with various years with additional doors providing spaces for Conrad Hamill (Music Director, Keys, Cello, Double Bass) and Antonio Fernandez (Keys) to provide the accompaniment from the rear of the stage. moving through the 1970's back to the 1950's, Andrews implies the era through costumes with an orange theme running through the opening scene. The minimal amount of props and furniture that fill out the scenes are also true to the period. The work has a lovely movement and use of space, particularly for the transitions where the ensemble present verses of Merrily We Roll Along and indicators of the reversing time. Special note goes to Hamill for his orchestration of the work to suit the strings and keys with the cello and double bass providing a beautiful sound to sit below the vocals and the percussion element from Charley's typewriter in Opening Doors is fabulous.
Andrews has gathered a wonderful cast for this work and he has ensured that the work remains text driven, ensuring that none of Sondheim's fabulous lyrics are lost in amongst the gorgeous musicality. Patrick Howard presents the ambitious Frank with a nerdiness and awkwardness that implies that even though he has finally got it all, there is an underlying resentment for the choices he has made but he keeps trying to ignore the fact that he's been sucked into the superficial world of Hollywood. He conveys that Frank was always looking for something better, feeling that despite his repeated promises to produce Charley's work, he'd rather have fame and fortune over taking the risk and producing his friend's political play. As Charley, Zack Selmes is brilliant in his physicality and his ability with conveying the writer's passion and exasperation at his money and power hungry friend. His vocals are fabulous, and his rendition of Franklin Shepard Inc conveys Charley's anger and sense of betrayal when he discovers Franklin has given in to the lure of success over substance. Victoria Zerbst is wickedly funny as the dowdy best friend who has harboured an ongoing unrequited love, presenting Mary with a physicality that ensures she is not confused with the confident leading ladies that repeatedly catch Franklin's eye.
Shannen Sarstedt gives Franklin's first wife Beth a lovely innocence and purity whilst still having and excitement for success before he betrays her. Gussie's manipulative social climbing is presented with a sneering confidence of superiority by Matilda Moran who ensures that whilst the leggy leading lady claims to love Franklin, her sincerity isn't completely believable. Richard Woodhouse presents a driven Joe with a air of callousness as he turns Franklin and Charley down but warms as the friendship and working relationship grows, all the while conveying that whilst Gussie may not really love him, Joe was utterly devoted to her. Additional light comedy comes from Katelin Koprivec's hilarious facial expressions as she takes on minor roles of the divorce court judge and the marriage celebrant.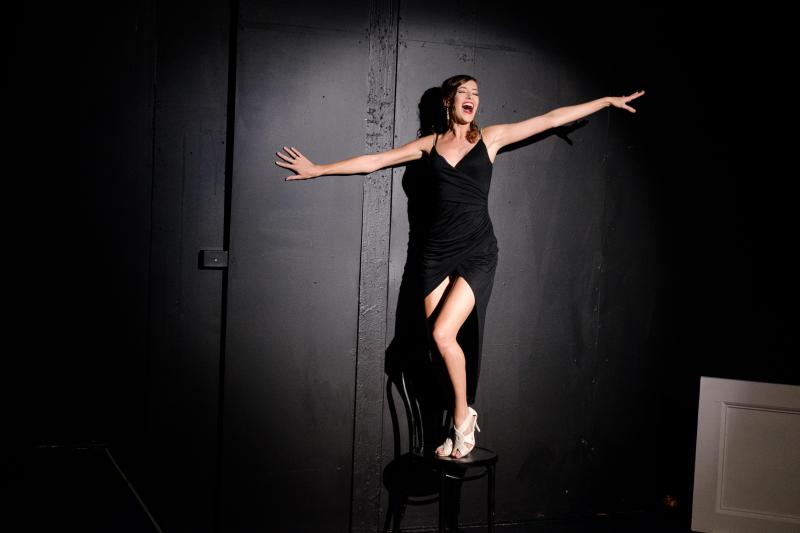 This is a wonderful presentation of a rarely performed work that is poignant in its exploration of the effect of ambition, arrogance and artifice. As the second production from Little Triangle, MERRILY WE ROLL ALONG is another must see production.
7 - 24 March 2018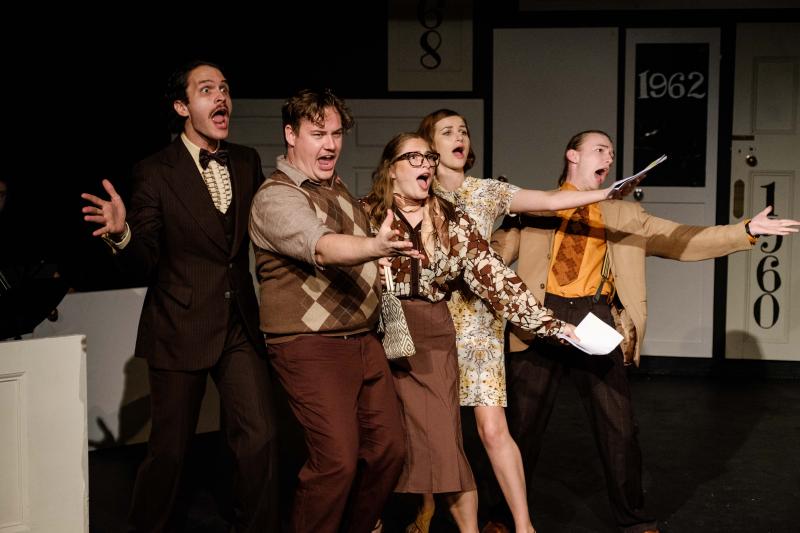 Related Articles View More Australia - Sydney

Stories

Shows