Jade Kops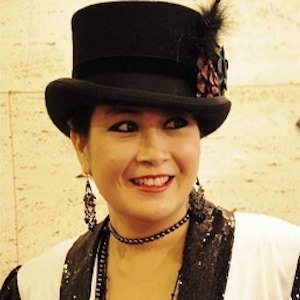 Jade is an Aviation Safety Training Instructor with a love of Theatre, Cabaret, Musical Theatre, and music and is a committed advocate for the live performing arts industry in Sydney and Australia. Since 2019 she has held a coveted position on the voting panel for the prestigious Sydney Theatre Awards and has been part of voting collegiate for the Helpmann Awards, the Australian equivalent of the Tony Awards, since 2015.  Prior to joining BroadwayWorld in 2014 Jade was a Special Guest Critic for GlamAdelaide, specialising in Cabaret.  
MOST POPULAR ARTICLES
LAST 30 DAYS
LAST 365 DAYS
REVIEW: Gothic Thriller JEKYLL AND HYDE THE MUSICAL Is Given A Makeover For Its Australian Professional Production Premiere

August 4, 2022

Sydney finally receives a fully staged professional production of JEKYLL AND HYDE THE MUSICAL, the musical theatre interpretation of Robert Louis Stevenson's famous novella.  Under Hayden Tee's direction the gothic exploration of the duality of human behavior is given a 20th century update with a significant change of setting from the Victorian England to a post WWII military hospital. 
---
Guest Reviewer Kym Vaitiekus Shares His Thoughts On ALBION

August 1, 2022

ALBIOB directer Lucy Clements has assembled a fine cast to present this analogical portrait of a nation torn between preserving the past and radically reforming the present.
---
Review: FANGIRLS, Yve Blake's Feel Good Celebration Of The Force Of Female Power Returns To Sydney For A Second Encore Season

July 31, 2022

The audience love for Yve Blake's musical comedy thriller FANGIRLS stays strong as the celebration of the power of female emotion, energy and enthusiasm remains important as society continues to need to shift views on the joyous devotion women of all ages display for strangers they see on stage and screen.
---
REVIEW: Claudia Osborne and Tasnim Hossain's Adaptation Of BURN, WITCH, BURN Explores Witchcraft To Leave It Even More Of A Mystery

July 12, 2022

FERVOUR and Red Line Productions have joined to present Claudia Osborne( Adaptor and Director) and Tasnim Hossain's (Adaptor and Dramaturg) interpretation of Sidney Hayers BURN WITCH BURN (a movie originally released in 1962 as NIGHT OF THE EAGLE), a work in turn based on Fritz Leiber's novel CONJURE WIFE.
---
REVIEW: Little Triangle's Latest Offering Is The Hilarious 'Choose Your Own Ending' Musical Of THE MYSTERY OF EDWIN DROOD

July 10, 2022

Rupert Holmes' (Music, Lyrics, Book) multi Tony Award winning musical of Charles Dickens' final, unfinished novel is given the Little Triangle treatment in their brilliant interpretation of THE MYSTERY OF EDWIN DROOD.
---
REVIEW: While The Essence of GOLDEN BLOOD is Anchored in Singaporean Chinese Culture The Universality Of Family Challenges And Need To Belong Burns Through.

July 7, 2022

Playwright and Actor Merlynn Tong's GOLDEN BLOOD is a captivating two hander exposing the underbelly Singapore would rather people not see as a young girl's life is turned upside down when she's left orphaned, in the care of her older brother. 
---
REVIEW: CRUEL INTENTIONS THE 90'S MUSICAL Revives The Cult Movie For The Stage With A Celebration Of 90's Music

July 2, 2022

The dark and depraved 1999 teen cult classic is given the musical theatre treatment in CRUEL INTENTIONS THE 90'S MUSICAL.
---
REVIEW: The Importance Of Real Representation Is Reinforced In Michelle Law's TOP COAT

July 2, 2022

Acclaimed playwright Michelle Law uses the "I wish I were in your shoes" body swap genre to raise the awareness of the prejudices that people of color experience on a daily basis in her new play TOP COAT.
---
REVIEW: EMME HOY'S Adaptation Of THE TENANT OF WILDFELL HALL Balances The Gravity Of Anne Brontë's Work With A Humour That Sees The Absurdity Of Outdated Views

June 27, 2022

Emme Hoy's adaptation of Anne Brontë's THE TENANT OF WILDFELL HALL, ensures the essence of the early feminist novel remains while reinforcing the continuing need for sisterhood solidarity and support for women needing to escape from abusive environments.
---
BWW REVIEW: BONNIE & CLYDE Considers The Life And Crimes Of Two Of America's Most Famous Gangsters Through The Medium Of Musical Theatre

June 24, 2022

BONNIE & CLYDE considers the notorious duo's desire for a better life and equally importantly, emulation of their idols fame and fortune, during the great depression.
---
BWW REVIEW: Guest Reviewer Kym Vaitiekus Shares His Thoughts On BECOMING ELIZA

June 10, 2022

In this world premiere, Australia's much-loved star soprano Anna O'Byrne shares her honest and personal story of stepping into one of the most iconic roles in musical theatre – Eliza Doolittle. In BECOMING ELIZA, Anna O'Byrne reflects on her unique experience and shares stories about working intimately with an internationally adored icon Dame Julie Andrews who created the role sixty years ago
---
BWW REVIEW: Guest Reviewer Kym Vaitiekus Shares His Thoughts On KAREN'S DINER

June 9, 2022

Sit Down & Shut Up: Karen's Diner has opened in Top Ryde Shopping Centre. Customers can expect plenty of sass, great food and a sprinkle of bad attitude. Don't expect special treatment at this diner because it's all about Karen, and she won't be taking any of your nonsense!
---
Guest Reviewer Kym Vaitiekus Shares His Thoughts On MOULIN ROUGE THE MUSICAL

June 6, 2022

Moulin Rouge the Musical Spectacular. Astounding. Phenomenal. Extraordinary. Baz Luhrmann's revolutionary film comes to life onstage, remixed in a musical mash-up extravaganza. A theatrical celebration of truth, beauty, freedom and above all love.
---
BWW Review: Meyne Wyatt's CITY OF GOLD Is Given A Bigger Audience As Sydney Theatre Company Joins With Black Swan Theatre Company of WA To Present A Powerful Production

May 30, 2022

Meyne Wyatt's powerful CITY OF GOLD highlights the ongoing discrimination and racism that the Australian Indigenous communities still face in the 21st Century.
---
BWW REVIEW: MARY POPPINS Returns To Sydney To Enchant A New Generation With The Tale Of Manners And Magic

May 28, 2022

Read our critic's review - twelve years after MARY POPPINS first flew into Australian theatres, the musical theatre adaptation of P.L. Travers' famous magical nanny returns to the Sydney stage to the delight of young and old.
---
Kym Vaitiekus shares his thoughts on U.B.U: A CAUTIONARY TALE OF CATASTROPHE

May 22, 2022

U.B.U: A Cautionary Tale of Catastrophe has the tagline "Filth, Farts, Murder, Mayhem, Perverts, Puppets'. Richard Hilliar's work delivers this promise with a raucous, energetic, entertaining and musical evening. The production has captured the pantomime genre superbly.
---
Kym Vaitiekus Shares his Thoughts on DUBBO CHAMPIONSHIP WRESTLING

May 20, 2022

Dubbo Champinship Wrestling, a new aussie musical that's a king hit. Writer's Daniel and James Cullen under Sheridan Harbridge direction brings us a slam dunk, funny, toe tapping, raucous and heart felt new work.
---
Kym Vaitiekus Shares His Thoughts On A LETTER FOR MOLLY

May 15, 2022

A Letter for Molly follows artist Renee as she explores and reflects on the family relationship ladder. From her contemplation of unexpected motherhood, up the generational steps to her connection with great grandmother. Her journey discoveries the intricacies of womanhood, culture, identity and the daughter -mother bond.
---
Guest Reviewer Kym Vaitiekus Shares His Thoughts On AN AMERICAN IN PARIS

May 7, 2022

An American in Paris is a glorious and inventive new musical inspired by the 1951 movie with a superb collection of music by the Gershwins.
---
BWW REVIEW: Dale Burridge Returns To The Stage With AT THE CROSSROADS, A Fabulous Review Of His Career To Date.

April 24, 2022

AT THE CROSSROADS marks Dale Burridge's return to the theatre stage after an over two-decade absence.
---