UN DÍA COMO HOY: A LITTLE NIGHT MUSIC se estrenaba en Broadwayd
El musical de Stephen Sondheim y Hugh Wheeler subía el telón por primera vez en 1973
Un 25 de febrero, en 1973, se estrenaba por primera vez en Broadway A LITTLE NIGHT MUSIC, el musical con música y letra de Stephen Sondheim y libreto de Hugh Wheeler.
Inspirado en la película de Ingmar Bergman SMILES OF A SUMMER NIGHT, el musical subía el telón del Shubert Theatre bajo la dirección de Harold Prince y con las coreografías de Patricia Birch.
El elenco estaba compuesto por Glynis Johns como Desiree Armfeldt, Len Cariou interpretando a Fredrik Egerman, Hermione Gingold como Madame Armfeldt, Victoria Mallory como Anne Egerman, Judith Kahan como Fredrika Armfeldt, Mark Lambert como Henrik Egerman, Laurence Guittard como Carl-Magnus Malcolm, Patricia Elliott como Charlotte Malcolm, George Lee Andrews como Frid y D. Jamin Bartlett como Petra.
Después de trasladarse al Majestic Theatre, A LITTLE NIGHT MUSIC bajaba el telón en agosto de 1973 tras 601 funciones, 12 previas y haber ganado el premio Tony a Mejor Musical.
En 1977, el musical llegaría a la gran pantalla, dirigido, de nuevo, por Harold Prince y protagonizado por Elisabeth Taylor, junto a Lesley-Anne Down y Diana Rigg, además Len Cariou, Hermione Gingold y Laurence Guittard que repetían en los papeles que interpretaron en Broadway.
La versión cinematográfica contó con un tema nuevo compuesto por Sondheim, "Night Watz", ya que la trama se trasladó de Suecia Austria. Además, contaba con una versión totalmente nueva de "The Glamorous Life" y no incluyó las canciones "In Praise of Women", "The Miller's Son" y "Liaisons".
La película tuvo una mala recepción por parte de la crítica, especialmente por el hecho de que el peso de Taylor fluctuaba de manera incoherente entre escena y escena. Sin embargo, el filme fue galardonado con el Oscar a la Mejor Banda Sonora.
A LITTLE NIGHT MUSIC se ha estrenado por todo el mundo y ha contado con revivals en Broadway, como, por ejemplo, en 2009 cuando fue protagonizado por Angela Lansbury y Catherine Zeta-Jones, acompañadas por Alexander Hanson, Ramona Mallory (hija de los actores del elenco original Victoria Mallory y Mark Lambert), Hunter Ryan Herdlicka y Leigh Ann Larkin, entre otros.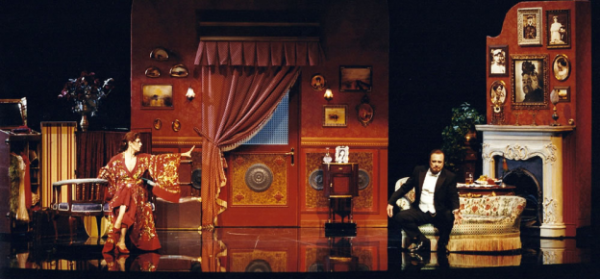 Es España, A LITTLE NIGHT MUSIC se estrenaba en Barcelona en 2001 bajo el título de MÚSICA PER A UNA NIT D'ESTIU dirigida por Mario Gas y con un elenco compuesto por Vicky Peña, Constantino Romero, Monserat Carulla y Miranda Gas.
A LITTLE NIGHT MUSIC narra la historia de Fredrick Egerman, un hombre que lleva a su joven esposa de 18 años a conocer a su antigua amante, Desirée que terminará en un fin de semana en una casa en la que se encontrarán los tres, un conde, amante de Desirée, y la mujer este.