BWW Previews: Staged Reading of THE FOUR OF US at Coffee Underground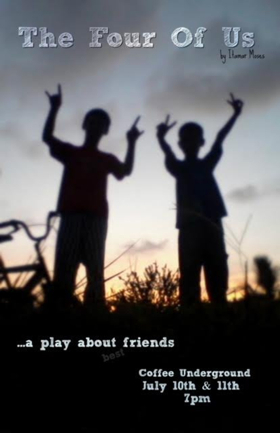 This week Coffee Underground in downtown Greenville, SC, hosts a staged reading of THE FOUR OF US, a play by Itamar Moses. The show introduces us to two writers: a novelist and a playwright. The story follows a ten year period over the course of their friendship, raising questions about what might happen when your best friend finds the success that you've always hoped for.
BWW asked director Burke Brown to tell us more about the reading and what drew him to produce this show.
---
First, tell us a little about the play.
This play covers a lot, in a very specific way. The core of the story is about two friends who meet at a summer camp for young musicians and follows their friendship over the course of the next ten years. It doesn't read chronologically, but throughout jumps around in time, to fill in the gaps of who they are and, more importantly, who they are to each other. One is now a playwright and the other, a novelist. Because, of course most of us have experienced a career change or two. Early on in his career the novelist lands a book deal and it launches his life into the success they've both wanted. But when your best friend is fortunate enough to have the life you've dreamed of, how does that affect you? And your relationship? It's something that in theory most of us are okay with, but when it becomes part of your reality, how would you handle that?

How did you first come across this play?
I found this play while looking for monologues to perform for upcoming theatre auditions. A friend of mine, I had worked on a play with, in Savannah, had told me about it and that I should take a look.
What drew you to want to stage this reading?
I was really compelled to produce this play for many reasons. One of them being my own experience with comparison, resentment, and jealousy. I think we've created this "appearance" culture in where it's more important to seem or be seen as something, than is the integrity of actual character. It's so easy to digitally cultivate and curate a seemingly perfect or fortunate life. But we all have pains, obstacles, and insecurities. We just deal with them differently.
Tell us a little about the reading - who's involved, etc.
This will be my first crack at theatrical directing. I've written and directed a few short films and sketches before, but this is my first time in the shadows on the stage. I've also convinced
Thomas Azar
and Matt Reece to join. Christopher Paul Smith will be reading stage directions. It will be a pretty paired down reading, the actors in chairs, with scripts and music stands. There's a small portion of the play where there'll be a little bit of action. And we'll be calling lights between scenes. We'll also have a brief q&a for anyone that would like to share their thoughts or experience, which I would love.

What do you hope audiences will take away with them?
Gosh, you know I don't quite think I've discovered all that yet. I'm still learning about it and seeing new parts of myself in it. But, right now, what's most important to me is that just because we think someone has a lovely life, doesn't make it so. And when we look at each other, to maybe assume less, and stay curious.
---
The Four of Us runs from 7pm-9pm on July 10 & 11 at Coffee Underground, 1 East Coffee Street in downtown Greenville, SC. There is no charge for admission, but donations are graciously accepted.
Related Articles View More South Carolina

Stories

Shows