Thrilling New International Cirque Show ENCHANTED Promises Decadent Nights Out in the Mother City This Spring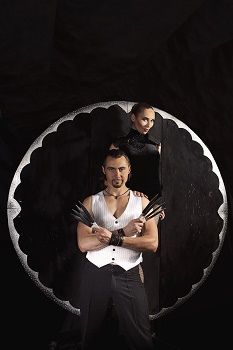 ENCHANTED, a thrilling new international cirque production, is set to open this September in Cape Town for a limited season. Produced and directed by Sebastian Cassie and presented by Showcasting, ENCHANTED will merge some of the world's finest entertainment artists with a top South African creative team. Billed as a thrilling cirque production with mesmerising acts that have never been seen in South Africa, ENCHANTED will be performed in a beautiful 450-seat spiegeltent shipped directly from Belgium and constructed by renowned Belgian tent master, Rik Klessens. Elements within include an interactive zone, VIP bars serving premium brands, an oyster and bubbly booth, an accessory store and delicious fare, making this a truly decadent night out in the Mother City.
Hosted by top South African comedienne Mel Jones and Piky Pokus from Argentina, the superstar acts lined up include crossbow contortionist and silk artist Orissa Kelly, cloud swing and hoop artist Tom McKinnon, laser and bubble magic man Thomas Favaro, a disco inspired roller skating pair, a heart-stopping knife throwing duo, and many more.
The magic will unfold the moment glamorous guests step inside the opulent venue to be greeted by quirky ENCHANTED artists, setting the tone for a fabulous evening. After feasting on tasty tapas platters and enjoying the two-hour show, the resident DJ will take over, and the audience can party with the cast, late into the night.
ENCHANTED brings together the best of the outstanding spiegeltent shows that have preceded it, with a solid emphasis on incredible artistry. All of the artists are world-class international performers, and the show has an engaging narrative running throughout in the style of nouveau-cirque productions. ENCHANTED promises to be cirque redefined, in an intimate setting with a fabulous service offering.
Showcasting is headed up by Sebastian Cassie and Michael Carrigan, the driving force behind this world-class cirque production. Having been involved in some of Australasia's most successful circus shows, musical theatre and stage productions, the dynamic team have set up a local office in South Africa, uniting artists from around the globe and bringing a world class entertainment offering to South Africa. Cassie, who hails from Cape Town and grew up in New Zealand says:
Having the opportunity to bring this enchanting and unique production to my home country is a dream fulfilled.
ENCHANTED will be presented from 1 September through mid-October on the P3 parking in Green Point, in front of the Cape Town Stadium, opposite McDonald's. Performances run Wednesdays through Saturdays 20:00, with additional shows on Saturdays at 15:00 and Sundays at 17:00. Tickets cost from R250 for access to the cirque theatre show and the fabulously fun after party. To enquire about tickets, group offers and corporate packages as well as branding and product placement opportunities, call 074 422 2888 or visit the official ENCHANTED website. The doors open at 18:30 before evening performances and the onsite booking office is open on weekdays from 17:00 and on weekends from 12:00. Follow ENCHANTED on Facebook, Instagram and Twitter.
More Hot Stories For You