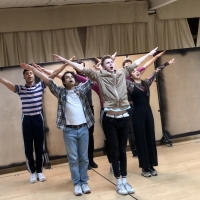 by BroadwayWorld UK TV - Jan 24, 2020
Rehearsals are underway for the UK premiere of viral hit musical Be More Chill. BroadwayWorld UK reporter Jamie Body attended a very special press rehearsal, where he got to chat with some of the cast and see what all the buzz is about... Watch the video!
by Stage Tube - Dec 9, 2019
C-c-c'mon! As BroadwayWorld previously reported, the viral hit musical Be More Chill is making its UK premiere this February at The Other Palace, and we're getting a first look at the cast that's bringing Jeremy Heere, Michael Mell, The Squip, and more to life in this new video. Check it out!