The Front Page - 2016 - Broadway
The Front Page will star Nathan Lane as Walter Burns, John Slattery as Hildy Johnson, John Goodman as Sheriff Hartman, Jefferson Mays as Bensinger, Holland Taylor as Mrs. Grant, and Sherie Rene Scott as Mollie Malloy, with additional casting to be announced.
The show is set in the press room of Chicago's Criminal Courts Building which is buzzing with reporters covering the story of an escaped prisoner. When star reporter Hildy Johnson (Slattery) accidentally discovers the runaway convict, he and his editor Walter Burns (Lane) conspire to hide the man from the other reporters, while they chase the biggest scoop of their careers.
Video preview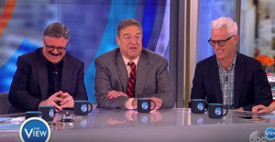 Photo preview
Featured Reviews For The Front Page
Broadway review: The Front Page grabs headlines with Nathan Lane and John Slattery - TimeOut NY
Look, we're all depressed this election year. We're sick of seeing know-nothing politicians; of hearing obscene language insulting women and minorities; and we're disgusted by the media's bottomless appetite for sensationalism. The only antidote I can suggest for this national malaise is a visit to the Broadhurst Theatre to see the 5,000-volt revival of The Front Page. What's it about? Oh, all that stuff I just mentioned-but whipped into a hellacious comic frenzy by one of the best acting ensembles you and I may ever see. Ben Hecht and Charles MacArthur's 1928 evisceration of the newspaper racket is a summit of American screwball comedy, and Nathan Lane, John Slattery and two dozen other actors climb it and plant their flag. It's strange to feel so invigorated and refreshed by a spectacle of rampant cynicism in which love, truth and loyalty are systematically demolished. But see this brutally brilliant masterpiece, and you'll be inoculated against the viciousness of the world.
'The Front Page' Broadway Review: John Slattery, Nathan Lane Join a Basketful of Deplorables - The Wrap
Director Jack O'Brien begins and ends each act with a tableau. Until Lane arrives, the action in between those stylish freezes rarely unthaws. The direction is stately when it needs to be raucous. Likewise, Douglas W. Schmidt's set is grand, not grungy enough to be a press room in a prison. Occasionally, a few supporting players break through. Robert Morse in the cameo of a boozed-up messenger emerges as lower than the worn linoleum. Sherie Rene Scott goes period with an uncanny Joan Crawford impersonation, right out of "Rain." Jefferson Mays, once again, recycles Franklin Pangborn, playing a persnickety poem-writing (wink, wink) reporter. Oddly enough, Mays received a big ovation at his entrance. Were people applauding his recent "Oslo" triumph, or did they think Lane was reprising his performance from "The Nance"? From a few rows away, the two men look a lot alike.
The Front Page Broadway Cast