The Front Page - 2016 - Broadway
The Front Page will star Nathan Lane as Walter Burns, John Slattery as Hildy Johnson, John Goodman as Sheriff Hartman, Jefferson Mays as Bensinger, Holland Taylor as Mrs. Grant, and Sherie Rene Scott as Mollie Malloy, with additional casting to be announced.
The show is set in the press room of Chicago's Criminal Courts Building which is buzzing with reporters covering the story of an escaped prisoner. When star reporter Hildy Johnson (Slattery) accidentally discovers the runaway convict, he and his editor Walter Burns (Lane) conspire to hide the man from the other reporters, while they chase the biggest scoop of their careers.
Video preview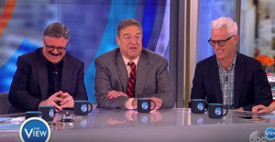 Photo preview
Featured Reviews For The Front Page
Theater Review: The Front Page Knocks 'Em Dead - Vulture
The Front Page is a classic not only for its playability but also for its timelessness: No one will ever need footnotes to understand the idea of journalists competing venally to expose venal politicians. What they may need, though, is internet access, because the presses that printed Atkinson's review, and the reviews of every Broadway revival since then until this one, are as obsolete as the typewriters and candlestick telephones and "Get me rewrite!" commands depicted in the play. So may theater critics be. Therefore, let me use my end-times platform to contradict Atkinson, who advised "squeamish folk" to stay home. On the contrary, squeamish folk will love it, and when it comes to politics and journalism, who isn't squeamish?
'Front Page' review: This Broadway revival falls flat - amNY
Jack O'Brien's lively and lavish production holds nothing back in terms of busy movement and broad comedy, but the three-act play does not hold up so well by today's standards, containing fewer one-liners and much more exposition than you'd expect from a comedy. I often found myself admiring the production but unable to enjoy it. Slattery is an ideal Hildy, with a cool and unfazed aura. Lane steals the final third of the show with an over-the-top performance with shades of Max Bialystock (his shifty and shameless character from "The Producers). Goodman is loud, but strangely ineffective, relying heavily on a country accent.
The Front Page Broadway Cast