The Front Page Broadway
The Front Page will star Nathan Lane as Walter Burns, John Slattery as Hildy Johnson, John Goodman as Sheriff Hartman, Jefferson Mays as Bensinger, Holland Taylor as Mrs. Grant, and Sherie Rene Scott as Mollie Malloy, with additional casting to be announced.
The show is set in the press room of Chicago's Criminal Courts Building which is buzzing with reporters covering the story of an escaped prisoner. When star reporter Hildy Johnson (Slattery) accidentally discovers the runaway convict, he and his editor Walter Burns (Lane) conspire to hide the man from the other reporters, while they chase the biggest scoop of their careers.
Video preview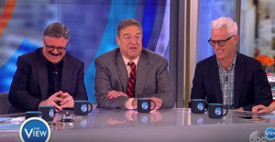 Photo preview