The Cherry Orchard - 2016 - Broadway
The Cherry Orchard is Anton Chekhov's masterpiece about a family on the edge of ruin-and a country on the brink of revolution.
The story of Lyubov Ranevskaya (Diane Lane) and her family's return to their fabled orchard to forestall its foreclosure, the play captures a people-and a world-in transition, and presents us with a picture of humanity in all its glorious folly.
By turns tragic and funny, The Cherry Orchard still stands as one of the great plays of the modern era. First produced in Moscow in 1904, Roundabout's new adaptation promises to breathe fresh life into this towering tale.
Video preview
Photo preview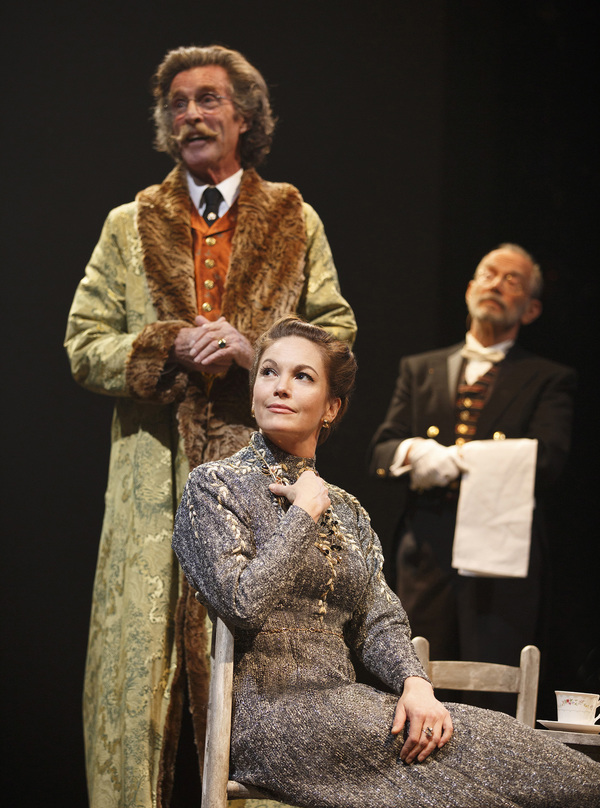 Schedule
Running Time: Two hours and 25 minutes with one intermission
Featured Reviews For The Cherry Orchard
Theater review: 'The Cherry Orchard' with Diane Lane - Bergen Record
The "new version" of "The Cherry Orchard" that opened Sunday at the American Airlines Theatre is a gray, dramatically underdeveloped affair that makes a poor argument for rethinking classic plays.
The Cherry Orchard: EW stage review - Entertainment Weekly
Yet from the start, the Roundabout Theatre Company's loud, broad revival - working with a new adaptation by Stephen Karam, a Tony winner for the Chekhovian drama The Humans - makes no attempt to find a tragicomic balance. A worker blundering about in squeaky boots (Quinn Mattfeld) and a pratfall-prone maid (Susannah Flood) prove more memorable in the first scene than Lopakhin (Harold Perrineau of Lost and The Matrix fame), the peasant-turned-businessman with a vested interest in the cherry orchard.
The Cherry Orchard Broadway Cast