The Cherry Orchard - 2016 - Broadway Tickets, News, Info & More
The Cherry Orchard is Anton Chekhov's masterpiece about a family on the edge of ruin-and a country on the brink of revolution.
The story of Lyubov Ranevskaya (Diane Lane) and her family's return to their fabled orchard to forestall its foreclosure, the play captures a people-and a world-in transition, and presents us with a picture of humanity in all its glorious folly.
By turns tragic and funny, The Cherry Orchard still stands as one of the great plays of the modern era. First produced in Moscow in 1904, Roundabout's new adaptation promises to breathe fresh life into this towering tale.
Video preview
Photo preview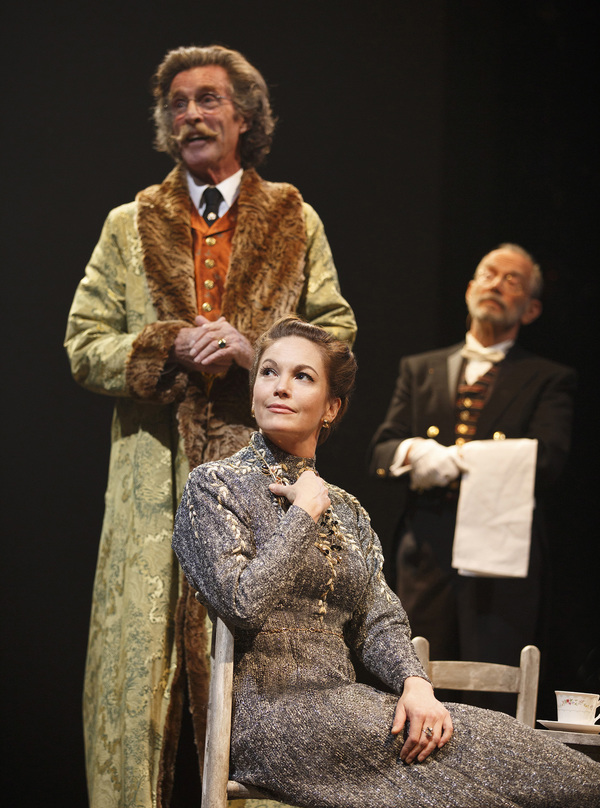 Schedule
Running Time:
Two hours and 25 minutes with one intermission
Featured Reviews For The Cherry Orchard
'Cherry Orchard' review: Diane Lane stars in letdown of an update - Newsday
It hurts to have to say this. But the much-anticipated production, with Diane Lane at the top of a blazingly promising cast, is perplexing, stylistic gibberish. Worse, it is unmoving. With the conspicuous exception of Joel Grey in the small but crucial role of Firs, the old servant, and a few others, the production directed by Simon Godwin has only superficial historical moorings and lacks what Chekhov called "the subtle elusive beauty of human grief."
'The Cherry Orchard' Broadway Review: Diane Lane Stars in an Overripe Revival - The Wrap
The theater's most famous cherry orchard makes a return appearance in the Roundabout's new revival, which opened Sunday at the American Airlines Theatre. Those soon-to-be-chopped-down fruit trees are represented by hanging mobile-like sculptures, designed by Scott Pask, and they kept reminding me of the Serban production. In the end, they're the least of what's wrong in Simon Godwin's staging of Stephen Karam's new adaptation.
The Cherry Orchard Broadway Cast