Terra Incognito - 1997 - Off-Broadway
(New York, NY)
420 West 42nd Street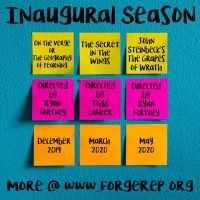 by Julie Musbach - Aug 20, 2019
Kansas City theatrical artists Elaine Clifford, Coleman Crenshaw, Ryan Fortney, Todd Lanker, and Bailey Rose announce the formation of Forge Repertory Theatre a new theatre company dedicated to creating and revitalizing work through collaborative storytelling by partnering emerging artists with established KC talent.

by Victoria Ordin - Aug 12, 2017
Early in Dirt [Contained]'s production of GARDEN OF DELIGHTS, a caller on a radio show asks Lais (Tana Sirois), the successful but tormented actress at the center of Fernando Arrabal's 1960s play, if she was was really an orphan. When Lais responds in the affirmative, the caller expresses sympathy for her presumed suffering.Lais' response provides the audience what it needs to appreciate (if not exactly to enjoy) what follows, even if Andre Breton, Antonin Artaud, the Theatre of Cruelty, the Panic Movement, and surrealism in general are literary terra incognito (as they were to me, a former English doctoral candidate specializing in the eighteenth and nineteenth centuries). But a little knowledge helps one to appreciate just how ambitious and complex a project this is. (I'm told Ferdando Arrabal, now in his 80s, made a special trip to America to see Dirt [Contained] perform his play. Having seen this extraordinary cast, led by the at once luminous and ferocious Tana Sirois, I can see why.) It may be my bias as a former academic, but the more one brings to GARDEN OF DELIGHTS, the more one gets out of it. My reading of and about Arrabal since the show has retroactively increased my respect for and pleasure in the play. Nathan Gorelick's characterization of Arrabal's work in the journal Discourse is apt: '[His] theater is a wild, brutal, cacophonous and joyously provocative world. In his violence, Arrabal is related to Sade and Artaud. Yet he is doubtless the only writer to have pushed derision as far as he did. Deeply political and merrily playful, his work is the syndrome of our century of barbed wire and Gulags, a manner of finding reprieve.'
by A.A. Cristi - Apr 7, 2017
Artists Repertory Theatre presents the World Premiere of The Talented Ones by Yussef El Guindi, directed by Jane Unger. Preview performances run April 25 through April 28, the play opens April 29 and runs through May 21 on the Morrison Stage. The Talented Ones is Artists Rep's first new play development commission for Table|Room|Stage (T|R|S) as part of the Oregon Community Foundation's "Creative Heights Initiative."