Click Here for More Articles on SIX DEGREES OF SEPARATION
BWW Review: John Guare's Pre-Google SIX DEGREES OF SEPARATION Examines The Need For Human Connections
Long before websites like Friendster (Remember Friendster?) increased the awareness of how few people it takes for one's social network to spread worldwide, John Guare's smart and funny 1990 entry, SIX DEGREES OF SEPERATION, helped popularize the concept that you can connect any two people in the world by their associations with up to five people placed between them.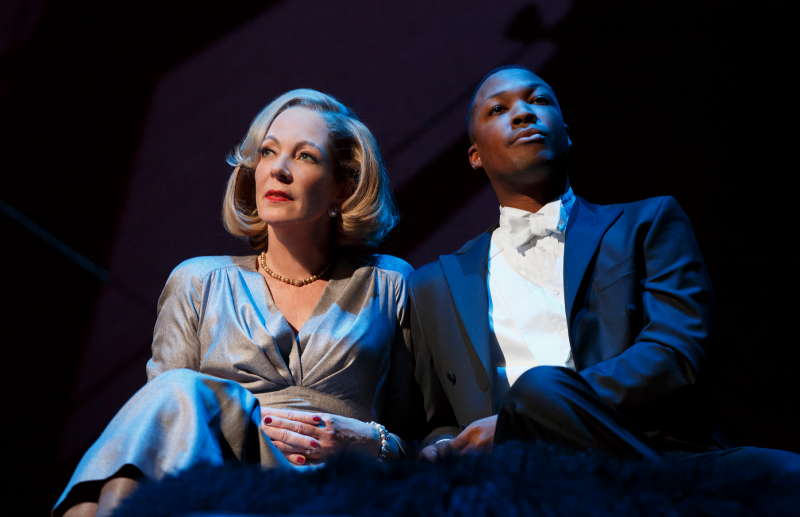 When the world seems smaller, the desire to trust increases; a dangerous urge on an island like Manhattan. Particularly in the pre-Google era.
Guare's fiction was suggested by the real life story of David Hampton, who, in the early 1980s, managed to obtain money, meals, lodgings and other favors from well-off New Yorkers by convincingly passing himself off as the son of Sidney Poitier.
As the play opens, art dealer Flan (John Benjamin Hickey) and his socialite wife Ouisa (Allison Janney) seem positively thrilled to be telling the audience (Are we reporters? Police officers? Strangers they just met at cocktail hour at a charity function?) how the sanctity of their tastefully furnished Fifth Avenue apartment was violated when a young con artist appeared at their door.
The character that Paul (Corey Hawkins) creates for his con is impeccably designed to tug at the sympathies of Guare's satirically drawn white radical chic-ers; a young black man who is well-dressed, well-mannered, well-spoken and, best of all, the son of a groundbreaking black artist. (You might say they call him Mr. Poitier.)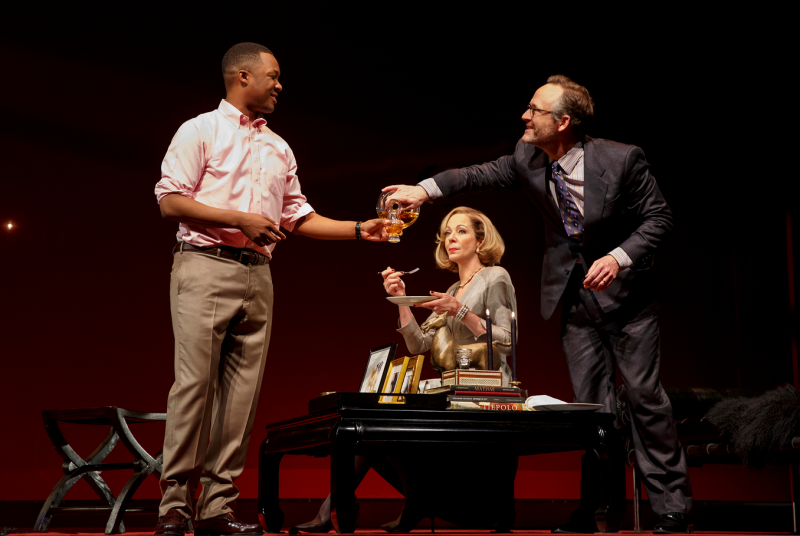 The pair are in the middle of hosting a wealthy South African friend (Michael Siberry), in hopes that he'll cough up enough cash to help them purchase and then resell a Cezanne that has become available, when Paul, allowed in by the doorman, shows up sporting a knife wound and claiming to have just been mugged.
The young man says he remembered the location of Flan and Ouisa's building from conversations with their children, his friends from Harvard. The kicker is his knowledge that the man he claims to be his dad is prepping to direct the film version of CATS.
When not conning wealthy white people, Paul is most likely the kind of guy they assume their checkbook activism benefits; an intelligent and creative young black man whose talents go wasted due to the structural racism that keeps him out of the privileged world inside tastefully furnished Fifth Avenue apartments.
Thus, Guare effectively toys with the audience's sympathy the same way Paul toys with the sympathies of his scam's targets.
What happens next is best explained by the author, but it leaves Ouisa, in particular, questioning her values, her lifestyle and her ability to connect with her fellow humans.
Though Janney's nailing of Guare's dry zingers is a delight to behold, her subtle unveiling of how the character's experience with Paul, however false, opens her eyes and heart to a world outside her bubble is the finer achievement.
Hawkins' convincing contrast of Paul's fictional persona and his streetwise actual self is layered with sympathetic longings to be part of a world that slams the door in his face.
Director Tripp Cullman's brisk and biting production is played out on a set that designer Mark Wendland graces with a two-sided Kandinsky abstract, adding a nice degree of symbolism to the proceedings.