Love Life - 2020 - Off-Broadway
Love Life, the only collaboration between Kurt Weill and Alan Jay Lerner, is a journey through American history with a family that never grows any older. Directed by Victoria Clark, the story is accentuated with vaudevillian acts and features some of Weill's most beautiful and accessible songs, including "Mr. Right" and "Here I'll Stay," as well as satiric barbs at the American Dream such as "Progress" and "Economics" that in some ways are reminiscent of Weill's The Threepenny Opera. Although Love Life has largely lived in the shadows since its season-long run in 1948, it has had a direct impact on Broadway shows such as Gypsy; Cabaret; Follies; and Hallelujah, Baby!
(New York, NY)
131 West 55th St. (between 6th and 7th Avenues)
Love Life Off-Broadway Cast
by Stage Tube - March 10, 2020
Rehearsals are underway for the New York City Center production of Love Life starring Kate Baldwin, Brian Stokes Mitchell, John Edwards, Sara Jean Ford, Isabella Houston, Owen Tabaka and Clarke Thorell. See a video of Kate Baldwin & Brian Stokes Mitchell
by TV - Press Previews - March 10, 2020
Next up at New York City Center  Encores! is Love Life, which runs for seven performances at New York City Center from March 18 - 22. Watch as the cast gives a very special sneak peek of 'Economics' and 'I Remember It Well' and tells us even more about what to expect from the show!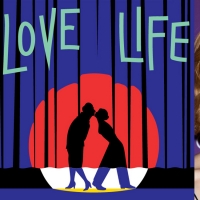 by Chloe Rabinowitz - February 7, 2020
New York City Center today announced complete casting for the Encores! production of Love Life. Joining previously announced cast members Kate Baldwin (Susan Cooper) and Brian Stokes Mitchell (Sam Cooper) are John Edwards (Hobo), Sara Jean Ford (Miss Ideal Man), Isabella Houston (Elizabeth Cooper), Owen Tabaka (Johnny Cooper), and Clarke Thorell (Bill/Mr. Cynic).