Jekyll & Hyde - 2013 - Broadway
Conceived for the stage by Tony and Grammy Award nominee Frank Wildhorn and Steve Cuden, the four time Tony Award Nominated musical JEKYLL & HYDE features a book & lyrics by two-time Oscar winner, Emmy winner and four-time Tony Award Nominee Leslie Bricusse, music by Frank Wildhorn, and will be directed and choreographed by Tony Award Nominee Jeff Calhoun.
After four thrilling, chilling years on Broadway and multiple world-wide tours, this dark and dangerous love story will return in a new production that includes all the classic songs (This is the Moment, A New Life, Someone Like You) that first 'grabbed audiences by the throat' and transformed JEKYLL & HYDE into a theatrical phenomenon.
The musical is based on the acclaimed novella The Strange Case of Dr. Jekyll and Mr. Hyde by Robert Louis Stevenson, about a London doctor who accidentally unleashes his evil alternate personality in his quest to cure his father's mental illness.
Video preview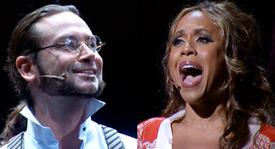 Featured Reviews For Jekyll & Hyde
Jekyll & Hyde - Time Out NY
Has any musical so essentially ridiculous been graced with a revival? Yet Wildhorn, the Stephen Sondheim of Bizarro World, continues to be produced despite a string of flops, and Jekyll & Hyde has accrued a following. So here it is again, in a form that will satisfy few. Director Jeff Calhoun and his cast struggle bravely and pitiably in the straitjacket...Accenting Jekyll & Hyde's best asset-Wildhorn's rousing melodies-and hitting the rest at off angles whenever possible, Calhoun and his crew excise much of the original production's most ostentatious terribleness, leaving mere very-badness in its place.
Jekyll & Hyde: Theater Review - Hollywood Reporter
Director-choreographer Jeff Calhoun has ratcheted up the show's gothic elements in his high-intensity staging, featuring extensive projections, a deafening sound design and a Grand Guignol-style presentation. But for all the production's excesses, it proves decidedly underwhelming, devoid of thrills or genuine emotion. Maroulis... fully unleashes his powerful pipes in the dual roles of the mild-mannered scientist and his rampaging, id-driven alter-ego. But his schematic portrayals...lack the complexity necessary to fully involve us in the melodramatic proceedings. Cox, too, displays a gorgeous voice as Lucy...Although her acting never quite hits the same heights, she delivers a more than respectable turn in the underwritten role.
Jekyll & Hyde Broadway Cast