Jekyll & Hyde - 2013 - Broadway
Conceived for the stage by Tony and Grammy Award nominee Frank Wildhorn and Steve Cuden, the four time Tony Award Nominated musical JEKYLL & HYDE features a book & lyrics by two-time Oscar winner, Emmy winner and four-time Tony Award Nominee Leslie Bricusse, music by Frank Wildhorn, and will be directed and choreographed by Tony Award Nominee Jeff Calhoun.
After four thrilling, chilling years on Broadway and multiple world-wide tours, this dark and dangerous love story will return in a new production that includes all the classic songs (This is the Moment, A New Life, Someone Like You) that first 'grabbed audiences by the throat' and transformed JEKYLL & HYDE into a theatrical phenomenon.
The musical is based on the acclaimed novella The Strange Case of Dr. Jekyll and Mr. Hyde by Robert Louis Stevenson, about a London doctor who accidentally unleashes his evil alternate personality in his quest to cure his father's mental illness.
Video preview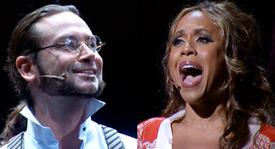 Featured Reviews For Jekyll & Hyde
'Jekyll & Hyde' Broadway Review: Constantine Maroulis Leads a Raging Revival of a Fiendish Musical - New Jersey Newsroom
Director Jeff Calhoun stages and choreographs the musical with no-holds-barred bravado that results in a fiendishly entertaining show...Soberly wearing muttonchops and spectacles as a sweetly geeky Dr. Jekyll, Maroulis unleashes his pony-tail into the medusa-like mane of a believably fiendish Hyde. His rock tenor sounds bright as Jekyll and then darkens and turns a tad guttural as Hyde...Sounding a bit like Linda Eder, who created the role of Lucy, Deborah Cox powerfully sings with a velvety purr that compensates for her high school-style acting...Not my cup of blood, the lurid "Jekyll & Hyde" gives plenty of pleasure to others, and fans of the musical will find it rendered here with raging intensity.
Theater review: Constantine Maroulis in 'Jekyll & Hyde' - NorthJersey.com
There are lots of ballads, and the singers - besides J&H, the only significant character is a prostitute (played by pop performer Deborah Cox) - increase their intensity as they go along until they're shouting at us full blast. It's like being trapped at an audition for "American Idol" (on which Maroulis, who grew up in Wyckoff, appeared in 2004). I've seen a few worse shows than "Jekyll & Hyde," but none as dispiriting.
Jekyll & Hyde Broadway Cast