Good People - 2011 - Broadway
Together, playwright David Lindsay-Abaire and MTC have brought four outstanding new plays to the New York stage. Their most recent collaboration, RABBIT HOLE, earned Lindsay-Abaire the Pulitzer Prize for Drama. Now, he returns to MTC, along with RABBIT HOLE director and Tony Award® winner Daniel Sullivan, to premiere his newest work, the timely and powerful GOOD PEOPLE.
Welcome to Southie, a Boston neighborhood where a night on the town means a few rounds of bingo… where this month's paycheck covers last month's bills… and where Margie Walsh has just been let go from yet another job. Facing eviction and scrambling to catch a break, Margie thinks an old fling who has made it out of Southie might be her ticket to a fresh new start. But is this apparently self-made man secure enough to face his humble beginnings? Margie is about to risk what little she has left to find out.
With his signature humorous glow, Lindsay-Abaire explores the struggles, shifting loyalties and unshakeable hopes that come with having next to nothing in America.
Video preview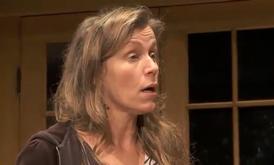 Featured Reviews For Good People
The Bad Choices of David Lindsay-Abaire's Good People - New York Magazine
It's a given that we don't talk about class in this country, so it's hardly surprising that we don't see a lot of plays about it. (We don't see many plays, period, but that's a different, if related, matter.) David Lindsay-Abaire's Good People — the latest in his Rabbit Hole realism phase — isn't exactly an Odetsian war cry. But simply by broaching the subject of haves and have-nots, it will make a stir: Prepare for overpraise for "bravery" and abuse for not going further, for ending on a note perilously close to magical complacency. Whatever. Good People is a fine, small, heartfelt work that shadowboxes with social darkness in a safely lit room, floating on a vast sea of unsaid things.
Good People - Entertainment Weekly
Memorably played by Frances McDormand with a potent mix of prickly aggression and bruised-feeling withdrawal, Margaret is a middle-aged woman in South Boston's Lower End. At the start of the play, she is fired from the dollar store where she works due to her perpetual tardiness — she's usually late because of a grown daughter with serious development issues still living at home. This is a woman who has made serious sacrifices in her life — as the events of this remarkable and timely new play make clear.
Good People Broadway Cast