Good People - 2011 - Broadway Tickets, News, Info & More
Together, playwright David Lindsay-Abaire and MTC have brought four outstanding new plays to the New York stage. Their most recent collaboration, RABBIT HOLE, earned Lindsay-Abaire the Pulitzer Prize for Drama. Now, he returns to MTC, along with RABBIT HOLE director and Tony Award® winner Daniel Sullivan, to premiere his newest work, the timely and powerful GOOD PEOPLE.
Welcome to Southie, a Boston neighborhood where a night on the town means a few rounds of bingo… where this month's paycheck covers last month's bills… and where Margie Walsh has just been let go from yet another job. Facing eviction and scrambling to catch a break, Margie thinks an old fling who has made it out of Southie might be her ticket to a fresh new start. But is this apparently self-made man secure enough to face his humble beginnings? Margie is about to risk what little she has left to find out.
With his signature humorous glow, Lindsay-Abaire explores the struggles, shifting loyalties and unshakeable hopes that come with having next to nothing in America.
Video preview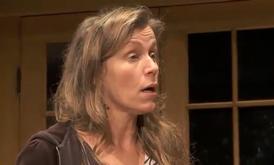 Featured Reviews For Good People
Onstage riches from poor folks in 'People' - New York Post
Under Daniel Sullivan's sensitive direction, the cast -- including the wryly sharp Estelle Parsons and Becky Ann Baker as Margie's landlady and best friend, respectively -- gives us fully rounded characters that never fall into caricature. Indeed, the play is often very funny, but never at the expense of its ill-starred characters. It's that generosity that makes "Good People" a good show.
Good People - Variety
If "Good People" isn't a hit for Manhattan Theater Club, there is no justice in the land. David Lindsay-Abaire pays his respects to his old South Boston neighborhood with this tough and tender play about the insurmountable class divide between those who make it out of this blue-collar Irish neighborhood and those who find themselves left behind. The scrappy characters have tremendous appeal, and the moral dilemma they grapple with -- is it strength of character or just a few lucky breaks that determines a person's fate? -- holds special significance in today's harsh economic climate.
Good People Broadway Cast