Farinelli and the King - 2017 - Broadway Tickets, News, Info & More
Oscar and three-time Tony winner MARK RYLANCE "proves again that he is one of the great actors of our age" (Time Out London) in FARINELLI AND THE KING, coming to Broadway following sold-out runs at Shakespeare's Globe and on London's West End. Written by Claire van Kampen and directed by John Dove, this captivating new play "celebrates the restorative power of music and how it can transform us" (The Telegraph).
FARINELLI AND THE KING is inspired by the fascinating true story of Philippe V (Rylance), a Spanish monarch on the brink of madness who finds unexpected solace in the voice of world-renowned castrato, Farinelli. Soon, Farinelli and the King forge a powerful connection, and the celebrated singer must make a difficult choice: return to throngs of adoring fans or perform forever for an audience of one.
Rylance leads an acclaimed cast, including countertenor Iestyn Davies, who "sings with rapturous virtuosity and uncanny beauty" (Independent) throughout the play. Like Broadway's Twelfth Night and Richard III, this contemporary work is presented in the signature style of Shakespeare's Globe - traditional baroque instruments are performed live in a gallery above the stage; the audience enjoys intimate seating with several rows onstage; and the story is told by candlelight, creating an enchanting theatergoing experience and "a pleasure that verges on the sublime" (The Guardian).
Video preview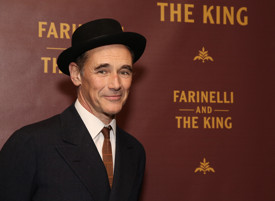 Photo preview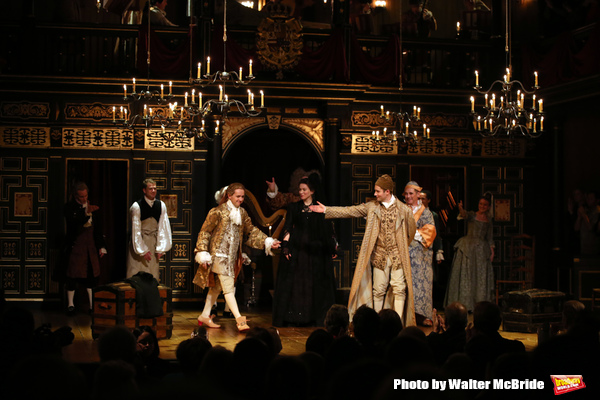 Featured Reviews For Farinelli and the King
Review: Mark Rylance Returns to Broadway as a Mad Monarch to Cherish - New York Times
In the paradoxically plaintive and joyous sound of a castrato's voice channeling Handel's music, the King has glimpsed a paradise beyond his fractious court and his burdened royal self. Trying to create that idyllic vision in the real world, in a rustic outpost in the forest in the second act, is an experiment doomed to failure. But watching Mr. Rylance's Philippe experience Farinelli's voice, we hear what we hears. And an actor and a singer temporarily turn a night at the theater in an anxious city into an Eden beyond worldly care, all the more precious for its evanescence.
Broadway Review: Mark Rylance in 'Farinelli and the King' - Variety
In the context of the period setting, the anachronistic language is barbarically contemporary. A theater impresario, for instance, complains that "so many people want a piece" of his star performer; even his wife, who "has been on my case since we opened." That's a pity, since director John Dove has taken such pains to re-create the heavily gilded style of the formal Baroque setting of this production, which originated at Shakespeare's Globe Theater in 2015. The richly textured costumes look especially sumptuous in the blaze of candlelight (supplied by designer Paul Russell), and the period musical instruments - harpsichord, violins, viola, theorbo, Baroque guitar - all sing true, especially as stripped of all mechanical amplification.
Farinelli and the King Broadway Cast