Cyrano de Bergerac - 2012 - Broadway
A enduring masterwork with some of the wittiest lines ever written for the stage, Cyrano de Bergerac is a clever and touching story about the power of love, the art of wordplay and the joy of finding what you've always wanted right under your nose. Cyrano's a nobleman with a head for poetry and a nose for miles. All of Paris adores him except for his true love Roxanne, who can't see past his all-too-prominent facial feature. Instead, she falls for a handsome young cadet named Christian. But when Christian admits he's tongue-tied with Roxanne, Cyrano gives him the romantic words guaranteed to win her heart. With Christian's looks and Cyrano's language, it's a foolproof plan! Or is it?
Written by French poet-dramatist Edmond Rostand, Cyrano de Bergerac wasfirst produced at the Theatre de la Porte Saint-Martin, Paris on December 28, 1897 and had an American premiere on Broadway at the Garden Theatre on October 3rd 1898.
Video preview
Photo preview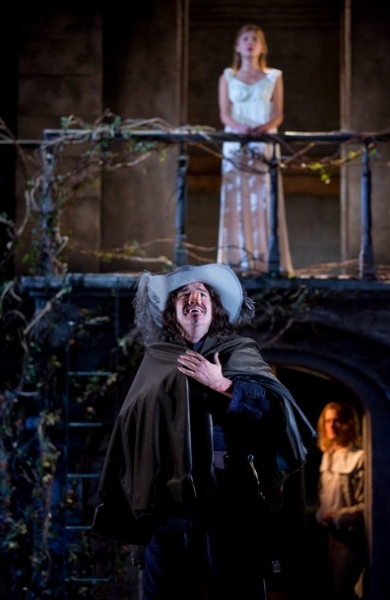 Featured Reviews For Cyrano de Bergerac
Cyrano Revived as Frat Boy Chasing Dumb Roxane: Review - Bloomberg
With his blank expression framed by a stringy wig and an unflattering black ensemble that makes him appear slightly paunchy and derelict, Douglas Hodge brings to Broadway an unprecedented interpretation of the courtly Cyrano de Bergerac as frat boy, in a production that could be an episode of TV's "Arrested Development."
Blowing the Nose - Wallstreet Journal
Mr. Hodge gets what "Cyrano" is all about, and in its quiet moments his performance is deeply moving—but there aren't enough of them. Not only is Jamie Lloyd's staging as noisy as a concert by a band of jackhammers, but the Roundabout's production makes use of a boisterous new rhyming translation by Ranjit Bolt that updates the play's language to inconsistent effect. Mr. Bolt has salted Rostand's couplets with anachronistic colloquialisms like "No can do" and "I'll eat my hat," and he lacks the easy virtuosity necessary to charge them with the sparkling flair that comes so naturally to Cyrano.
Cyrano de Bergerac Broadway Cast