Update - Broadway Shutdown Extends To September 6 - Click Here
Bullets Over Broadway: The Musical - Broadway
A playwright who needs someone to back his next show. A mobster who needs some way to please his showgirl girlfriend.
This could be the start of a beautiful friendship - or a brand new musical comedy!
Based on the screenplay of the acclaimed film, Bullets Over Broadway brings the talents of Woody Allen and Susan Stroman together for the first time.
Loaded with big laughs, colorful characters, and the songs that made the 20s roar, Bullets Over Broadway is ready to bring musical comedy back with a bang.
Video preview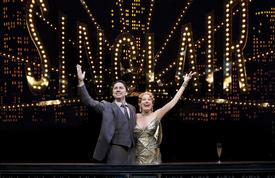 Featured Reviews For Bullets Over Broadway: The Musical
'Bullets Over Broadway': Theater review - NY Daily News
It's too bad that the comedy about a playwriting hit man is a bit of a miss. On the plus side, director and choreographer Susan Stroman's dance numbers pack sure-footed pizzazz. And the good-looking production depicts 1929 New York with wit and grace notes...But working in tandem with Allen, who adapted the screenplay of his Oscar-winning 1994 comedy while dealing with anything-but-amusing personal issues, Stroman doesn't match the zany, out-of-this-world wow factor of her collaboration with Mel Brooks on "The Producers"...Allen's showbiz and gangland eccentrics stiffen into cardboard when they're amplified from two to three dimensions. A sense of nuance and ahumanity goes missing. It doesn't help that key actors shoot blanks, including Zach Braff, of "Scrubs" fme, and Helene Yorke, of "Masters of Sex." Both need infusions of charm for their roles as a morally iffy writer and the tootsie ruining his play.
Bullets Over Broadway, St James Theatre, New York – review - Financial Times
"They go wild, simply wild, over me," sings Helen Sinclair, an ageing diva, in a deluded attempt to persuade David Shayne, a fledgling playwright, of her enduring appeal. Sinclair, portrayed by the wonderfully self-assured Marin Mazzie, is one of the reasons to see Bullets Over Broadway, the new musical birthed by Woody Allen from his 1994 movie of the same title. The Broadway show makes a Sinclair-sized effort to persuade us of the value of early-20th-century songs shoehorned into a 1929 setting. The attempt is intermittently enjoyable, extremely well crafted by the director/choreographer Susan Stroman, and progressively unthrilling.
Bullets Over Broadway: The Musical Broadway Cast