Bullets Over Broadway: The Musical - 2014 - Broadway Tickets, News, Info & More
A playwright who needs someone to back his next show. A mobster who needs some way to please his showgirl girlfriend.
This could be the start of a beautiful friendship - or a brand new musical comedy!
Based on the screenplay of the acclaimed film, Bullets Over Broadway brings the talents of Woody Allen and Susan Stroman together for the first time.
Loaded with big laughs, colorful characters, and the songs that made the 20s roar, Bullets Over Broadway is ready to bring musical comedy back with a bang.
Video preview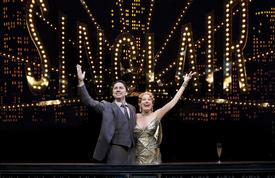 Featured Reviews For Bullets Over Broadway: The Musical
'Bullets Over Broadway' Theater Review: Woody Allen, Zach Braff and Very Large Dancing Hot Dogs - The Wrap
Allen has pulled something of a Sylvester Stallone in his Broadway book-writer debut: His book never really abandons his screenplay sufficiently to reinvent itself for the theater. For most of the evening, some great dance numbers and many old tunes have simply be inserted into this tale of a young writer (Zach Braff) who willingly allows a mobster (Nick Cordero) to rewrite his play, much to the play's improvement..."Bullets," the musical, is loaded down with old ditties that wore out their welcome sometime during the run of "Arthur Godfrey Time" and only vaguely refer to Allen's story..."Bullets" on Broadway rarely breaks free of the movie, and fond memories keep taking us back to the original.
"Bullets" Review: Woody Allen, Susan Stroman Musical Hits its Target - NBC New York
Now open at the St. James Theatre, "Bullets Over Broadway" is a zany, old-fashioned spectacle that features the Broadway debut of actor-writer Zach Braff and a marvelous turn from three-time Tony nominee Marin Mazzie as an aging diva...While not without some curious choices, "Bullets" is certainly the best of the musicals to open on Broadway so far this season, though make note ... it's a new musical with old music...The mark of director-choreographer Stroman...is all over the deliciously escapist piece, which boasts showstoppers and glitzy costumes that would be right at home in a vaudeville revue... What's important here is this: Stroman's brand of showmanship and Allen's unparalleled wit go together, in the end, just like a hot dog and a roll.
Bullets Over Broadway: The Musical Broadway Cast