Bullets Over Broadway: The Musical - 2014 - Broadway
A playwright who needs someone to back his next show. A mobster who needs some way to please his showgirl girlfriend.
This could be the start of a beautiful friendship - or a brand new musical comedy!
Based on the screenplay of the acclaimed film, Bullets Over Broadway brings the talents of Woody Allen and Susan Stroman together for the first time.
Loaded with big laughs, colorful characters, and the songs that made the 20s roar, Bullets Over Broadway is ready to bring musical comedy back with a bang.
Video preview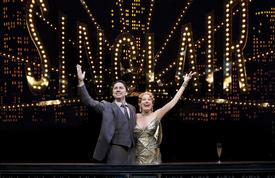 Featured Reviews For Bullets Over Broadway: The Musical
Bullets Over Broadway, St James Theatre, New York – review - Financial Times
"They go wild, simply wild, over me," sings Helen Sinclair, an ageing diva, in a deluded attempt to persuade David Shayne, a fledgling playwright, of her enduring appeal. Sinclair, portrayed by the wonderfully self-assured Marin Mazzie, is one of the reasons to see Bullets Over Broadway, the new musical birthed by Woody Allen from his 1994 movie of the same title. The Broadway show makes a Sinclair-sized effort to persuade us of the value of early-20th-century songs shoehorned into a 1929 setting. The attempt is intermittently enjoyable, extremely well crafted by the director/choreographer Susan Stroman, and progressively unthrilling.
Bullets Over Broadway: Theater Review - Hollywood Reporter
There's a ton of talent onstage in Bullets Over Broadway, evident in the leggy chorines who ignite into explosive dance routines, the gifted cast, the sparkling design elements and the wraparound razzle-dazzle of director-choreographer Susan Stroman's lavish production. So why does this musical, adapted by Woody Allen from his irresistible 1994 screen comedy about the tortured path of the artist, wind up shooting blanks? Flat where it should be frothy, the show is a watered-down champagne cocktail that too seldom gets beyond its recycled jokes and second-hand characterizations to assert an exciting new identity.
Bullets Over Broadway: The Musical Broadway Cast