Bullets Over Broadway: The Musical - 2014 - Broadway
A playwright who needs someone to back his next show. A mobster who needs some way to please his showgirl girlfriend.
This could be the start of a beautiful friendship - or a brand new musical comedy!
Based on the screenplay of the acclaimed film, Bullets Over Broadway brings the talents of Woody Allen and Susan Stroman together for the first time.
Loaded with big laughs, colorful characters, and the songs that made the 20s roar, Bullets Over Broadway is ready to bring musical comedy back with a bang.
Video preview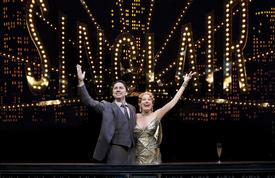 Featured Reviews For Bullets Over Broadway: The Musical
Theater Review: Bulletproof on Broadway - Wall Street Journal
How good can a jukebox musical be? As good as "Bullets Over Broadway," Woody Allen's new stage version of his 1994 film, directed and choreographed by Susan Stroman ("The Producers"). The book is funny, the staging inventive, the cast outstanding, the sets and costumes satisfyingly slick. All that's missing is a purpose-written score, in place of which we get period-true arrangements of pop songs of the 1920s and '30s. Does that matter? It did to me-a lot-but I doubt that many other people will boggle over the absence of original songs from "Bullets Over Broadway." Except for a flabby finale, it has the sweet scent of a box-office smash.
Review: 'Bullets Over Broadway' misses the bull's-eye - LA Times
There's certainly much to savor in this gin fizz cocktail of a show, tossed back in the Art Deco glory of Prohibition-era New York. But the ostentatious flaws of this much-anticipated production, which opened at Broadway's St. James Theatre, make it difficult for me to hold my tongue...Backstage musicals bring out the best in director and choreographer Susan Stroman, and her production of "Bullets" has electricity that at times matches her high-voltage staging of "The Producers." Even when the jokes fall flat and the songs (all borrowed from the period, many revamped by Glen Kelly) seem incongruous, the show has the galloping vigor of a runaway hit, if few of the ecstatic peaks...Stroman's staging moves with an effervescent fluidity - gangsters and flappers glide by, each in high Cotton Club style - yet the book isn't as spry. Scenes that could be distilled into a few lines are belabored. For all the frenetic Jazz Age motion, the show feels dramatically sluggish.
Bullets Over Broadway: The Musical Broadway Cast