Breakfast at Tiffany's Broadway
Based on Truman Capote's most beloved masterwork, Breakfast at Tiffany's is set in New York City in 1943. 'Fred' (Cory Michael Smith) a young writer from Louisiana, meets Holly Golightly (Emilia Clarke), a charming, vivacious and utterly elusive good-time girl. Everyone falls in love with Holly - including Fred. But Fred is poor, and Holly's other suitors include a playboy millionaire and the future president of Brazil. As war rages on in Europe, Holly begins to fall in love with Fred - just as her past catches up with her. Directed by Sean Mathias, the production also stars six-time Emmy Award nominee George Wendt.
Video preview
Photo preview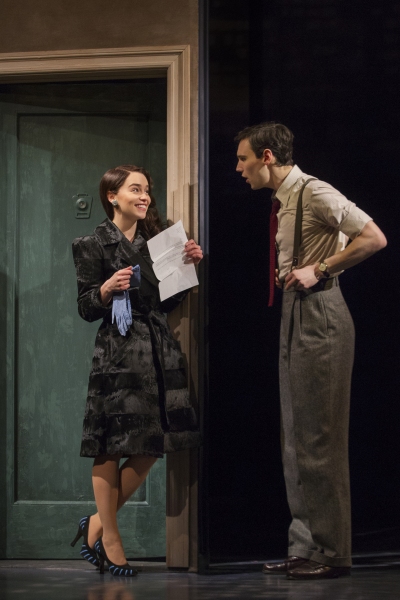 Featured Reviews For Breakfast at Tiffany's
Breakfast at Tiffany's - Time Out NY
After a long gestation and a difficult labor, including a last-minute funding scare, Breakfast at Tiffany's arrives on Broadway meager and stillborn. Here is a story that-in both Truman Capote's 1958 novella and Blake Edwards's 1961 film-relies on the restive charm of its central figure: Holly Golightly, a beauteous young courtesan in 1940s New York, who conceals her hillbilly roots beneath a blithe, insouciant manner and a cultivated voice flecked with faux French. "She isn't a phony because she's a real phony," as someone explains to the writer who lives next door to her. "She believes all this crap she believes." In the Broadway version, she never seems to believe it for a moment; Breakfast at Tiffany's is phony through and through.
Theater Review: 'Breakfast at Tiffany's' - amNY
...there is very little excitement to be found in this drab and dragging stage adaptation, which was penned by Richard Greenberg ("Take Me Out") and is directed by Sean Mathias...For the most part, Greenberg simply lifts passages from the book and has the writer (Cory Michael Smith) awkwardly and constantly deliver first-person narrations directly to the audience. Clarke ("Game of Thrones") imbues Holly Golightly with the vulnerability of an outspoken but fragile young woman. Her emotionally revealing performance is undoubtedly the best part of this lackluster adaptation.