Blithe Spirit - West End
Novelist Charles Condomine and his second wife Ruth are literally haunted by a past relationship when an eccentric medium – Madame Arcati - inadvertently conjures up the ghost of his first wife, Elvira, at a séance. When she appears, visible only to Charles, and determined to sabotage his current marriage, life – and the afterlife – get complicated.
Blithe Spirit West End Cast
by Aliya Al-Hassan - September 22, 2021
Richard Eyre's production of Noël Coward's 1941 Blithe Spirit was just settling into its West End home last year when lockdown struck. Now revived with most of its original cast, it settles into the Harold Pinter theatre for an eight-week run, featuring a stage-stealing appearance by Jennifer Saunders.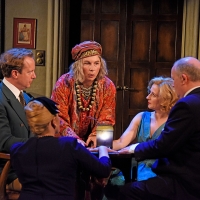 by Stephi Wild - August 16, 2021
Jennifer Saunders, one of the UK's most popular comic actors, will revive her role as the preposterous clairvoyant Madame Arcati. She is joined by original cast members Geoffrey Streatfeild who will star as Charles Condomine, Lisa Dillon as Ruth Condomine, Simon Coates as Dr Bradman, Lucy Robinson as Mrs Bradman, and Rose Wardlaw as Edith.