A Christmas Story, The Musical - 2012 - Broadway Tickets, News, Info & More
The story from a cherished movie classic that's enchanted millions is now a musical spectacular. In 1940's Indiana, a bespectacled boy named Ralphie has a big imagination and one wish for Christmas-a Red Ryder BB Gun. A kooky leg lamp, outrageous pink bunny pajamas, a cranky department store Santa, and a triple-dog-dare to lick a freezing flagpole are just a few of the obstacles that stand between Ralphie and his Christmas dream.
Video preview
Photo preview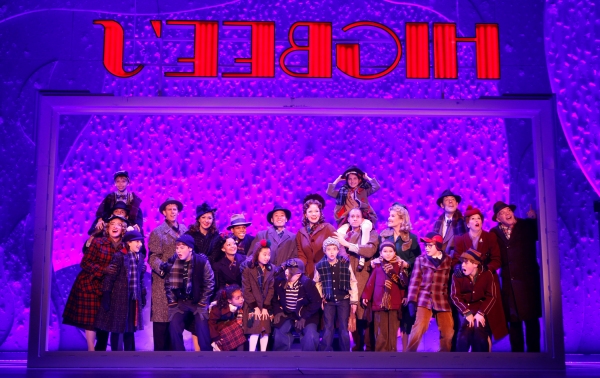 Featured Reviews For A Christmas Story, The Musical
Dreams of a Big Haul From Santa Claus - New York Times
Every year at this time Broadway producers are seized with the urge to pick parents' pockets with splashy holiday fare aimed at young audiences. "A Christmas Story," based on the popular 1983 movie adapted from the writings of the radio personality Jean Shepherd, wins points for being less glitzy and more soft-spoken than the garish, overbearing musical versions of "How the Grinch Stole Christmas" and "Elf."…I found the heavy doses of voice-over in the rather clunky movie to be obtrusive and irritating. Happily, the stage version lightens up a little on the cute, smart-alecky asides…making room for the music and allowing the story mostly to speak for itself… "A Christmas Story" features a sizable group of young performers that makes the small band of orphans in "Annie" look positively skimpy...You're welcome to your Red Ryder carbine action BB gun, Ralphie. What I want for Christmas is a pair of tap shoes.
'A Christmas Story' is offbeat, on target - Newsday
This is called "A Christmas Story," not "The Christmas Story," so, parents, please take note. The musical based on the popular 1983 movie is neither candy-cane sweet nor sacred. In fact, not much is sacred in this droll, imaginative, definitely and a bit defiantly off-center tale of a 9-year-old bespectacled kid named Ralphie and a flawed but loving family in Indiana in the 1940s. That is, 9-year-olds (and up) and their flawed, loving parents are probably the target audience for the newest addition to the holiday offerings, wickedly directed by John Rando ("Urinetown") with a clever and enjoyable score by newcomers Benj Pasek and Justin Paul ("Dogfight"). The humor is not so much politically incorrect as, well, politically retro and a little dark...I could live without the awful joke about Chinese accents, the blue joke about the bowling ball, the playground line "when you act like a fruit, you get crushed like a grape." Even if kids liked to talk like that, Broadway should not endorse it.
A Christmas Story, The Musical Broadway Cast