33 Variations - 2009 - Broadway
Two-time Oscar winner Jane Fonda heads a remarkable cast in the new play written and directed by Moisés Kaufman, author of The Laramie Project and director of I Am My Own Wife. Drama, memory and music combine to transport you from present-day New York to 19th-century Austria, in this extraordinary new American play about passion, parenthood and the moments of beauty that can transform a life.
A mother coming to terms with her daughter. A composer coming to terms with his genius. And, even though they're separated by 200 years, these two people share an obsession that might, even just for a moment, make time stand still.
Video preview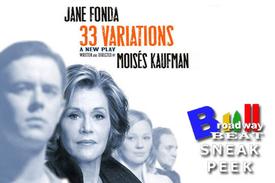 Schedule
Running Time: 2 hours and 40 minutes, with one intermission
33 Variations Broadway Cast