1984 - 2017 - Broadway
Following four wildly successful U.K. runs, the "hair-raisingly vivid" (New York Magazine) stage adaptation of George Orwell's dystopian masterpiece, 1984, comes to New York in what The Huffington Post calls "an unforgettable jolt of high-voltage theatre that is literally shocking."
One of the most widely referenced and best known fiction titles of all time, 1984 has sold over 30 million copies worldwide and has been translated into more than 65 languages. Now, Robert Icke and Duncan Macmillan have adapted this iconic novel into "a chilling, ingenious 101 minutes of theatre" (The London Times) starring Tom Sturridge, Olivia Wilde, and Reed Birney.
"Imagine that sound of a roller coaster clanking slowly up to the top of its tallest drop." - T. Michelle Murphy, Metro
"When was the last time you felt scared at the theater? Not disturbed or perturbed or provoked, but scared? 1984 is intense in a way I've never seen on Broadway." Adam Feldman, Time Out
Video preview
Photo preview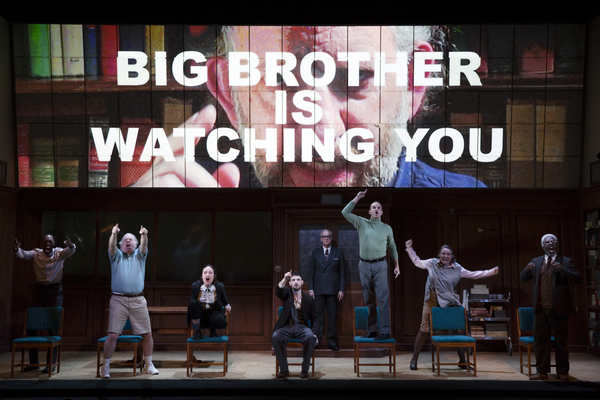 Featured Reviews For 1984
- NBC New York
A new British stage adaptation of George Orwell's Dystopian novel, now at the Hudson Theatre, is an assault on the senses, pointedly designed to run over an audience like a tank crushing resistors in its path. Here's what has me fidgety, though. To some degree, the strobe lights, gunshots and gore become such a distraction from the story that they threaten to overwhelm its dire message about government run amok. Where do you dial down the noise and turn up the narrative? The answer will differ for everyone, but if you go, here's some advice -- bring earplugs.
THEATER The riveting, timely 1984 isn't quite as scary as the real world: EW review - Entertainment Weekly
Unfortunately, whether it's because the real world today is stranger than fiction (it's worth noting that the show's U.K. and L.A. runs happened pre-election) or because TV dystopias, like Hulu's The Handmaid's Tale, are already perfecting political dread, 1984 doesn't have the same foreboding effect audiences might expect from a book that's continually felt eerily prescient for decades. Still, the acting is phenomenal and the wildly innovative production makes for a memorable show - even if it isn't quite as scary as the world outside the theater.