1984 - 2017 - Broadway Tickets, News, Info & More
Following four wildly successful U.K. runs, the "hair-raisingly vivid" (New York Magazine) stage adaptation of George Orwell's dystopian masterpiece, 1984, comes to New York in what The Huffington Post calls "an unforgettable jolt of high-voltage theatre that is literally shocking."
One of the most widely referenced and best known fiction titles of all time, 1984 has sold over 30 million copies worldwide and has been translated into more than 65 languages. Now, Robert Icke and Duncan Macmillan have adapted this iconic novel into "a chilling, ingenious 101 minutes of theatre" (The London Times) starring Tom Sturridge, Olivia Wilde, and Reed Birney.
"Imagine that sound of a roller coaster clanking slowly up to the top of its tallest drop." - T. Michelle Murphy, Metro
"When was the last time you felt scared at the theater? Not disturbed or perturbed or provoked, but scared? 1984 is intense in a way I've never seen on Broadway." Adam Feldman, Time Out
Video preview
Photo preview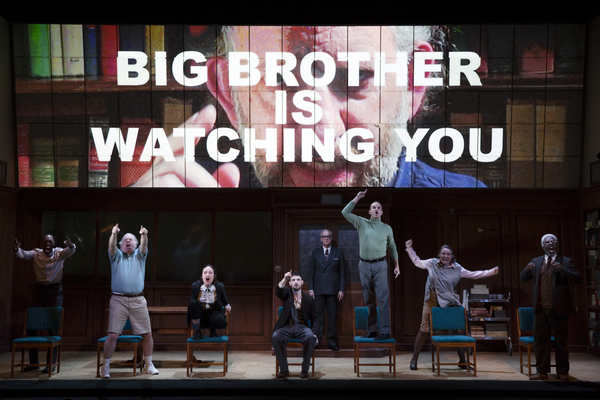 Featured Reviews For 1984
'1984' brings Big Brother and Olivia Wilde to Broadway: theater review - NY Daily News
This dramatization of George Orwell's 1949 dystopian classic serves as a reminder. For all its moving set pieces, along with a busy, ear-blasting soundscape, frequent blackouts, blinding lights and live video, it's strangely unmoving and low-impact. The action meanders and jumps in time, so some familiarity with the story is a must. On the plus side, authors and directors Robert Icke and Duncan MacMillan deserve credit for letting Orwell's cautionary story about a world of fake news and government control speak for itself.
Review: Doubling Down on Doublespeak in '1984' - New York Times
In periods when the world and its inhabitants seem too vicious to bear, some people find themselves drawn magnetically to what might be called feel-bad entertainment. I mean the sort of book, song or show that massages your anxiety the way your tongue might insistently probe an abscessed tooth. If that's the way you're feeling at the moment - and why do I suspect that's the case? - you may well find pleasurable pain in Robert Icke and Duncan Macmillan's discombobulating stage adaptation of George Orwell's "1984," which opened on Thursday night at the Hudson Theater. But it will be pain of a different order (possibly involving nausea) from the empathetic kind you experience reading Orwell's ever-engrossing book.