Update - Broadway Shutdown Extends To September 6 - Click Here
1984 - Broadway
Following four wildly successful U.K. runs, the "hair-raisingly vivid" (New York Magazine) stage adaptation of George Orwell's dystopian masterpiece, 1984, comes to New York in what The Huffington Post calls "an unforgettable jolt of high-voltage theatre that is literally shocking."
One of the most widely referenced and best known fiction titles of all time, 1984 has sold over 30 million copies worldwide and has been translated into more than 65 languages. Now, Robert Icke and Duncan Macmillan have adapted this iconic novel into "a chilling, ingenious 101 minutes of theatre" (The London Times) starring Tom Sturridge, Olivia Wilde, and Reed Birney.
"Imagine that sound of a roller coaster clanking slowly up to the top of its tallest drop." - T. Michelle Murphy, Metro
"When was the last time you felt scared at the theater? Not disturbed or perturbed or provoked, but scared? 1984 is intense in a way I've never seen on Broadway." Adam Feldman, Time Out
Video preview
Photo preview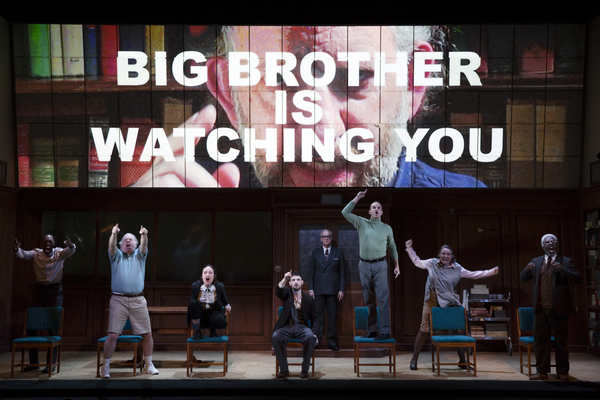 Featured Reviews For 1984
'1984' review: Tom Sturridge, Olivia Wilde in Orwell's still-pertinent story - Newsday
The show doesn't convincingly bring to life this constant invasion of privacy, but gains traction as soon as the affair is exposed as Winston, screaming like the damned, endures terrifying "re-education" at the hands of O'Brien (Tony winner Reed Birney, most recently of "The Humans"), whose preternaturally calm demeanor contrasts with his inhuman actions. Even a possibly optimistic coda about the end of the dictatorship fails to reassure. When lies are the norm, how can you tell that they have stopped?
'1984' review: Olivia Wilde and Tom Sturridge shine in exciting, unpredictable dystopian play - amNY
Running about 101 minutes (in a nod to "room 101," the novel's chamber of horrors), this visceral and unpredictable staging is more exciting and effective than this summer's other politically-oriented productions (including Robert Schenkkan's prison drama "Building the Wall" and The Public Theater's uneasily Trump-infused "Julius Caesar").
1984 Broadway Cast