Reginald Andre Jackson Stars in a Dynamic Staging of HAMLET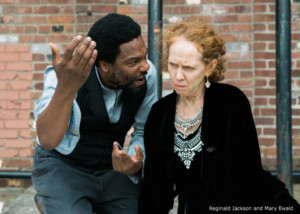 Director Robin Lynn Smith and a seasoned company including Seattle theatre veterans Reginald Andre Jacskon (Hamlet), Mary Ewald (Gertrude), Sunam Ellis (Horatio), Shawn Belyea (Claudius) and Peter Dylan O'Connor (Laertes) brings HAMLET to stirring life with live music composted by Kultur Shock member Srdjan "Gino" Yevdjevich and movement by Butoh dancer Vanessa Skantze.
"When I heard our director, Robin Lynn Smith, reference the film CHILDREN OF MEN as an inspiration, I knew this production was going to be special. The play has been cut to the bone, giving it a purposively brisk style. It's a thriller, a ghost story, all told with the best writing in the English language." --Reggie Andre Jackson (Hamlet) Reginald Andre Jackson has spent the last two decades in Seattle as a professional actor and playwright. Apart from touring in four of Shakespeare's works with Freehold's Engaged Theatre, he has taken roles in fifteen of his plays at Seattle Shakespeare Company including the title role in Pericles, Edmund in King Lear, Northumberland in Richard II and Brutus in their upcoming season opener Julius Caesar. He played Aufidius in Coriolanus at The Shakespeare Theatre in Washington DC and Othello for the Lake Tahoe Shakespeare Company, among others. His work in the local theatre includes, the Seattle Repertory Theatre where he will play Wofl in their production of August Wilson's Two Trains Running this winter, Intiman, ACT, Book-it, Seattle Children's Theatre, and Wooden O.
As a playwright, M
R. Jackson
is the proud recipient of the American Alliance of Theatre and Education's 2010 Distinguished Play Award, in the category of adaptation, for his Book-it style take on Christopher Paul Curtis' wonderful novel, Bud, Not Buddy. His adaptation of Mr. Curtis' first novel, The Watsons Go To Birmingham-1963, was published in 2011. He was commissioned by Freehold Theatre to write Emboldened about the life of Buddy Bolden, produced in 2015, and the
5th Avenue Theatre
to write the book and lyrics for a musical adaptation of Free Boy produced in 2017.
The genius of Shakespeare's plays is their ability to resonate in every age. The timelessness of HAMLET combined with Freehold's Engaged Theatre productions' intentionally dynamic and diverse staging means that any human can see a reflection of some part of themselves in the story, the characters, the music or movement.
HAMLET is a play about endeavoring to meet what time has dealt. Born into a time that is out of joint, personally and politically, the characters must seek into their own hearts to find the actions they can live with - sometimes against the expectations of the world around them. They must weigh loyalties and sacrifices and survival and make a choice. And then must act alone and live with the consequences of that action, and in the process come to a new experience of themselves.
Director Robin Lynn Smith shared, "I keep coming back to Shakespeare because his characters are fully complex, conflicted, contradictory human beings. The plays demand everything we can bring, every time, to put the living, breathing story up there - so that the audience can connect to these extraordinary circumstances fully embodied by the actors."
Freehold's core value of radical accessibility means no barriers to attending - all performances are pay what you can. Seats can be reserved through brownpapertickets.com or by calling (800) 838-3006.
About Freehold
Since 1991, Freehold has been a highly acclaimed center for the practice of theatre. Our Theatre Lab provides a forum for mature artists to research and develop new work and to re-interpret classics. Our Studio provides a place for actors, from inspired novices to working professionals, to train. Freehold engages an exclusive faculty of independent professional artists
More Hot Stories For You