Photo Flash: Passion, Music, and Delectable Food in A MOVEABLE FEAST
In an artistic collaboration with Café Nordo in Pioneer Square, a four-course meal will deliciously underscore a signature Book-It theatrical experience. Ernest Hemingway's A Moveable Feast captures what it meant to be young and poor and writing in Paris during the 1920s.
Hemingway and his wife Hadley kept company with a slightly rag-tag circle of artists and writers including F. Scott & Zelda Fitzgerald, Ezra Pound, Paul Cézanne, and Sylvia Beach in the salon of Gertrude Stein at 27 Rue de Fleurus. These artists' hunger to create translates into an immersive blend of music, story, passion, and pleasure accented by sumptuous cuisine that will warm your body and spirit.
It is estimated that 35,000 Americans migrated to Paris between 1920 and 1927, many of whom were artists and writers. This was the perfect place for Hemingway to learn the craft of writing and this period of mentorship and learning undoubtedly shaped him into the successful author he became.
The cast of this fervent, romantic experience includes Susanna Burney as Gertrude Stein, Raymond Chapman* as Ezra Pound, Harriette Dunn-Feliz as Hadley Hemingway, Andre Nelson as F. Scott Fitzgerald, Opal Peachey as Lisette, Riley Shanahan as Ernest Hemingway, and Jen Taylor* as Zelda Fitzgerald/Alice B. Toklas/Sylvia Beach.
*Member of Actors' Equity Association, the Union of Professional Actors and Stage Managers in the United States
The design team is led by Scenic Designer Terry Podgorski, with lighting by Ryan A. Dunn, costumes by Chelsea Cook, and sound design by Evan Mosher. The show will include original music by Annastasia L. Workman, and food design by Erin Brindley.
The menu for this evening includes recipes (with a few liberties taken) from Alice B. Toklas' cookbook including a Flan of Mushrooms À La Crème, Lemon and Onion Laurel Leaf Soup, Salmon with Sauce Hollandaise au Beurre Noisette, and Custard Josephine Baker.
A Moveable Feast plays February 9-Apr 2, 2017 (opening on Saturday, Feb 11) at Nordo's Culinarium (109 S Main Street, Seattle, WA 98104). Tickets are $90 and include a four-course meal and sparkling cocktail to start off the night. Doors open at 7:00pm; food starts at 7:30pm, and the show starts at 8:00pm. Group rates available. Only 21% of seats remain for the whole run. Purchase at book-it.org or by calling the box office at 206.216.0833. The box office is open Tues through Fri, 12:00pm - 5:00pm (Tues - Sat during production run), located in the outer lobby of the Center Theatre at the Armory. This event is 21+.
For information or to arrange interviews, please contact Communications Manager Val Brunetto at valb@book-it.org.
About Jane Jones
Jane is the founder of Book-It and founding co-artistic director of Book-It Repertory Theatre, with Myra Platt. In her 27 years of staging literature, she has performed, adapted, and directed works by such literary giants as Charles Dickens, Eudora Welty, Edith Wharton, Kurt Vonnegut Jr., Pam Houston, Raymond Carver, Frank O'Connor, Jim Lynch, Ernest Hemingway, Colette, Amy Bloom, John Irving, John Steinbeck, Daphne Du Maurier, and Jane Austen. A veteran actress of 30 years, she has played leading roles in many of America's most prominent regional theatres as well as film and TV. For Book-It, she has directed Adventures of Huckleberry Finn: Uncensored and The Dog of the South, which were both adapted by Judd Parkin. Other Book-It directing credits include The House of Mirth, Truth Like the Sun, The Highest Tide, Travels with Charley, Pride and Prejudice, Howard's End, In a Shallow Grave, The Awakening, Owen Meany's Christmas Pageant, A Tale of Two Cities, and The Cider House Rules, Parts I and II, winner of the 2010 and 2011 Gregory Awards for Outstanding Production. In 2008 she, Myra Platt, and Book-It were honored to be named by the Seattle Times among seven Unsung Heroes and Uncommon Genius for their 20-year contribution to life in the Puget Sound region.
About Judd Parkin
Judd Parkin adapted Adventures of Huckleberry Finn: Uncensored in 2013 and The Dog of the South in 2015. He began his career as an actor and director with the Oregon Shakespeare Festival, and at other regional theatres around the country. He later worked as an executive for NBC and ABC, where he oversaw the development and production of over 250 movies and miniseries. In recent years, Judd has produced and written numerous television films, including the acclaimed CBS miniseries Jesus, the Christopher Award-winning Nicholas' Gift, and the Lifetime Television Christmas favorite Comfort and Joy. He is the author of the novel The Carpenter's Miracle, which he adapted and produced for UP TV.
Photo credit: Adam Smith


Riley Shanahan and Harriette Dunn-Feliz as Ernest and Hadley Hemingway. Photo by Adam Smith.
Riley Shanahan and Harriette Dunn-Feliz as Ernest and Hadley Hemingway. Photo by
Adam Smith
.
Riley Shanahan and Harriette Dunn-Feliz as Ernest and Hadley Hemingway. Photo by
Adam Smith
.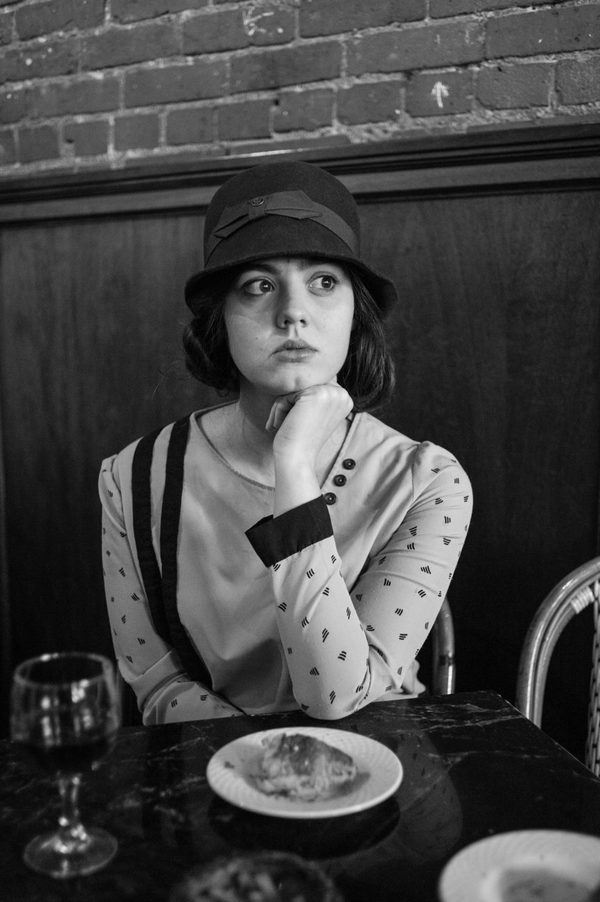 Riley Shanahan and Harriette Dunn-Feliz as Ernest and Hadley Hemingway. Photo by
Adam Smith
.
Riley Shanahan as
Ernest Hemingway
. Photo by
Adam Smith
.